Northline opens $23 million integrated Adelaide transport hub and distribution centre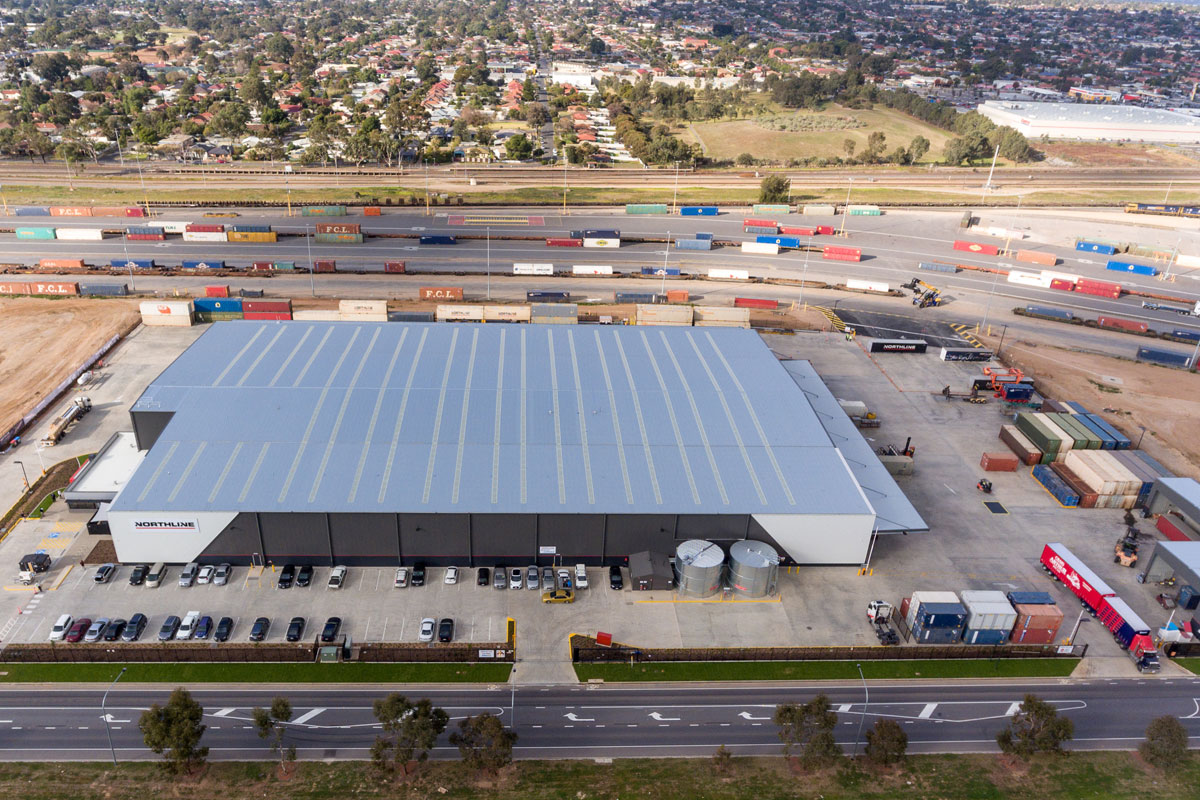 Northline has brought together road and rail by opening a new purpose built $23 million Adelaide transport and logistics facility with a direct access cargo link to Pacific National, Australia's largest rail operator.
The move to a strategic location alongside the Kilburn railhead will improve transit speed and efficiency, with multi-modal integration providing a streamlined service for customers by alleviating the need for containers to travel by road between Pacific National and Northline's facilities.
The new Adelaide depot, which facilitates B-Double movements, is also located in close proximity to Adelaide's north-south road corridor, which is currently being upgraded with a $2.5 billion Federal and State government investment. It will also be a Quarantined Approved Premises (QAP), and therefore customs compliant.
Northline's investment in Adelaide is the final stage of a three year, $98 million investment in new transport and logistics facilities in four States and Territories. The company has also opened new depots in Darwin, Brisbane, Townsville and Sydney as well as moving into a dedicated depot in Mackay.
Northline Chief Executive Craige Whitton said the new state-of-the-art 10,440 square metre Adelaide transport and logistics facility is an investment in the efficiency and effectiveness of our customer's supply chain.
"Northline recognises the need for a multi-modal solution to meet customer's needs which has led us to bringing road and rail closer together as well as ensuring easy access to Australia's major seaports for import/export.
"With investments made over the last 3 years, Northline now has one of the most modern networks of transport and logistics depots across mainland Australia."
Pacific National, a key partner of Northline, has welcomed the company's investment recognising the need for greater collaboration between road and rail transport providers.
"Northline's facility represents the first intermodal cargo link operation in South Australia, said Andrew Adam, General Manager of Pacific National Intermodal.
Mr Adam said the long term partnership between Northline and Pacific National is based on innovation and this cargo link facility is further evidence of this innovation.
"The benefits of the direct movement of rail containers between the rail terminal and Northline's facility is already being shown with a reduction of trucks on the road and an overall improvement in supply chain efficiency."
Northline is also seeing increasing demand for warehousing space within its facilities, and the new Adelaide facility boasts 3500 square metres of warehousing space with modern high bay racking, along with a 440 square metre wash bay and container servicing area. The facility is also located on a 30,000 square metre hard stand.
The new Adelaide depot also continues the company's ongoing relationship with the Gibb Group, who facilitated the development in partnership with Northline.
Gibb Group Managing Director Matthew Gibb said we're a customer oriented developer and focus on forming long-term relationships with our clients.
"This is at the core of what we do," said Mr Gibb.
"So we are naturally very excited and proud to be delivering our third facility for Northline and our first in Adelaide." Established in 1983, Northline is a privately owned and managed Australian business specialising in four major areas of service provision: road and rail freight management services; warehousing and distribution; global freight forwarding and mining, construction, oil and gas logistics.
With 13 branches across the nation, the company's extensive operation employs a diverse team of professional staff as well as dedicated full-time pick-up and delivery subcontractor partners in all mainland capitals and many key regional centres.
The new Northline Adelaide transport and logistics depot is located at 20 Gallipoli Drive, Regency Park.
For more information visit www.northline.com.au
ISSUED BY HUGHES PUBLIC RELATIONS: Please contact Simon Hatcher on (08) 8412 4100 or 0419 780 071 (M) or simon@hughespr.com.au