Slingsby Theatre Company – Australian Premiere of Emil and the Detectives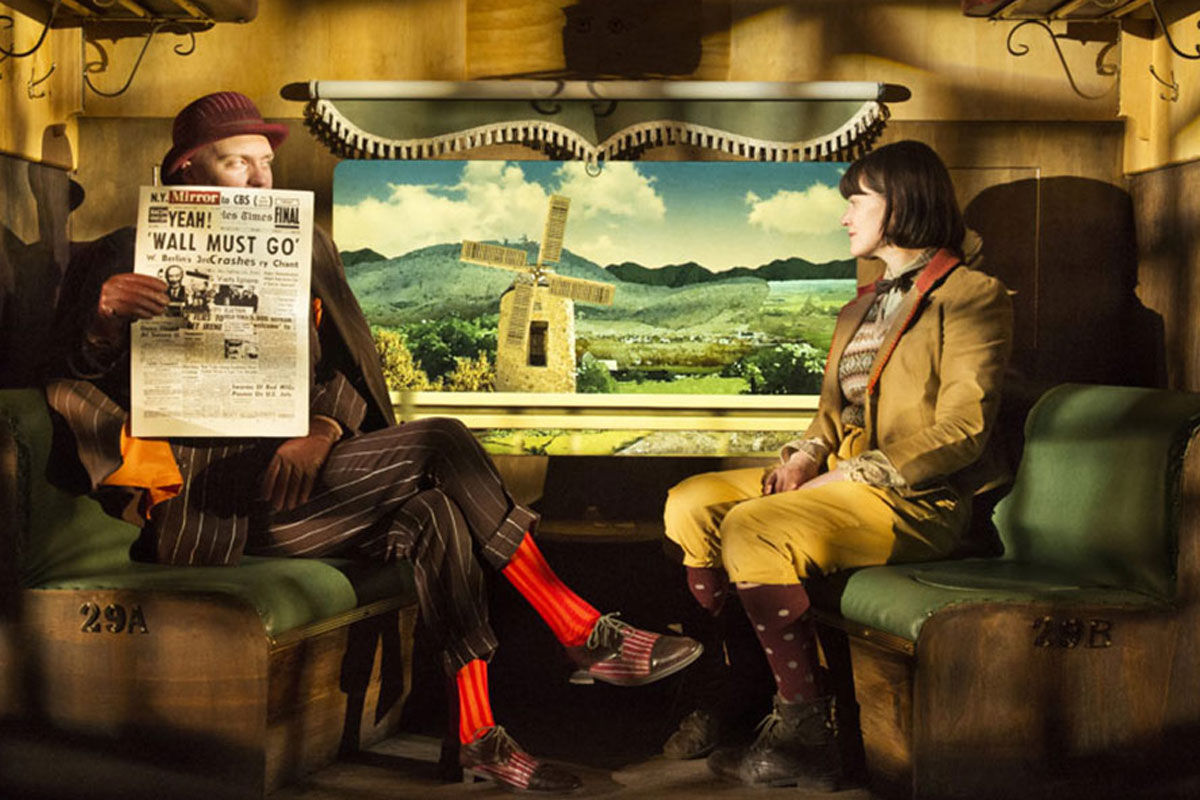 An Australian premiere of the children's classic Emil and the Detectives is set to captivate audiences both young and old, when the critically acclaimed Adelaide-based theatre company Slingsby opens the doors to its new production next month.
Premiering on July 19 (and running to August 5), Emil and the Detectives is a kids own adventure story that follows our young hero (Emil) into a precarious world of untrustworthy adults, in a bid to right a wrong.
A story of light and shade, and a few dark shadows, it tells the story of Emil heading from a rural home to visit family in the big city when something valuable is stolen, and the determination of Emil and a bunch of kids to solve the crime and catch the culprit.
Created for family and adult audiences, the Slingsby production of Emil and the Detectives is a unique adaption by Nicki Bloom of the 1929 novel written by German author Erich Kästner – the author's only pre-1945 work to escape Nazi censorship.
Emil and the Detectives is the internationally-acclaimed company's seventh production and their first since facing an uncertain future after losing valuable Australia Council funding.
Slingsby Artistic Director Andy Packer said Emil is a delightful, beautifully written and optimistic story.
"It's a journey of discovery and self-discovery, the value of friendships and learning about trust and taking risks," said Andy.
"Like most children's classics, the key themes of the story are as relevant today as when the book was first published and audiences will relate to many of the challenges and decisions Emil faces, said Andy.
"Emil and the Detectives explores the benefits and pitfalls of children having greater freedom, being allowed to make mistakes and finding solutions to their own problems without undue adult intervention or interference."
The production again brings together the talents of Director Andy Packer, Composer Quincy Grant, Lighting Designer Geoff Cobham and Set Designer Wendy Todd. It also sees the return of actor Tim Overton to a Slingsby production after his lead role in The Young King.
Slingsby will stage 30 performances of Emil and the Detectives including 16 public performances and 14 school performances, with audience numbers expected to exceed 3,500.
Local schools will be given educational resources to accompany performances as well as a post-show Q&As with Director Andy Packer and the cast. The school productions initiative builds on the educational and theatre-making workshops currently run by Slingsby in South Australian schools.
Founded in 2007, Adelaide-based Slingsby has enchanted audiences in 70 venues in 44 cities across 10 countries, including a 'sold-out' seasons of the production The Tragical Life of Cheeseboy on 42nd Street, New York. Slingsby's work has grabbed attention nationally and around the globe, with invitations to participate in festivals in Sydney, Madrid, Cleveland, Edinburgh, Singapore and Bath.
Slingsby's most recent production The Young King is set for a world tour next year after receiving the prestigious 2017 International Performing Arts for Youth (IPAY) Victor Award at the 39th IPAY Annual International Showcase in Madison, Wisconsin, USA earlier this year.
Before heading overseas, Slingsby will first stage a one-week season of The Young King at the Sydney Opera House, November 7 - 12, 2017.
Booking Details
Slingsby Theatre Company
Level 5, Myer Centre, Rundle Mall
Starring Elizabeth Hay and Tim Overton
Director Andy Packer Playwright Nicki Bloom Composer Quincy Grant Designer Wendy Todd Lighting Designer Geoff Cobham, Costume Designer Ailsa Paterson, Animation Luku Trembath, AV Systems Design Chris Petridis
When:
Wed 19-Jul Public Performances at 11am & 2pm
Thu 20-Jul Public Performances at 11am & 2pm
Fri 21-Jul Public Performances at 11am & 2pm
Sat 22-Jul Public Performance at 3pm & 7pm
Sun 23-Jul Public Performances at 2pm & 5pm
Tue 25-Jul School Performance at 11am
Wed 26-Jul School Performances at 10.30am & 1.00pm
Thu 27-Jul School Performances at 10.30am & 1.00pm
Fri 28-Jul School Performance at 1.00pm, Public Performance at 7.00pm
Sat 29-Jul Public Performances at 3pm & 7pm
Tue 1-Aug School Performances at 10.30am & 1.00pm
Wed 2-Aug School Performances at 10.30am & 1.00pm
Thu 3-Aug School Performances at 10.30am & 1.00pm
Fri 4-Aug School Performances at 1.00pm & 7.00pm
Sat 5-Aug Public Performances at 3pm & 7pm
Tickets Adults $35, Child (2-17yrs) $16.50, Concession $29, Family (2+2 or 1+3) $85 and Adult Groups (6+) $29 each. Bookings: www.slingsby.net.au | 08 8231 3007
For media information, images and interviews, please contact: Simon Hatcher from Hughes on 08 8412 4100 or 0419 780 071, simon@hughespr.com.au
About Slingbsy Theatre Company:
After more than a decade in the Arts as a performer, director and creator, Andy Packer founded Slingsby in 2007 with Executive Producer Jodi Glass. Andy's vision was to create a company specialising in creating high quality and emotive theatre experiences that an audience of both adults and young people can share, and which can tour to regional and metropolitan centres both in Australia and overseas. Slingsby works regularly with a range of leading South Australian artists including artistic associates Geoff Cobham and Quincy Grant.