Plans approved for world's tallest student-only accommodation tower in Adelaide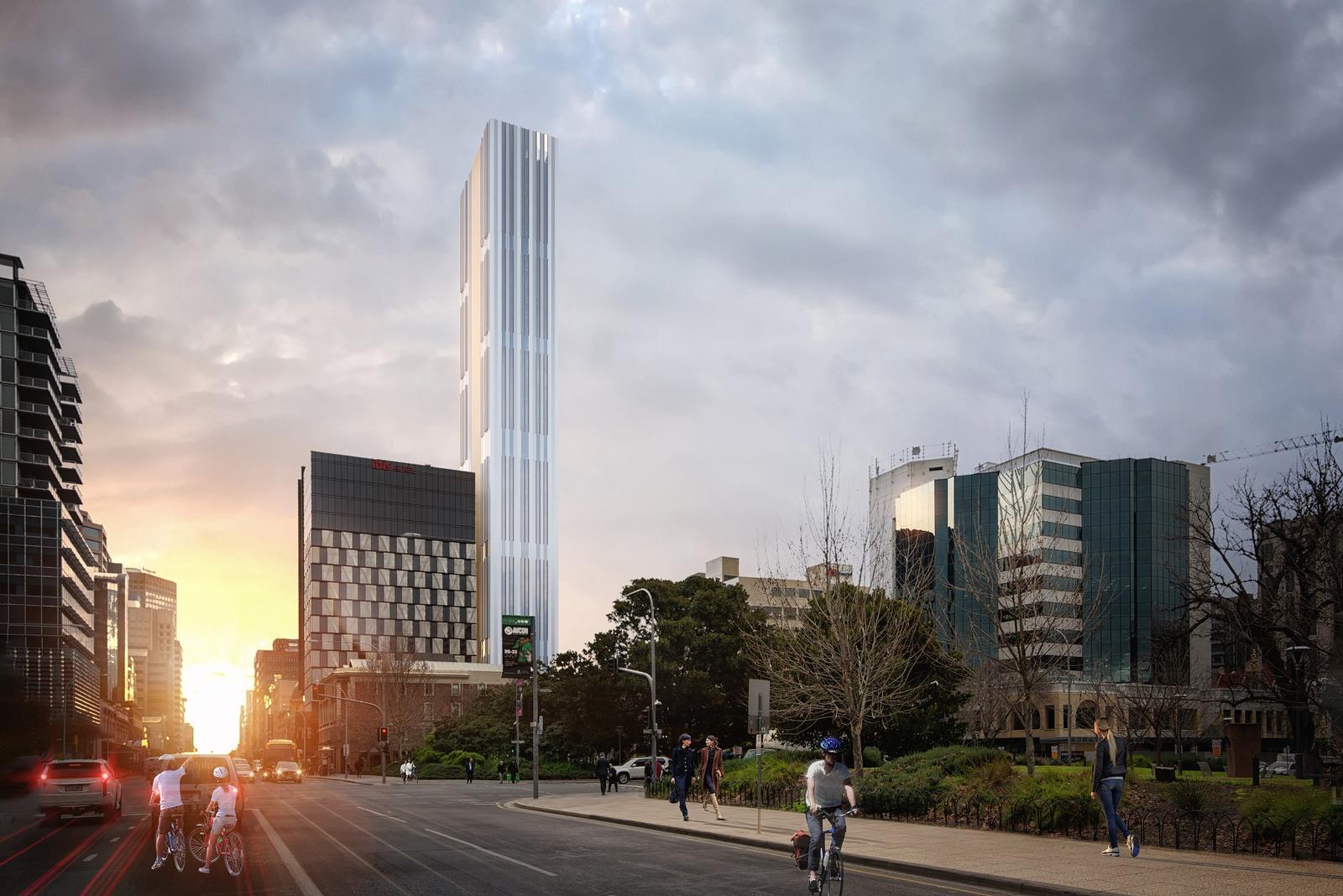 Adelaide will become home to the world's tallest student-only accommodation building after Hines Property received formal planning approval for its proposed 124.2m tower.
South Australia's State Commission Assessment Panel has given the green light to the $85 million development at 29 Twin Street between Grenfell Street and Rundle Mall, which will rise 38 storeys above the Adelaide CBD and eclipse the world's current tallest student-only accommodation building – the 122m high Student One Wharf Street tower in Brisbane.
The building will include a range of accommodation options for students from single studio rooms to five and six-bedroom apartments, incorporating a total of 510 beds.
It will also feature a ground floor lobby and café, a communal mezzanine lounge, cinema and events space, as well as study and dining area, garden retreat and a rooftop lawn, gym, wellness and yoga space.
Hines Property Managing Director James Hines says the project team is now looking forward to progressing plans to construction stage next year.
"Receiving formal approval is another important milestone for this fantastic project, which will set a new standard for student accommodation," said Mr Hines.
"We're literally taking modern student accommodation to new heights, and look forward to turning our vision into reality with a world-class development that will cater for rising demand in Adelaide for high quality student accommodation."
Established in 2003, Hines Property is a privately-owned property development and investment group focusing on high-rise residential, office, hotel and mixed-use development projects.
It has been responsible for several hundred million dollars' worth of developments in the Adelaide CBD, including three major hotel developments and multiple apartment towers incorporating more than 400 apartments.
Hines Property is also the largest owner of hotel accommodation in Adelaide, with more than 600 hotel rooms in its portfolio, including the five-star Pullman Adelaide Hotel and the premium economy Ibis Adelaide Hotel. For more information visit www.hinesproperty.com.au.

FURTHER INFORMATION: Please contact
James Hines on 0418 829 877 or jdhines@hinesproperty.com.au
ISSUED BY HUGHES PUBLIC RELATIONS: Please contact
Kieran Hall on 0422 147 151 or kieran@hughespr.com.au