New $100 million healthcare precinct for Northern Adelaide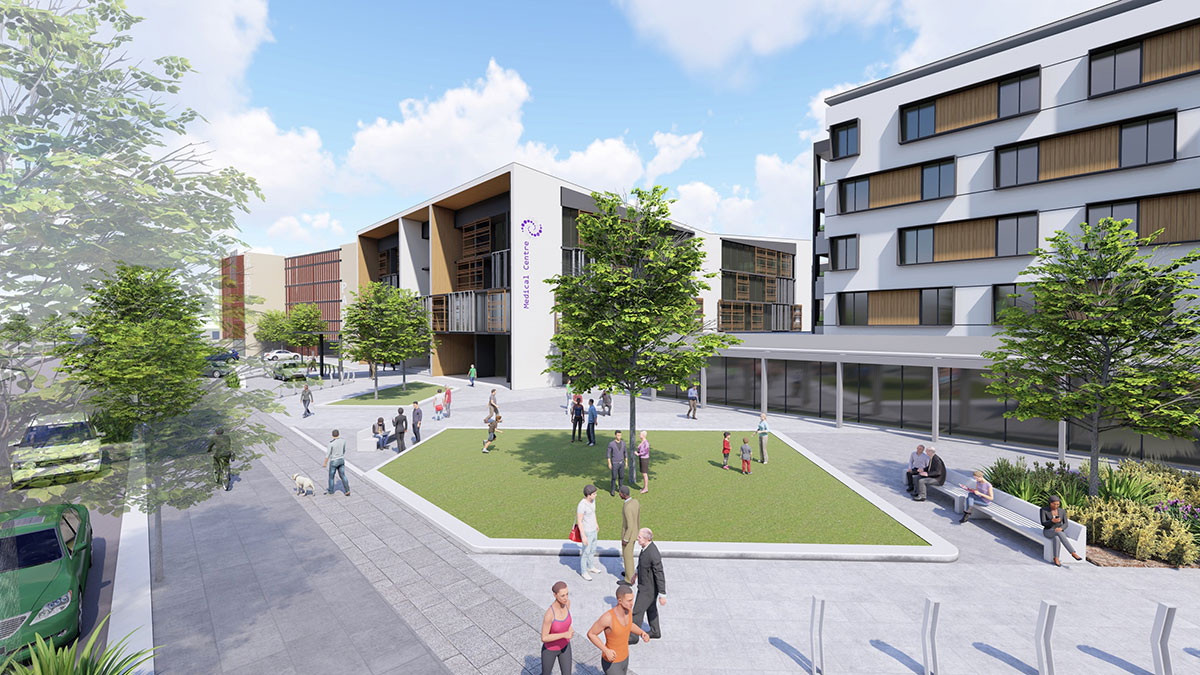 A new $100 million healthcare precinct will be built in northern Adelaide to significantly bolster health and medical services in the region and further activate the 'Healthia' site.
Northern Health Consortium, a syndicate consisting of Barwon Investment Partners, Leyton Property and Accord Property, is seeking tenants for a portion of the Healthia precinct; a collaboration with ACH Group adjacent to the Lyell McEwin Hospital in northern Adelaide, which will create one of the largest health and medical precincts in South Australia.
Focusing on a 10,000m2 site located in the southern corner of Healthia, the Consortium will construct two purpose-built multi-level, high spec clinical buildings for public and private ambulatory care services, mental health services, diagnostic imaging, pathology, general practice services, medical consulting rooms and childcare. A new multi-storey car park will also be built to help ease parking congestion at the Lyell McEwin Hospital.
The development will create 200 new jobs during construction and approximately 150 ongoing jobs once the precinct opens.
Construction is scheduled to commence in early 2020 ahead of anticipated completion in 2021.
The precinct will support private, public and not-for-profit healthcare services, and form part of the Barwon Institutional Healthcare Property Fund, which has an active mandate to invest $500 million into Australian healthcare real estate.
Tom Patrick, Partner of Sydney-based Barwon Investments Partners, said: "We're excited to have been selected as the preferred bidder for this project with our partners Leyton Property and Accord Property," he said.
"This project represents a significant investment into the northern Adelaide healthcare system, and we look forward to working with our key tenant partners and key healthcare providers in Adelaide to deliver a world-class healthcare precinct.
"Our healthcare real estate investments are increasingly focused on sites that are co-located with large public hospitals, enabling us to design and deliver integrated facilities that provide strong returns for our investors while improving clinical outcomes for patients and providing the latest clinical accommodation for practitioners."
The Barwon Institutional Healthcare Property Fund was launched in December 2016 and has successfully invested nearly $500 million of capital on behalf of domestic institutional investors. The Fund's investment strategy targets healthcare properties such as private hospitals, medical centres, day surgeries and allied health facilities located in metropolitan areas and regional centres. Barwon Investment Partners has been managing specialist investment funds on behalf of wholesale and institutional investors since 2006, with a focus on property and private equity investments.
Leyton Property and Accord Property, both highly experienced Adelaide-based developers, will be responsible for the delivery of the new precinct.
"We're thrilled to play a key role in delivering such a critical piece of much needed healthcare infrastructure in northern Adelaide," said Hamish Brown, Managing Director of Leyton Property.
"We've already had many enquiries from healthcare operators, including private hospital operators, about taking occupancy in the new precinct, and will soon launch an expressions of interest campaign for interested parties.
"This is going to be a landmark project and is testament to the City of Playford Council's vision to create an outstanding new medical precinct in northern Adelaide."
Lachy Hogarth, Managing Director of Accord Property, said: "There's a clear shortfall in community medical services in the region. As such, we will work closely with key public, private and non-for-profit stakeholders throughout the development process to deliver a first-class facility for the community," he said.
"This project will create local jobs, not only during construction, but offer long-term skilled employment for the area. We're delighted to be able to work in collaboration with such an experienced project team to deliver these vital health and medical facilities."
ACH Group and the City of Playford are also excited to be involved in facilitating the precinct.
"We are pleased to welcome a team who share our vision for this project, which is set to become one of the largest and most progressive health and wellness precincts in South Australia," said Frank Weits, ACH Group Chief Executive Officer.
"Northern Health Consortium's planned development will complement ACH Group's ViTA initiative at Healthia, which will combine residential care of up to 120 places, restorative health services, teaching, wellbeing and support services for people aged 50 years plus and younger people with a disability, a community hub, along with education and training facilities."
Glenn Docherty, City of Playford Mayor, added: "This is an exciting development bringing much needed jobs and health services to the north," he said.
ISSUED BY HUGHES PUBLIC RELATIONS: Please contact
Kieran Hall on 0422 147 151 or kieran@hughespr.com.au
FURTHER INFORMATION: Please contact
Leyton Property Managing Director Hamish Brown on 0417 846 687 or visit www.leytonproperty.com.au.
Barwon Investment Partners Partner Tom Patrick on 0429 594 563 or visit www.barwon.net.au.
Accord Property Managing Director Lachy Hogarth on 0438 191 630 or visit www.accord.property.