Businesses must upskill workers or be left behind in high tech future: Trends report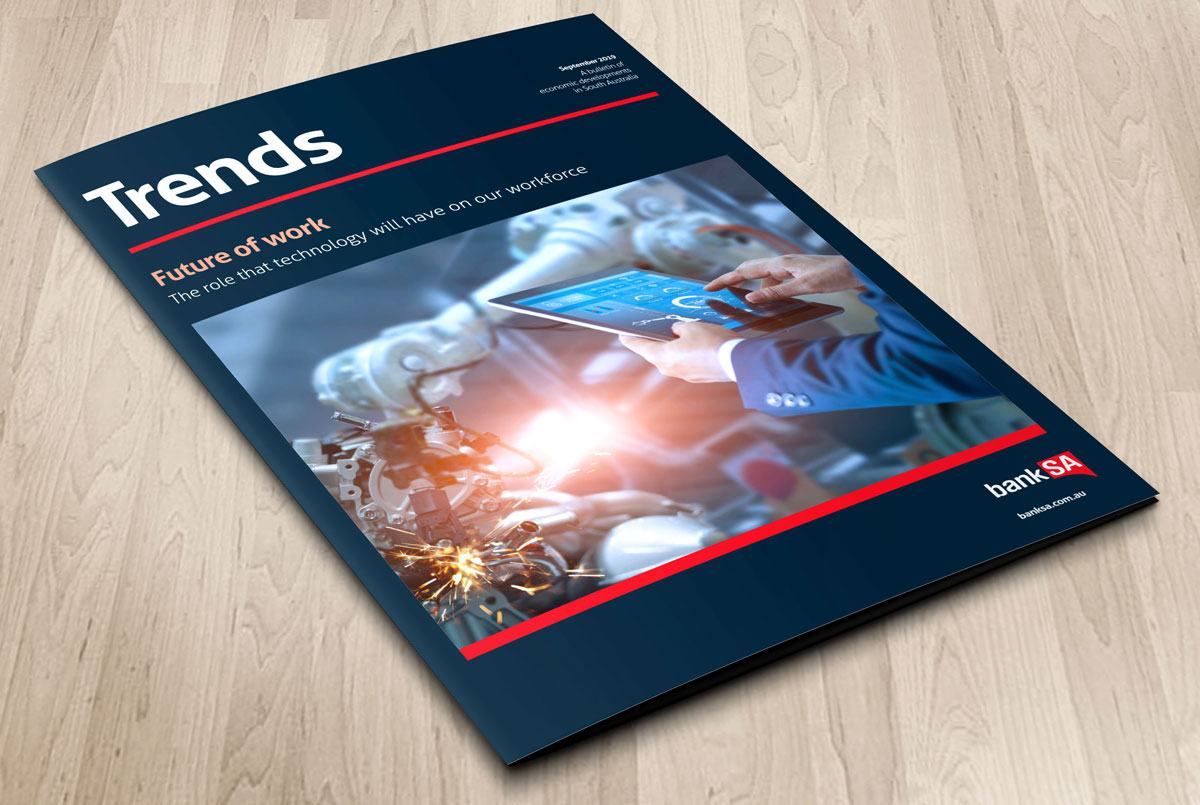 South Australian businesses must increase the level of technology-based skills training they provide employees or risk being left behind in the economy of the future, according to BankSA's latest Trends economic bulletin.
The report states there are enormous opportunities for South Australia if it embraces new technologies in growth industries where it has competitive advantages – such as defence, health, professional services and creative industries – but to fully reap the economic benefits, the state must better prepare the current and future workforce.
BankSA Chief Executive, Nick Reade, said Trends identifies that by 2030, South Australian employees will be missing 2-3 of the key skills required across our state's key growth industries.
"This doesn't mean that we're short of people for the job, it means that we're short of people with the right skills for the job," said Mr Reade.
"People, not technology, are central to driving value in these industries, making it important that we address potential skills shortages that will result from their growth.
"It's estimated that at least 75 per cent of new jobs in the future will demand some ability in science, technology, engineering and maths (STEM).
"We can see this in our own state's economic future as it will be emerging industries, that are highly reliant on technology and STEM skills, and emerging areas such as cyber security and artificial intelligence (AI), where much of the incremental growth will come from.
"A lack of investment in relevant skills will hold back South Australia's ability to fully capitalise on new technologies to drive a stronger economy in the future."
The Trends report recommends three key actions that South Australia can take to mitigate skills shortages to ensure it has the technological capacity to support economic growth in the future:
Greater investment in training and upskilling;
Attract skilled migrants from interstate and overseas, as well as attracting expats to return home; and
Incorporate the right skills focus into all levels of the education system and increase support at both a federal and state level.
Mr Reade said that currently, Australian businesses spend $7 billion on recruitment to fill skills needs, yet only $4 billion on training.
"One of the best ways to avoid skills shortages would be to flip those numbers and start spending on upskilling instead of recruitment, because as skills shortages worsen, the cost of recruitment will only grow," he said.
"While the balance between workforce training and recruitment needs a shift, some recruitment will still be necessary, particularly as South Australia dives into the cutting edge of defence, health and space.
"It is important that the Federal and State Governments work together to increase funding for training and skills development needed for these industries.
This is particularly important for areas such as defence, where industry needs certainty to upskill in enough time for our local workforce to benefit.
"The traditional education system also has a major role to play in ensuring South Australia's long-term skills needs are met. This does not necessarily mean changing the school curriculum every time a new technological development occurs. But curriculums do need to change to keep up with the evolving landscape that they are preparing students for."
Mr Reade said the Trends report debunks fears that new technologies will lead to mass unemployment in the future.
"Technology isn't a substitute for people," he said. "Australia has seen more than 1.8 million jobs created in the past decade – during a time that most would agree has been a period of rapid technological change.
"It is the nature of the work that has changed - we've moved away from manual 'routine' work and replaced it with 'non-routine' cognitive work.
"Robotics has removed more repetitive and largely mundane tasks, with more challenging and interesting jobs being created for people.
"A good example is in manufacturing where we've seen a sharp drop in jobs. Compare this to healthcare, where there has been significant growth, particularly with opportunities related to our ageing population and research sector."
Media contact: Megan Grey / 0466 320 662 / greym@banksa.com.au