Pasadena and Frewville Foodlands welcome BYO containers in a South Australian first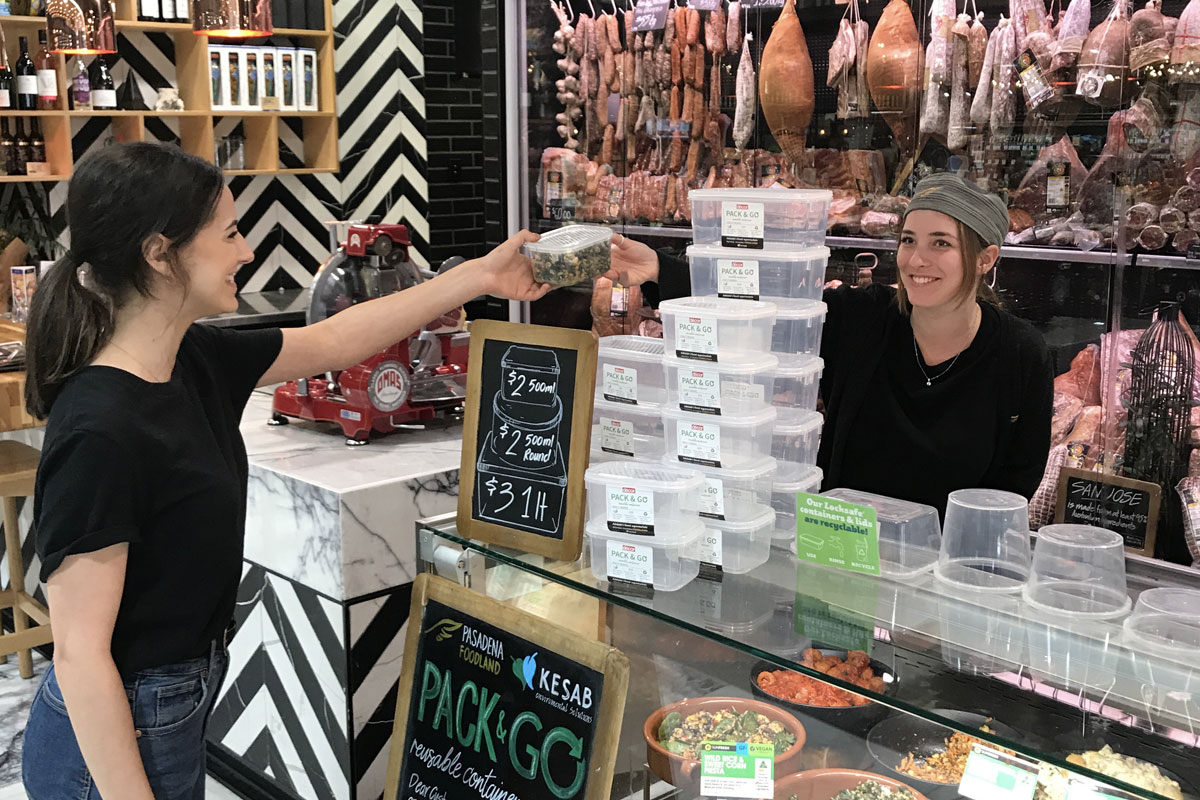 The award-winning Pasadena and Frewville Foodlands have become the first supermarkets in South Australia to accept bring-your-own containers in a bid to further reduce the use of single-use plastics.
The introduction of the new scheme called Pack and Go, follows a successful trial which commenced in August, and has been developed in conjunction with KESAB environmental solutions and supported by Décor.
In an Australia-first, Pack and Go will become the only bring-your-own container scheme where customers are able to conveniently pre-purchase approved containers from the stores at any time.
The containers, which are being offered at a discounted rate, are commercially cleaned, reused and swapped by the stores on a one-for-one basis with food purchases in order to maintain high standards of food safety.
The containers have been selected for the scheme because they're dishwasher, microwave and freezer safe and comply with Food Standards Australia New Zealand guidelines.
The stores will accept the bring-your-own containers for a range of products including bulk foods, salads, cheeses, deli meats, spices, olives and antipasti. The scheme may later be extended to raw meats and other food items.
Commercial Retail Group Director Spero Chapley said we're hoping the introduction of the bring-your-own containers scheme will eventually lead to the phasing out of single-use plastic containers in our stores.
"Customers at our stores have been quick to embrace the scheme during the trial with environmental responsibility important to them," said Mr Chapley.
"The launch of Pack and Go is part of our overall approach to waste management and recycling which working closely with KESAB aims to reduce our landfill by 70% over the next 12 months.
"We've already reintroduced paper bags at the checkout and continue to work closely with our suppliers to reduce the amount of plastic used in product packaging, particular fresh fruit and vegetables."
Disposable food containers are among the most commonly littered single-use plastics in South Australia along with straws, takeaway cups and snack bags.
Minister for Environment and Water David Speirs, who helped launch the Pack and Go scheme today, welcomed the move to reduce the use of single-use plastics.
"The State Government has received strong feedback from South Australians who are keen to see action on single-use plastics," said Minister Speirs.
"I think the Pack and Go scheme is a fantastic environmentally friendly initiative that will help Foodland reduce the use of single-use plastics at Pasadena and Frewville."
Executive Director, KESAB environmental solutions, Mr John D Phillips said the work the State Government is undertaking to look at eliminating Single Use Plastic items in the environment demonstrates South Australia is leading the way.
"The two Foodland stores are already responding to this before a potential ban is enforced," said Mr Phillips.
"KESAB is supporting a number of government, retail, council and school education initiatives as community responds to reducing waste and changing purchasing and consumer habits.
"The Commercial Retail Group's Pack and Go program provides a real-life showcase where individuals can demonstrate a measurable difference by their actions"
Owned by the Chapley Family, the Commercial Retail Group through its Foodland Pasadena and Frewville stores, are also major supporters of South Australian suppliers.
The Commercial Retail Group also employs more than 600 staff across its two stores including many traditional trades like butchers, bakers, florists and fishmongers. They even employ a dedicated visual merchandiser to oversee the presentation and interior styling of the store.
The Commercial Retail Group's policy of no self-service checkouts maximises employment opportunities for local people and helps to ensure a higher standard of customer service.
For more information visit https://www.adelaidesfinest.com.au.

Media Contact:
Simon Hatcher, Hughes PR
0419 780 071
simon@hughespr.com.au