SILK Laser Clinics grows during COVID-19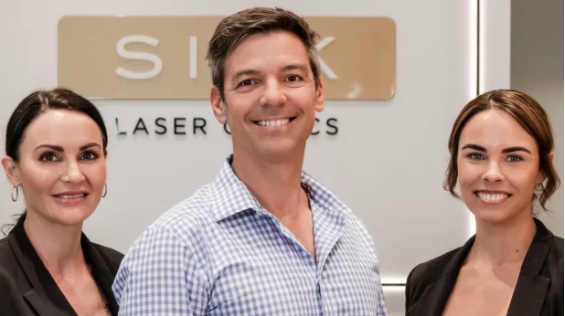 SILK Laser Clinics CEO Martin Perelman with staff members Emily Matthews and Lauren Blowers. Picture: AFR
---
Amid the market disruption that has arisen from the COVID-19 pandemic, cosmetic and beauty services business SILK Laser Clinics has posted record growth in new customers and is continuing with its ongoing plans for further clinic expansion across Australia.
Martin Perelman, SILK's Founder and CEO, attributes SILK's continued strong performance to the strength of relationships it has built with landlords across the nation at a time when many landlords and retail tenants are navigating difficult conversations regarding rents and lease terms, and as many are struggling to pay bills.
As the fastest-growing laser aesthetics clinic nationally, SILK delivers more than a million treatments a year through its 55 clinics in every state bar Victoria.
Mr Perelman started the business in Adelaide just over 10 years ago. It now employs more than 600 people nationally. Over the past three years, SILK's customer numbers have grown five-fold; revenue has jumped seven-fold and its cosmetic injectables business has more than doubled each year. Part of that growth has been organic (more than 30 new stores have opened since 2018) and part through the acquisition of 16 clinics (previously branded The Laser Lounge) and the acquisition of a skin care businesses Aesthetics Rx.
These acquisitions have been made possible through the attraction of private capital. In January 2018, Melbourne-based Advent Partners took a majority shareholding in business.
Australian-owned and operated, SILK is also looking to leverage its emerging market leadership to grow its national footprint over the next three to five years, with expansion plans for more than 100 stores across the country. Mr Perelman attributed the company's success through the pandemic to:
The continuing high demand for the personal services that SILK offers in the fast -growing non-surgical aesthetic market as people come out of COVID-19 lockdowns and restrictions are eased;
A detailed plan to re-mobilise staff and re-open stores when conditions permitted;
A high performing team of SILK employees which went above and beyond during some challenging times as the pandemic unfolded;
JobKeeper funding, which allowed the retention of many of SILK's highly-trained staff;
Continued engagement with customers throughout the pandemic, particularly sharing beauty tips and personal beauty stories; and
SILK made a concerted effort to positively engage with landlords to ensure it would have a pathway to strongly emerge from COVID-19.
"Throughout the pandemic we had positive conversations with our landlords," Mr Perelman said. "We consider our landlords to be important partners in our business so throughout the pandemic we deliberately sought to engage openly and provided regular updates as matters unfolded. This was important in maintaining a positive working relationship."

"Our conversations with landlords were constructive and we are pleased that we have been able to reach fair outcomes for all parties, with all concerned demonstrating a willingness for compromise and focus on the longer-term opportunity.
"We have found that as SILK is a service-based offering, our services are an important primer for shopping centre owners to drive foot traffic to their centres and built customer trust as we emerge from the pandemic. We now have clear air to focus back on growth opportunities for the brand and continue positive conversations with our landlord partners regarding further expansions opportunities."
Mr Perelman won the "disruptor" category in global consulting firm EY's 2019 Entrepreneur of the Year awards. He knows that being quick to adapt to changing trends, create new products and services, and having positive relationships in the commercial property sector has helped. SILK has built market leading positions in South Australia, Northern Territory, Tasmania and Western Australia and is using these positions as a springboard for east coast expansion.