Chapleys celebrate 70 years in business with new innovations and investments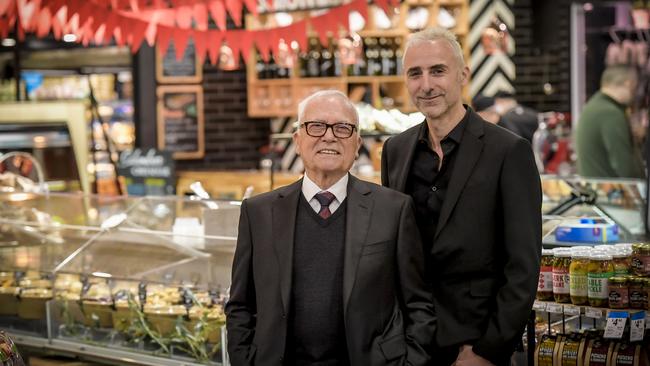 Nick Chapley and son Spero, who run the award-winning Foodland Frewville and Pasadena supermarkets. Picture: Roy VanDerVegt
---
Adelaide's Finest Supermarkets founder Nick Chapley, known affectionately as Mr Nick, is celebrating 70 years in retail with new innovations and investments in their award-winning stores.
Nick Chapley, alongside his son Spero Chapley who is celebrating his 30th year in the family business, have plans underway for range of new innovations including:
A new, unique instore seafood experience;
An investment in regenerative urban agriculture;
Further expansion of Youth Inc. – a fully registered independent secondary school established by the Chapley family to provide education pathways for young people who've disengaged with the traditional school system;
Development of a new events program and plans to make their stores tourism destinations.
The family is also keen to expand and open another Foodland store but need to find the right location.
Adelaide's Finest Supermarkets Director Spero Chapley said his father's business success was due to hard work, resilience and an entrepreneurial and community-minded spirit.
"I've also been lucky to inherit these attributes from my father," said Spero.
"We never want to sit still and keep pushing ourselves to innovate and keep well ahead of our competitors. We've just had to accept that sometimes our competitors try to imitate us.
"It's also important for us to ensure that we bring our staff and suppliers with us we grow. These innovations are designed to create new opportunities for our staff, suppliers and community partners."
Nick Chapley started his working life at 14, working in his father's café in the small New South Wales town of Moulamein. It was here that he learned about innovation and enterprise, after buying into his father's business with brother John and expanding the café by adding a fresh produce department, delicatessen and small grocery store.
He later moved to South Australia where he established a retail business which today includes the shopping centres which are home to their Foodland stores - Pasadena Shopping Centre and Frewville Shopping Centre - as well as other retail and property interests.
A retail and property business which he runs with son Spero. The father and son duo have a special relationship and strong bond, one which was recently highlighted in a national TV advert by IGA.
"I get great pleasure working with Spero and other members of our family but also walking through our stores and talking to our team who've also become family after many years of working together," said Nick Chapley.
"The greatest reward in everything we do has always been exceeding our customers' expectations and knowing our staff are happy at work.
"We'll continue to create extraordinary spaces with a hospitality service ethos, social precincts where families and friends can meet, linger and enjoy an interactive, experience.
"While the big supermarkets are cutting customer service, we're looking for new ways to employ more people because we're here to provide a return on investment to our customers, staff and suppliers, not shareholders."