Cedar Woods launches a prestige apartment building at Glenside for the 'Discerning Boomer'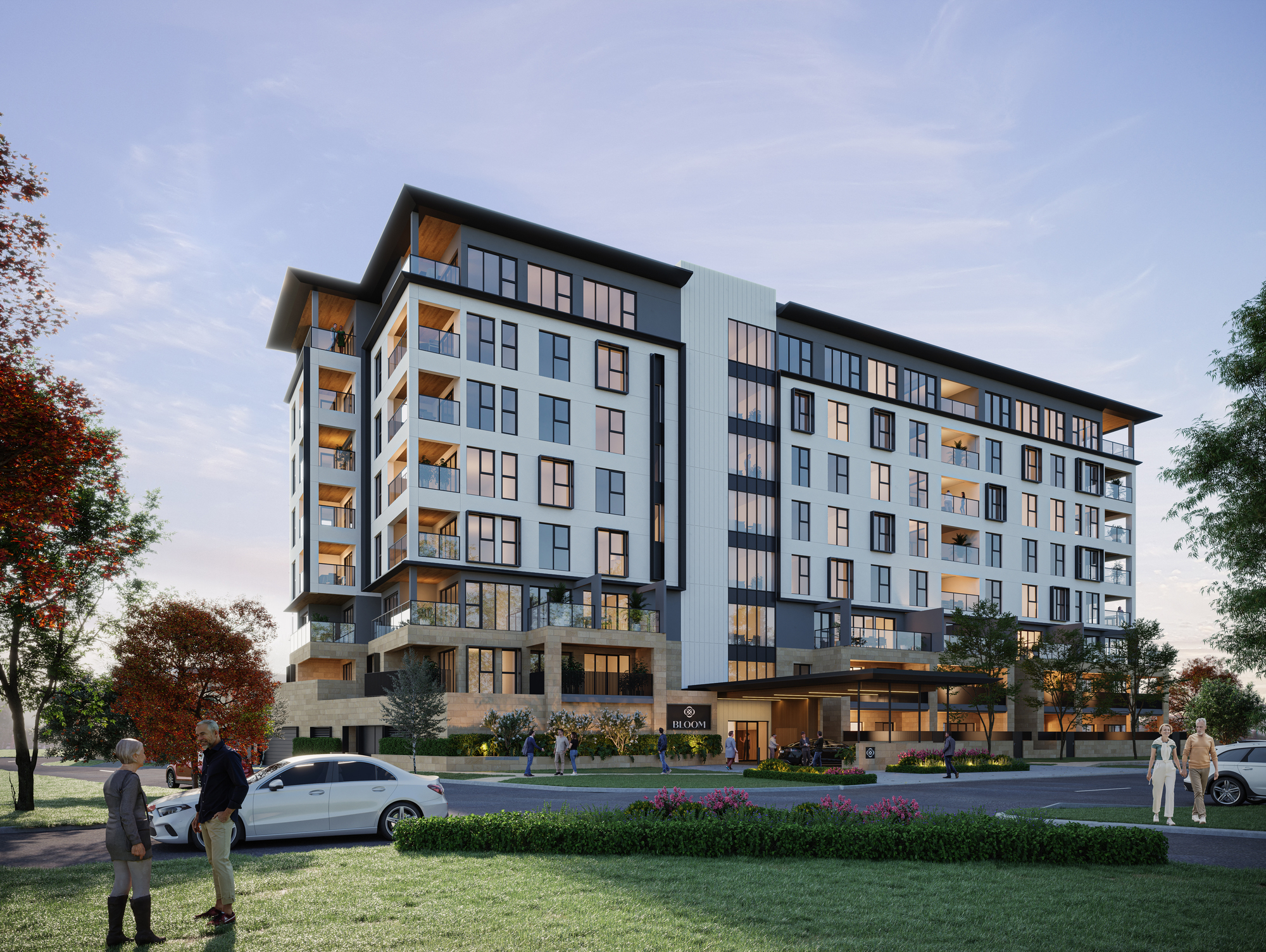 Cedar Woods has launched prestige apartments for the over 55s at Glenside.
Bloom is not just an apartment building, it is an exciting new over 55s community concept with 100% ownership, meaning all capital growth is retained by the owner, a first for South Australia and for the company.
Designed by award-winning architects Hames Sharley, the eight-storey Bloom Glenside will incorporate 63 one, two and three-bedroom apartments, penthouses, sub-penthouses and terraces.
Exclusive amenities await with a resort-like swimming pool, beautiful pavilion for relaxing with friends or private functions, wine storage, library and elevated community garden. All positioned to take advantage of views of the state listed heritage buildings, surrounding parks and gardens.
Residents will enjoy a vibrant and active edge-of-city lifestyle within walking distance of Adelaide's most desirable restaurants, cafes, fashion stores, shops and supermarkets.
Residents will also benefit from lifestyle concierge services including coordination of shopping, restaurant bookings, social gatherings, arts and event bookings, cleaning, pet care, dog walking and vehicle care and maintenance and the like, on a user-pays basis.
Mr Mark Pivovaroff, Cedar Woods (SA) Development Director said Bloom is set to become a gamechanger for the 'Boomers' of South Australia, giving them the opportunity to live with like-minded neighbours in a safe and secure community setting.
"We're delighted that Glenside will be home to South Australia's first Community Apartment Project with 100% ownership and the first project of its kind for Cedar Woods, with plans to roll out more in other states," said Mr Pivovaroff.
"Future residents will not only enjoy luxury apartment living but first-class lifestyle facilities, which can be shared with their visitors and guests.
"Bloom residents will add to the growing community at Glenside, which is now home to more than 750 residents from first home buyers through to empty nesters."
Glenside, which was launched by Cedar Woods in March 2018, is now home to more than 182 completed town homes, two apartment buildings with a third under construction, Glenside Community Park, and most recently the opening of a childcare centre in the restored, Occupational Therapy Centre heritage building, built in 1879.
Glenside will see the continued transformation of the 16-hectare site into a master-planned community with new homes and high quality landscaped public spaces as well as walking and cycling trails.
To learn more and register your interest in Bloom at Glenside visit www.bloomglenside.com.au.
---
About Cedar Woods
Cedar Woods Properties is a national developer of residential communities and commercial developments. Established in Perth in 1987, the Company has grown to become one of Australia's leading property companies.
Cedar Woods has established a reputation for generating long-term shareholder value underpinned by its disciplined approach to acquisitions, the rigour and thoughtfulness of its designs, and the creation of dynamic communities that meet the evolving needs of its customers.
Cedar Woods' diversified product mix includes land subdivisions in emerging residential communities, medium and high-density apartments and townhouses in vibrant inner-city neighbourhoods and supporting commercial developments. Cedar Woods' developments epitomise the Company's long-standing commitment to quality.
www.cedarwoods.com.au