What not to miss at the Feast Festival!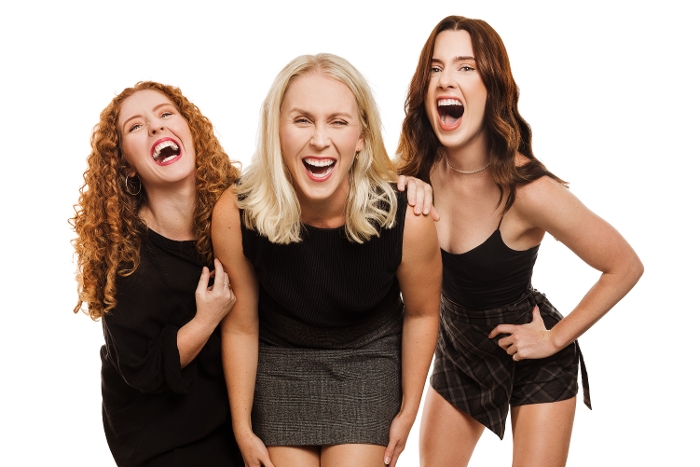 Get ready for Adelaide's premiere LGBTQIA+ event, Feast Festival!
From November 1st to the 19th, you'll discover a world of vibrant performances, thought-provoking exhibitions, and unforgettable experiences that will ignite your senses and captivate your heart. It's all about celebrating diversity, art, and culture - you won't want to miss it.
We have laid out key highlights week-by-week to help you pick fabulous events.
WEEK 1 November 1 - 5
PICNIC IN THE PARK
Prepare for the highlight of the year - the Feast Festival's much-anticipated annual Picnic in the Park on Sunday, November 5th! Gather your best buddies and your loved ones, including your furry friends, for an unforgettable day. Immerse yourself in captivating performances at the Feast Artist Stage, savor a multitude of culinary delights from local food vendors, and browse through lively market stalls featuring the creative works of independent artisans. Interact with community stallholders, applaud our four-legged companions at the Feast Dog Show, and witness the thrilling Tattoo Parade.
Don't forget to mark your calendar for this community-centric event, where joy, connection, and merriment converge in the heart of the park.
PICNIC AFTER PARTY
The journey continues long after the sun sets - head to the official Picnic After Party at Mary's Poppin to keep the festivities alive. Consider this your exclusive invitation.
Indulge in a night of unrestrained fun with drinks, pulsating music, and spectacular shows. We're rolling out the red carpet for the 2023 Feast Festival at Mary's - join us in the celebration!
ROOFCLIMB NIGHT FEAST FESTIVAL
Looking for a truly unique nightlife experience? Look no further than the Feast Festival Night RoofClimb! This event guarantees an unforgettable night, hosted by Adelaide's iconic drag performers, Vonni and Kris del Vayze. Dance the night away on the rooftop of Adelaide Oval, accompanied by a curated playlist, all while enjoying the breathtaking views of the night sky and city lights.
For an evening filled with dancing, drinks, and unbeatable vistas, the Feast Festival Night RoofClimb is a must-attend event. It's the perfect way to elevate your night out in the city. Even better, all proceeds from this event will be donated to the Feast Festival. Don't miss out on this extraordinary experience on November 1, 3, 8, 10, 15 and 17.
HAPPILY EVER POOFTER
If you're a Disney fan and proudly a massive raging queer, "Happily Ever Poofter" is tailor-made for you! This legendary, smash-hit parody musical is back, and it's a must-see on November 2nd and 3rd. Follow the hilarious and heartwarming quest for true love with Prince Henry, the Kingdom's one and only openly gay royal.
The award-winning cabaret spectacle features brilliantly reimagined musical favourites like "Some Day My Prince Will Cum," "High Ho!" and "Just Come Out To The King!" It has enthralled and delighted audiences worldwide, and now it's your chance to join in the magic.
★★★★★ Gay Times
★★★★★ LondonPubTheatres.com
★★★★★ Boyz Magazine
★★★★★ Weekend Notes Adelaide
QUEER CLUB
Prepare for a night of pure magic at Queer Club Festival, where we celebrate the LGBTQIA+ community with music, glitter, and inclusivity. Five amazing Australian Queer music acts and the fabulous Drag Queen Ophelia Butt will ensure an unforgettable evening On November 3rd.
At the Queer Club Festival, we open our arms to all, inviting everyone to embrace their true selves in a safe, accessible space. This event unites us through the power of music, creating a haven where diversity shines, and creativity thrives. Performances by Aleksiah; Caroline & Claude; Sour Sob; Pest Control; and Effie.
NUNGAY - BLAQ EXCELLENCE GALA
Get ready to be enchanted at NUNGAY - Blaq Excellence Gala, an extraordinary evening of cultural celebration and artistic brilliance on November 4th. This event promises a dazzling showcase of Indigenous talents, spanning music, dance, comedy, and more, all deeply rooted in the rich cultural heritage of First Nations communities, whilst also shining a spotlight on LGBTIQA+ experiences.
Adam-Troy Francis, a proud Kaurna, Ngarrindjeri, and Wirangu Two-Spirit individual, leads the charge, and his impressive career spans dance, teaching, directing, choreography, and advocacy. He's made history and achieved numerous accolades, including being an advocate for the First Nations community and an electronic DJ known as Death Adder. This event is where the worlds of queerness and Indigenous creativity unite, offering empowerment and inspiration in a single unforgettable evening.
KWEER
KWEER is a preview exhibition featuring LGBTIQA+ content in Marvel and DC Comics from the CCA's inception to the present. These comics represent the first appearances of queer characters and address various LGBTQ+ issues. Whether you're a queer history, comics, or art fan, KWEER offers something for everyone. Visit the exhibition during Diverse-City's opening hours between November 1 - 17.
Compiled by Paul Stone, an SA Mobilisation + Empowerment for Sexual Health (SAMESH) team member, who has spent more than a year researching the queer history of Marvel and DC comics, dating back to the 1950s when the Comics Code Authority (CCA) was established to regulate comic content. The CCA enforced strict guidelines, including prohibiting any reference to same-sex attraction and emphasis on the sanctity of marriage in romance stories.
MINUS 18 QUEER FORMAL
The much-anticipated Minus18 Queer Formal is making its grand return to Adelaide in 2023! Get ready for the most dazzling night of the year as we once again turn the Queens Theatre into the ultimate, all-inclusive, music-filled queer celebration.
Save the date for Saturday, November 4, and prepare for an unforgettable evening featuring live performances, drag shows, new friendships, special guests, and boundless queer youth euphoria. This event is tailored for young people aged 12-19, and we can't wait to welcome you to the party.
WEEK 2 November 6 - 12
THE QUILT: A FORUM
The Australian AIDS Memorial Quilt Project, inaugurated on December 1, 1988, has produced over 100 quilt blocks, each comprising eight panels honoring individuals who lost their lives to AIDS-related illnesses. Recently, two of the South Australian AIDS Memorial Quilt blocks have returned to Adelaide, presenting an occasion to showcase them from November 1st to 5th at The Quilt: A Forum and delve into their connection to the broader quilt project, and the historical context in which these remarkable pieces were crafted.
FEAST FESTIVAL OPEN MIC NIGHT
Step into the spotlight and venture into uncharted creative territory by spontaneously adding your own literary creations during the event. Do you have the charisma, uniqueness, nerve and talent?
Join us for a night of discovery on November 8th as we delve into unforeseen realms with an impromptu roster of local poets and storytellers, both emerging and well-established at Open Mic Night. Be sure not to overlook the exciting Rapid Fire session, commencing at 6:00 pm, and then stay to see what sparks of inspiration you can ignite on the stage! Shantay you stay!
MUTT
Mutt is a 2023 drama film marking the directorial debut of Vuk Lungulov-Klotz, who also wrote and produced the film. It had its world premiere at the 2023 Sundance Film Festival and was honored with the Special Jury Award for Acting. It is being screened on November 9th at Mercury Cinema.
The film delves into a day in the life of Feña, portrayed by Lío Mehiel, as he grapples with his relationships with those who were absent during his transition - including his ex-boyfriend, half-sister, and estranged father. Vuk Lungulov-Klotz's debut feature explores the complex journey of reconciling the past with the present and has been lauded as "one of the best films about post-transition adjustment" by Leslie Felperin of The Hollywood Reporter.
BUT I'M A CHEERLEADER
A queer cult classic film, But I'm a Cheerleader follows Megan's unexpected journey through a unique and humorous lens, as she grapples with her own identity and the discovery of her true feelings amidst the backdrop of a controversial conversion camp.
It follows the story of Megan (Natasha Lyonne), who considers herself a typical American girl. She excels in school and cheerleading, and she has a handsome football-playing boyfriend even though she isn't that crazy about him. So she's stunned when her parents decide she's gay and send her to True Directions, a boot camp meant to alter her sexual orientation. While there, Megan meets a rebellious and unashamed teen lesbian, Graham (Clea DuVall). Though Megan still feels confused, she starts to have feelings for Graham. The movie is being screened on November 11th at Palace Nova Eastend Cinema.
THE EQUALITY AND INKLUSION BOUT
Light City Derby proudly presents the 2023 Pride Bout on November 11th! Witness an electrifying Roller Derby clash between Inklusion and eQuality, highlighting inclusivity in this thrilling full-contact sport played on roller skates.
Whether you're a Roller Derby enthusiast or a first-time spectator, the 2023 Pride Bout promises an unforgettable experience. It's not just about the captivating sport but also a celebration of equality and empowerment, breaking down barriers and showing that Roller Derby belongs to everyone. From jaw-dropping athleticism to electrifying cheers, this event is all about unity and shared passion on the track. Join us for this history-making moment and be part of the excitement!
LESBIAN LOVE STORIES
Lesbian Love Stories, a captivating cabaret uniting classically trained talent. This remarkable trio, boasting a member with a prestigious Les Misérables London performance on her résumé, showcases their classical training in a seamlessly woven tapestry of raw, honest, and uproarious entertainment. Join these accomplished women on November 12 and their rockin' pianist as they unveil anonymous tales of global love, delivering an unfiltered and humour-infused exploration of the intricacies of everyday relationships. Having garnered accolades with sold-out runs at numerous festivals, a coveted Matilda Award nomination, and triumphant tours, this formidable ensemble is poised to bedazzle Adelaide with their electrifying harmonies and masterfully paced comedy.
"It's funny, it's witty and it's brave! ★★★★★" - Broadway World
"The trios harmonies are electric" - Artshub
"Expressive with great comedic timing!" – Weekend Notes
"A well-paced, slickly produced show" - Australia Arts
QUEER WEDDING EXPO
The Adelaide Queer Wedding Expo is set to bloom with a thousand blossoms! This event unites the finest LGBTQ+ wedding vendors and services in a relaxed environment, offering you the opportunity to explore everything from wedding dresses to delectable cakes and ideal entertainment. Beyond wedding planning, it's a celebration of love and community. Join us on November 12th for a day of inspiration and connection at the Adelaide Queer Wedding Expo.
WEEK 3 November 13 - 19
CHRISTIAN HULL
Christian Hull: The Comedy Sensation. An AACTA-nominated Australian comedian, content creator, and best-selling author, Christian Hull brings his uproarious, candid, and irresistible humor to the live stage. Best known for his contagious enthusiasm over t-shirt folders, paint color guesses, and quirky reactions to everyday life, he's taken the world by storm.
Since his last sold-out tour, Christian has conquered the online realm with hilarious content and his infamous 'Fuck Off Shop.' Now, he's back with a brand new live comedy show, delighting audiences worldwide. Don't miss this beloved comedy icon with over 3.3 million followers – tickets are going fast!
★★★★ 'Hull is profoundly, irresistibly, undeniably likeable – and very bloody funny.' - TimeOut Sydney (The Best Comedians We Saw At Sydney Comedy Festival 2022)
★★★★ 'A very funny man. Hull's appeal is far-reaching and broad, and the love for him is palpable.' - X-PressMag
★★★★ 'Unique, comical, and highly relatable... a look into the world of Christian Hull.' - Impulse Gamer
With 670M+ views and a legion of followers, Christian Hull is the embodiment of hilarious content creation. He's captured hearts and laughter across the globe, and now he's back on stage, bringing his signature irrepressible energy to live audiences.
NIGHT LAB: TROPIC LIKE IT'S HOT
Get ready for a tropical-themed, adults-only night of fun at the South Australian Museum. Enjoy talks, music, performances, and, of course, tropical drinks. Kane Enable and friends will dazzle you on the main stage, while the Temple of Science offers the latest knowledge. You can also relax in the games area with fruity drinks. With hands-on activities on all five museum floors, it's an event you won't want to miss. Book your November 17th tickets for Night Lab: Tropic Like It's Hot and dive into the fun!
RAINBOW HISTORY CLASS
Rainbow History Class, the TikTok sensation, is leaving the online realm for an IRL classroom adventure, where homework isn't a worry, and chaos reigns. Hannah McElhinney and Rudy Jean Rigg invite you to their live show on November 17th and 18th at the FEAST Festival, an entertaining journey through queer history from ancient times to the digital era, offering insights into secret queer codes, gender-bending icons, and remarkable activists, welcoming LGBTQIA+ individuals and allies.
With more than 600k followers, a best-selling book, and a TEDxSydney talk, Rainbow History Class is known for its captivating stories and historical fun facts. From revealing queer love letters to the story of Alice Springs as a lesbian haven, their live lesson brings you the history you didn't get in school. Showing up is all it takes to ace this class!
MITCHELL COOMBS
Calling all the fierce and grumpy souls out there! Mitchell Coombs, renowned for his epic rants and tantrums, embraces a new era of comedy focused on letting go. Following the sold-out success of his debut show, "Can Ya Stand It?!" – an achievement that earned him the Best Newcomer award at the Melbourne International Comedy Festival – Mitchell now brings you "Water Off A Duck's Clit." In this show, he explores the art of picking your battles, leaving grudges behind, and finding humour in life's darker corners. Don't miss the hilarious and unabashed Mitchell Coombs on November 17th and 18th!
COMEDY DEBATE
Explore the debate on the evolution of queer life at an event featuring Australia's funniest and fiercest comics. They'll battle it out to answer the question: "Was queer life better with our own bars, clubs, and culture, or is integration into the mainstream the way to go?" Hosted by the iconic Adelaide Legend Lori Bell and featuring Christian Hull, Rainbow History Class, Mitchell Coombs, Rudy-Lee Taurua, and Feast Debate champion Laura Taylor, this star-studded event is a festival favorite where you decide the winner with your laughter and wit. Don't miss the Feast Comedy Debate, a must-see entertaining event on November 18th!
IMAGES are available for:
• Picnic in the Park
• Lesbian Love Stories
• Christian Hull
• Feast Comedy Debate
• RoofClimb Night Feast Festival
Join us for Pridevember and celebrate diversity, love, and inclusivity at the Feast Festival 2023. For more information and tickets, visit the Feast Festival website www.feast.org.au