AUSTRALIAN FIRST: OPTICAL by NATIONAL PHARMACIES SETS SIGHTS ON TACKLING CONTACT LENS WASTE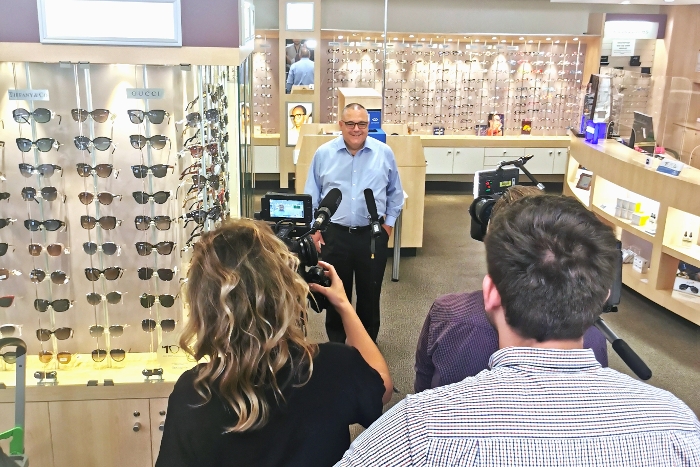 Optical by National Pharmacies stores in Adelaide have become the first in Australia to collect and recycle contact lens waste from customers, aiming to divert about 230,000 empty disposable contact lens blister cases from landfill over the next six months.
The contact lens waste trial, launched today, follows the success of National Pharmacies recycling 3.2 million empty medicine blister packs as part of a program that has more than doubled recycling targets since starting one year ago.
Coinciding with National Recycling Week (November 13-19), Optical by National Pharmacies is partnering with Opticycle for an initial six month trial to recycle empty disposable contact lens blister cases deposited in collection boxes at 10 Optical by National Pharmacies stores in South Australia.
Opticycle will separate the contact lens cases into plastic and aluminium for repurposing into building products, including plastic fence posts and plastic wheel stops, and in the production of steel.
Disposable contact lens blister cases cannot be recycled through kerbside waste collection.
Data from Opticycle estimates between 250 to 500 million disposable contact lens cases are discarded each year by Australian consumers, with daily, single-use plastic lens cases making up the largest portion of that waste.
National Pharmacies CEO Vito Borrello said Optical by National Pharmacies was the first to provide customers with a response to tackling the issue of single-use contact lens waste on the back of strong customer feedback and support for recycling initiatives.
"Building on the success of our existing recycling efforts throughout our pharmacies, Optical by National Pharmacies will be the first in Australia to launch this initiative," said Mr Borrello.
"We are proud to be partnering with Opticycle on such a great initiative as we continue to expand our recycling efforts across our optical and pharmacy stores with the encouragement of our members and customers," he said.
Opticycle Business Development Manager Jason Rijnbeek said Opticycle was the only full recycling solution for contact lens waste in Australia.
"We hope that more partnerships like these will divert many more tonnes of unnecessary plastic and aluminium waste from the environment to make new products as demand for single-use contact lenses across Australia is expected to grow."
Last year, National Pharmacies became South Australia's first pharmacy chain to recycle empty medicine blister packs, with 44 of its pharmacies in SA, New South Wales and Victoria now involved.
It was anticipated that 1.4 million medicine blister packs would be collected for recycling in the first year of operation. However, National Pharmacies customers have far exceeded expectations - helping divert 3.2 million medicine blister packs from landfill and recovering 4.7 tonnes of plastic and aluminium for recycling.
Customers can deposit empty disposable contact lens blister pack cases at these participating stores:
• Optical by National Pharmacies Adelaide (Lower Ground Floor, 52 Gawler Place, Adelaide)
• Optical by National Pharmacies Christies Beach (Christies Beach Shopping Centre, 70 Beach Road, Christies Beach)
• Optical by National Pharmacies Cumberland Park (380 Goodwood Road, Cumberland Park)
• Optical by National Pharmacies Findon (Findon Shopping Centre, 303 Grange Road, Findon)
• Optical by National Pharmacies Gawler (Gawler Central Shopping Centre, Cnr Murray and Cowan Street, Gawler)
• Optical by National Pharmacies Golden Grove (Shop 74, The Grove Shopping Centre, The Golden Way, Golden Grove)
• Optical by National Pharmacies Marden (Shop F, Cnr Lower Portrush & Payneham Road, Marden)
• Optical by National Pharmacies Marion (Shop 1037, Westfield Marion, 297 Diagonal Road, Oaklands Park)
• Optical by National Pharmacies Mount Barker (Shop 5, Barker Plaza, Cnr Hutchinson and Morphett Street, Mount Barker)
• Optical by National Pharmacies West Lakes (149 Brebner Drive, West Lakes)