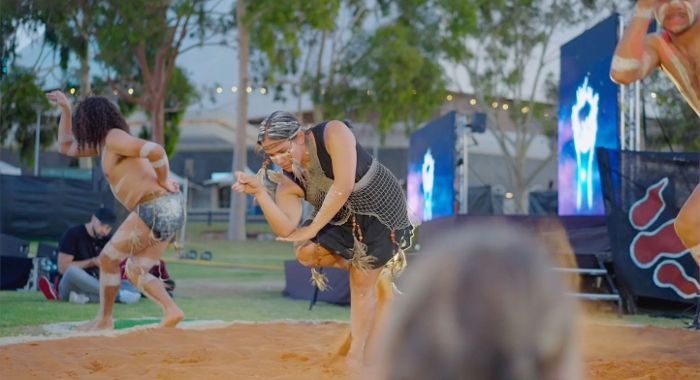 Australia Day Council of SA
Communications cut through cultural complexity – Australia Day 2023
For some, Australia Day is a time for celebrating the country's contemporary cultural diversity. For others, it marks a time of dramatic change for Australia's First Nations people.

In 2023, an increasingly divergent public debate was being played out nationally around the timing and meaning of Australia Day.

Against that background, the Australia Day Council of SA (ADCSA) tasked Hughes to deliver an integrated communications program providing context for community debate and supporting attendance at key Australia Day events held for the first time across two days at Elder Park. These included a cultural sunset ceremony on the eve of Australia Day, the 'Mourning in the Morning' ceremony and other illuminated elements as part of Aus Lights on the River - developed in collaboration with Aboriginal leaders. Community representatives and artists.

The narrative - All Australians are part of the story.

To lead the Australia Day narrative, in collaboration with ADCSA, Hughes developed a comprehensive multi-pronged Communication Plan that covered traditional media (print, radio and TV) as well as social media. Hughes negotiated and developed content for sustained news coverage months in advance to ensure it led the narrative around Australia Day and its program of events.

In implementing the agreed Communication Plan, ADCSA achieved widespread and balanced news coverage across local and national media and on social and digital platforms – resulting in heightened community awareness and engagement.
ADCSA posted record attendance at Elder Park on both days.

Perhaps most significantly, the sentiment shared by those who attended the First Nations events, including the sunset ceremony and the annual 'Mourning in the Morning' ceremony, was positive and heartfelt – demonstrating community support for events that facilitated genuine and meaningful reconciliation and celebration.