Slingsby celebrates a wonder-filled decade with anniversary concert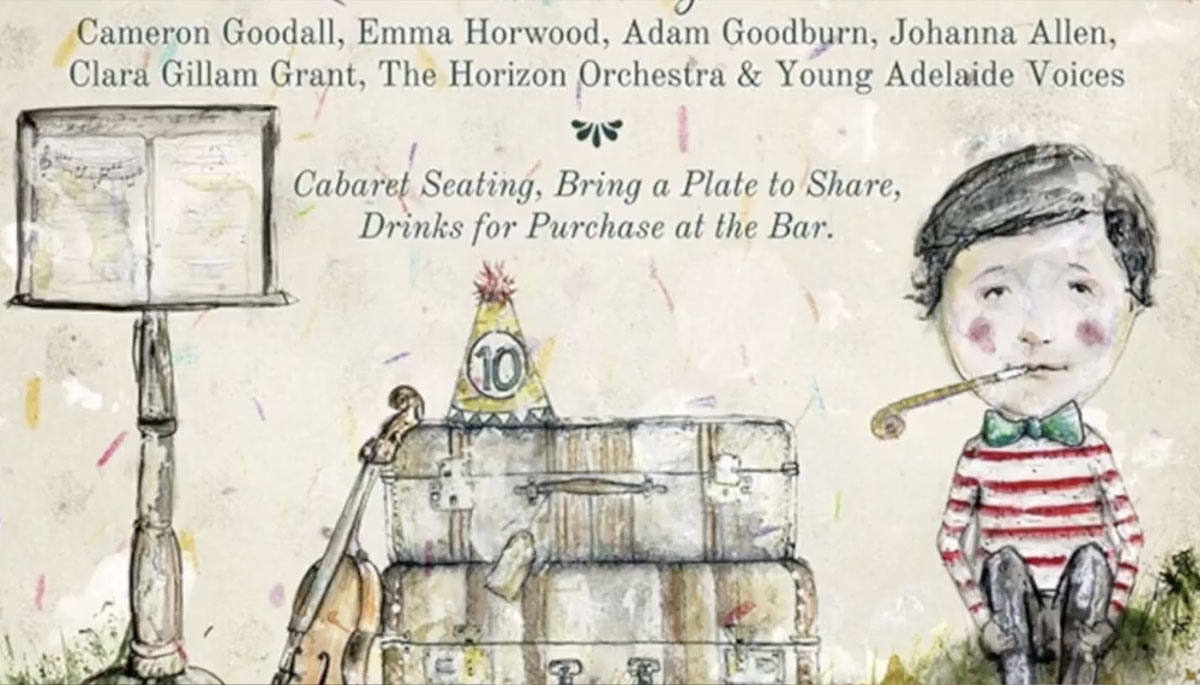 Adelaide-based theatre company Slingsby will celebrate a wondrous decade of delighting audiences at home and abroad with an anniversary concert at the Queen's Theatre on Saturday 9th September.
A musical retrospective Songs from a Journey So Far showcases Quincy Grant's compositions from Slingsby's productions from the past 10 years, including their most recent show Emil and the Detectives.
It will feature performances from Cameron Goodall, Emma Horwood, Adam Goodburn, Johanna Allen, Clara Gilliam Grant, The Horizon Orchestra and Young Adelaide Voices.
Slingsby began captivating audiences in 2007 with its first production, The Tragical Life of Cheeseboy and since then has staged 7 productions in 70 venues across 44 cities in 10 countries, including a 'sold-out' seasons of the production The Tragical Life of Cheeseboy on 42nd Street, New York.
The company returns to 42nd Street in October (13 - 22) when its production of The Young King will run at The New Victory Theater, an acclaimed New York theatre dedicated to kids and family productions.
Slingsby Artistic Director Andy Packer said Songs from a Journey So Far is a celebration of everyone who has contributed to Slingsby success over the last 10 years – audiences, cast, venues, supporters, the creative and production teams and our families.
"Quincy has been an Associate Artist with the company from the beginning and presenting a retrospective of the music he has composed for Slingsby is a fitting way to celebrate a decade of our shared theatre making," said Andy.
2017 has been a busy year for Slingsby, and one to remember, with the company winning the International Performing Arts for Youth (IPAY) Victor Award, securing runs for The Young King on 42nd Street, New York and Sydney Opera House, and staging a new production, Emil and the Detectives.
Booking Details - Songs from a Journey So Far
Queen Theatre, Playhouse Lane, Adelaide
Saturday 9th September at 6.30pm. Cabaret seating, bring a plate to share and licensed bar.
Tickets Adults $45, Concession $30 Bookings: www.slingsby.net.au | 08 8231 3007
For media information, images and interviews, please contact: Simon Hatcher from Hughes on 08 8412 4100 or 0419 780 071, simon@hughespr.com.au
About Slingbsy Theatre Company: After more than a decade in the Arts as a performer, director and creator, Andy Packer founded Slingsby in 2007 with Executive Producer Jodi Glass. Andy's vision was to create a company specialising in creating high quality and emotive theatre experiences that an audience of both adults and young people can share, and which can tour to regional and metropolitan centres both in Australia and overseas. Slingsby works regularly with a range of leading South Australian artists including artistic associates Geoff Cobham and Quincy Grant.