First land released at new $100 million Glenlea Mount Barker development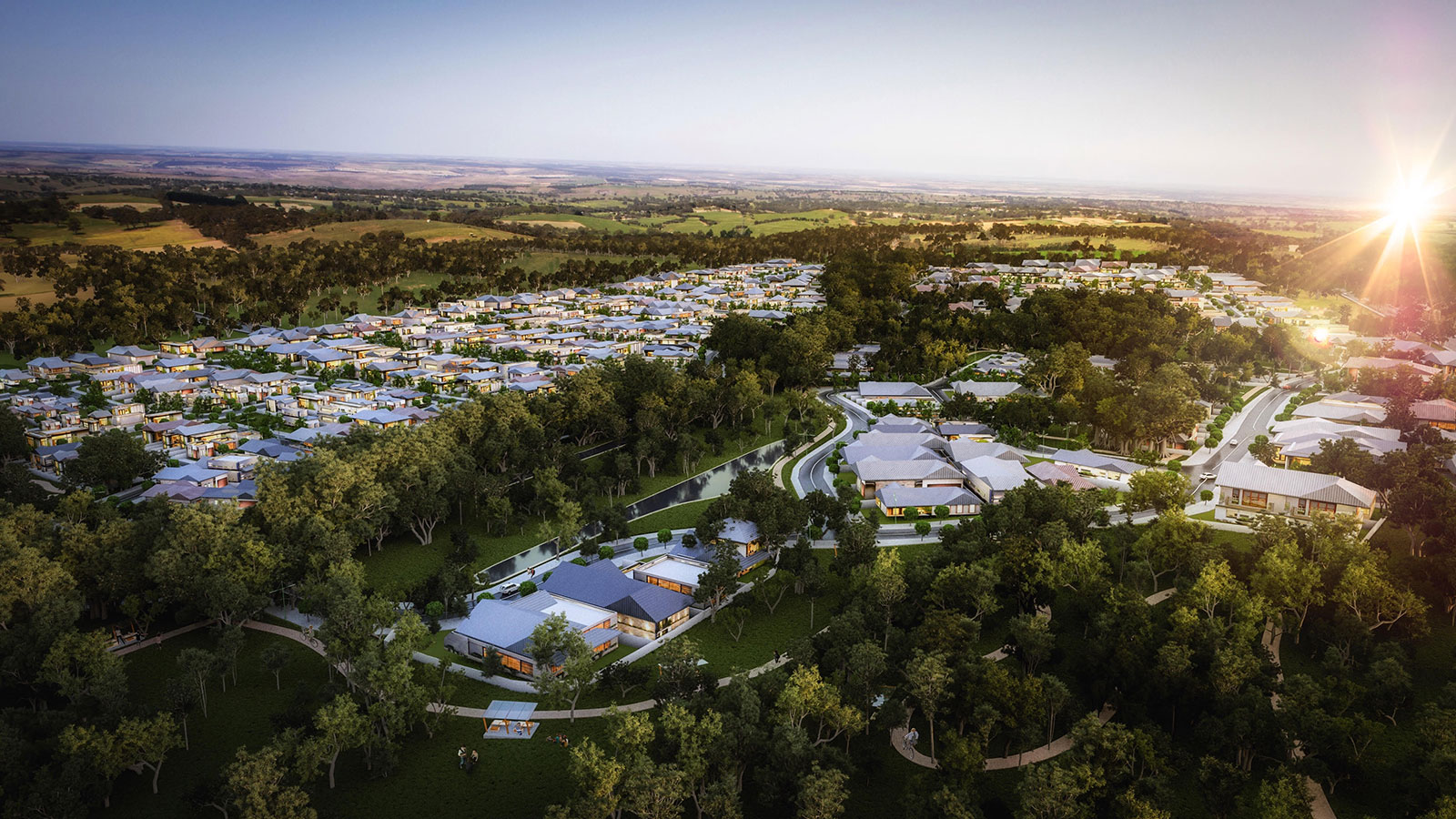 The first land allotments at a new environmentally-focused $100 million residential development in Mount Barker have been officially released to the market.
Known as 'Glenlea Mount Barker', the new housing estate will be set on 50ha of rural land bordered by Wellington Road and Bradfield Lane in the picturesque Adelaide Hills, and comprise of 600 homes nestled among parks, recreation facilities and natural woodlands.
A joint partnership between ASX-listed developer Axiom Properties Ltd and the local Gilbert family in Mount Barker – who have owned the land for the past 40 years – the village-style estate is seeking to set new design and sustainability benchmarks, with each new home to be meticulously planned, designed and tested to maximise energy efficiency and future-proof homes against rising electricity costs.
Axiom Properties Ltd General Manager Paul Rouvray said Glenlea is perfectly positioned within one of South Australia's fastest growing regions and will appeal to a wide spectrum of buyers.
"Glenlea is going to be one of the finest residential developments in one of the most scenic towns in Australia, so we're expecting strong demand from young couples and families through to empty nesters and retirees," said Mr Rouvray.
"Glenlea will appeal to anyone who enjoys the relaxed Adelaide Hills way of life and wants to become part of a friendly community where modern sustainable living and the natural environment are prioritised.
"In fact, we'll be maintaining 7ha of open space for the enjoyment of residents, including preserving an abundance of mature eucalypt trees that will ensure the estate maintains its beautiful natural ambience from the outset.
"We're also placing enormous importance on creating attractive streetscapes that residents can take pride in, and as part of this, we'll be undergrounding all power and data lines throughout the development."
Allotment sizes in the Stage 1 land release range from 188sqm to 1,283sqm to accommodate a mix of townhouses through to large country homes, with land prices ranging from $109,500 to $222,000. A range of house and land packages will also be available in partnership with selected premium builders.
Glenlea Project Consultant Richard Joy from Connekt expects allotments in Stage 1 to sell quickly.
"We're really excited to release the first blocks of land, including some of the best allotments in the entire development that we anticipate will sell fast," said Mr Joy.
"We think people are going to love the fact that Glenlea isn't your typical housing development, with features such as the 100-year-old red gums, the large watercourse that runs through the estate, and the network of public walkways and stunning natural scenery set to generate plenty of interest."
Site works at Glenlea are scheduled to begin by late October, including the creation of new roads and parklands, while a demonstration home will be completed next year.
To coincide with the release of the first land allotments at Glenlea, a new sales suite has been opened on the corner of Adelaide Road and Gawler Street in the Mount Barker town centre. It will host a special project launch event for interested buyers on October 8 and then remain open for visitors between 12noon-4pm on Mondays, Wednesdays, Thursdays and on weekends.
For more information, visit www.glenleamtbarker.com.au.

ISSUED BY HUGHES PUBLIC RELATIONS: Please contact
Kieran Hall on 0422 147 151 or kieran@hughespr.com.au