Hughes blog post: Igniting the "spark" with corporate team building activities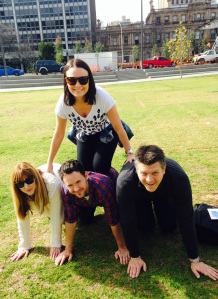 Even though the Hughes PR office culture ensures that we have a lot of fun while working hard for our clients, sometimes it's important for us to get out of the office into a new environment, and get stuck into something completely different.
We have a small team here at Hughes PR – a dozen of us work day to day in our offices in Rundle Street. Therefore a unified team of employees is very important to the success of our business. This quote from Inc. Magazine sums up why small businesses find high-performing teams critical: "people must work closely together, wear many hats and work effectively across the organisation to get tasks accomplished quickly enough to remain competitive."
Because teamwork is so critical to our business' success, team building activities are a great way to "spark" and grow our team: they allow us to get to know each other outside of the "daily grind" and work on unique challenges – often exposing each other's strengths and weaknesses!
Way back in 2010 we made our way down to Port Adelaide to the studio of artist Mark Lobert. After a Pink Hummer ride to Port Adelaide we arrived at the gallery – where we intended to release our inner Monet and van Gogh! After Mark introduced himself and showed us some of his beautiful paintings we were asked to create a collaborative painting: start with one colour, pass the canvas onto the person next to us for them to then add to it, and repeat three times before putting it down to dry.
Mark then separated the group into two and placed large canvases on the work benches. We were then to put our creative minds together and paint something spectacular that we could bring back to the office. One team painted an abstract piece with colours of red, orange, yellow, pink and white, while the other team painted Rundle Street with a beautiful red sky, the buildings which line the street and the car lights.
The next task for the day was to create our own canvas. There were a few blank looks but once the paint was down there was no stopping us. I have to admit that I am not the most creative type and my painting resembles something that a two year old would be pleased with – but it was fun, and that's the main thing!
With all the painting done for the day it was time to head back to Rundle Street – but not before Tim got distracted and purchased a beautiful red sculpture for our office space.
The ride back to the city was certainly louder than on the way there, we had found the Hummer's karaoke machine and were all belting out our favourite songs! This Fun Friday was one we all remember and is certainly a talking point with all our paintings now hanging proudly in the office.
In 2013 we all piled into a stretch limo and made our way up to Stirling to spend the day at Sticky Rice Cooking School. What better way to get to know each other than by preparing a meal together? As we sliced, diced and chopped, we got to share our "kitchen personalities" – some of us were more comfortable with it than others! Of course, the best part was sharing a delicious meal together at the end of it. I would highly recommend this team building activity – it was great fun.
This year we worked with City Scramble to put together a team building exercise with a difference – a scavenger hunt throughout the city. It was interesting to see how nervous everyone was at first about the challenges that were put to us, but it took all of about 30 seconds for us to shake that off and for the competitive edge to kick in!
What was interesting about the City Scramble was the way in which it well and truly bought us out of our comfort zones – but with a great result. Many of the challenges required cooperation from the general public. Kieran and Mark commented after the event that they were surprised at how easy it was to ask people for assistance once they were armed with the confidence and purpose of the competition.
City Scramble also showed us the importance of strategy, prioritisation of tasks, and required a lot of problem solving.
The Scramble was then followed by a delicious lunch. It is such a great way to get to know each other away from the office and have plenty of laughs that always last well after the usual knock off time.
- Maddie Angel