Virtual reality helps BankSA become South Australia's first dementia-friendly bank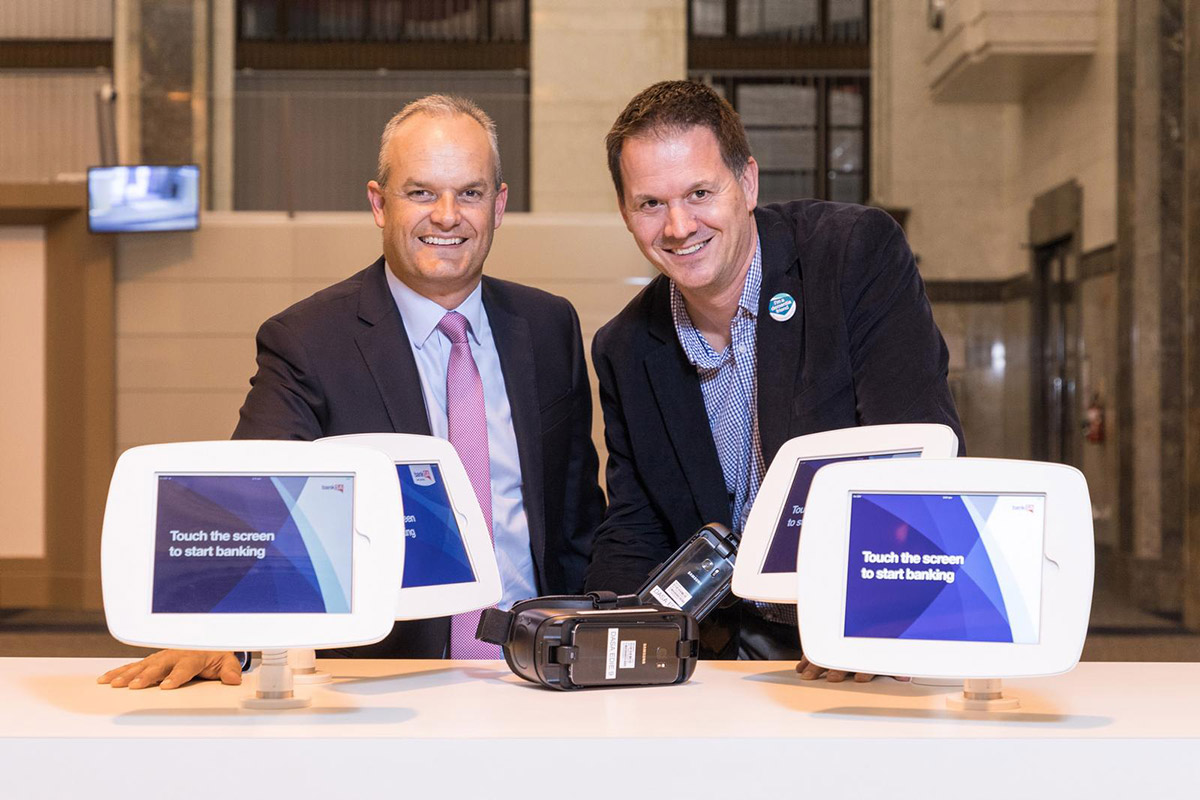 BankSA is the first bank in South Australia to be officially recognised as dementia-friendly, to help more people living with dementia remain financially independent for as long as possible.
In partnership with Dementia Australia, BankSA has implemented a raft of measures to make banking safer, easier and more accessible for people with dementia, which currently affects an estimated 35,000 South Australians.
The use of virtual reality technology has enabled BankSA staff to see the world through the eyes of a person living with dementia and start to gain an understanding of some of the challenges that might be experienced in undertaking a routine daily task. And then, see first-hand how small changes can significantly improve this experience.
BankSA Chief Executive, Nick Reade, said that as the incidence of dementia in the community grows, it is important to provide increased support for customers.
"South Australia has an ageing population and we are living longer than ever before, so it's increasingly important that our customers with dementia are able to continue to manage their finances for as long as possible," he said.
"BankSA branch teams have been trained to identify the signs of dementia and create a more comfortable experience and help reduce any stress or anxiety a customer may feel when doing their everyday banking.
"Additionally, should a customer or their carer let us know, we can identify, record and maintain the files of a customer with dementia to ensure a greater level of support."
Dementia Australia's Regional Director SA & NT, Mr David Furniss, said it is encouraging to see BankSA taking a lead in dementia awareness and working towards being dementia-friendly.
"Dementia is a condition that is impacting an increasing number of South Australians, so we're really pleased to be working with BankSA to implement a range of measures that will make banking easier for those living with the condition," Mr Furniss said.
BankSA Branch Manager, Denise Brown, said the dementia-friendly initiative is already providing better outcomes for customers.
"Several of our regular customers live with dementia, and through this program we've been able to provide a much better experience for them," she said.
"For example, we have a customer who started coming into the branch every week, instead of every fortnight, to collect her pension. At first we only had to gently remind her that pension day was the next week, but over the course of several months she started to become more anxious about her correct pension day and stressed that she wouldn't be able to pay her bills.
"But one day she came in with her daughter who we subtly let know about the situation. In turn, we made arrangements with the daughter for money to be transferred into her mum's account on a weekly basis instead of fortnightly, which helped reduce her mum's stress."
Mr Reade said the dementia-friendly banking initiative has been instrumental in helping BankSA staff understand some of the challenges faced by people living with dementia.
"Our people now have a much greater understanding of this condition and how it can impact people," he said.
"If you or someone you care about is affected by dementia, please come and talk to one of our branch staff about putting a dementia-friendly banking plan in place."
BankSA's dementia-friendly banking initiatives include:
BankSA branch staff being trained by Dementia Australia to recognise, respond to and assist customers living with dementia;
BankSA branch technology upgraded to identify, record and maintain the files of a customer who has been nominated as having a vulnerability; and
BankSA staff being able to refer vulnerable customers to Dementia Australia for further assistance if required.
Key facts about dementia
Dementia is the second leading cause of death in Australia each year, contributing to 5.4% of all deaths in males and 10.6% of all deaths in females.
For Australian females, dementia is now the leading cause of death each year, recently surpassing heart disease.
In 2018, there is an estimated 425,416 Australians living with dementia, including 191,367 males and 234,049 females.
Without a medical breakthrough, the number of people with dementia is expected to increase to an estimated 536,164 by 2025 and more than 1.1 million by 2056.
Currently, more than 250 people join the population with dementia each day.
Three in 10 people over the age of 85 have dementia.
Almost one in 10 people over the age of 65 have dementia.
Dementia is the single greatest cause of disability in older Australians (aged 65 or older) and the third leading cause of disability burden overall.
Media contact: Megan Grey / 0466 320 662 / greym@banksa.com.au