New $32 million boutique apartment project for Adelaide's coveted East Terrace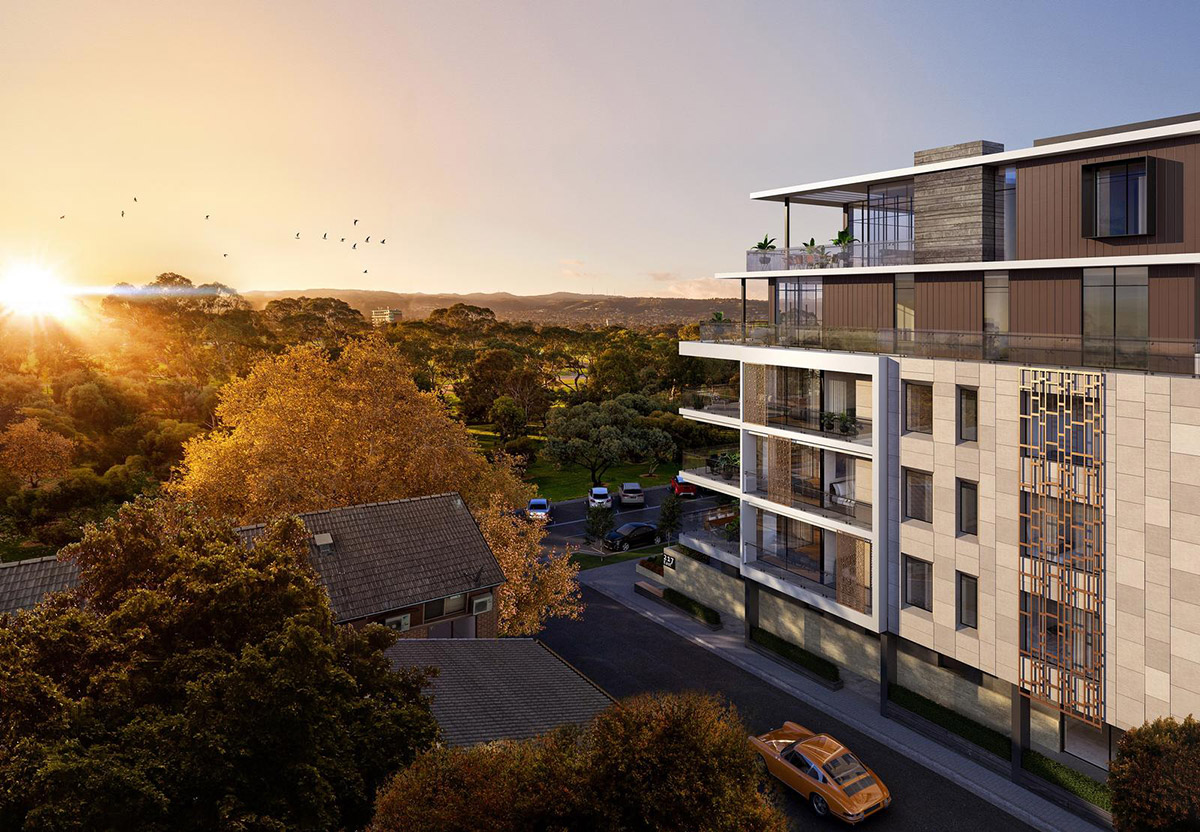 Minuzzo joins forces with Global Intertrade for luxury development
A new $32 million ultra-premium apartment project is set to be launched along Adelaide's highly sought-after East Terrace.
The boutique '217 East Tce' development will rise six storeys directly overlooking the city's picturesque East Parklands and target high-end buyers when apartments go on public sale on July 30.
Adelaide-based Minuzzo Project Management and Global Intertrade will jointly develop and build the 14 spacious apartments which make up the development, which will include two and three-bedroom options, plus a multi-million-dollar four-bedroom penthouse.
Minuzzo Project Management Chief Executive Officer Garry Minuzzo says purchasers will be impressed by the premium quality and size of the apartments, as well as the outstanding views on offer of the East Parklands and city.
"East Terrace is such a popular and tightly held location in the Adelaide CBD, so this is a rare opportunity indeed to develop a premium new apartment project that will set a new benchmark for quality," said Mr Minuzzo.
"These apartments will be immaculately presented with the highest possible standard of fixtures and finishes, while another key selling point will be their huge size. In fact, with floorplans ranging in size from 123sqm to 366sqm, they will be among the largest apartments available in Adelaide.
"We are expecting strong interest from empty nesters and senior professionals working in the CBD, who are looking to secure scarce real estate along East Terrace and move into a brand new luxury home."
Global Intertrade Managing Director Manuel Ortigosa says the company is excited to join forces with Minuzzo Project Management.
"Having successfully invested in South Australian property for almost 30 years, Global Intertrade is delighted to extend its portfolio with the upscale 217 East Tce development," he said.
"Our partnership with Minuzzo Project Management provides added financial security to the project and will give buyers tremendous confidence that this will be an absolutely first-class development."
Designed by architect Aplin Cook Gardner, the building will include a grand entrance lobby for residents, plus extensive underground car parking and basement storage.
Prices are anticipated to start from approximately $800,000 for a two-bedroom, two-bathroom apartment, through to several million dollars for the four-bedroom penthouse.
Mr Minuzzo says construction of 217 East Tce is scheduled to commence in October this year and be completed by mid 2020.
Established in 1959, Minuzzo Project Management is one of South Australia's leading family owned and operated construction management companies, with vast experience across residential, commercial and industrial developments.
Global Intertrade Group of Companies is a diverse group with considerable commercial property holdings in the Adelaide CBD and metropolitan areas, investments in the Barossa Valley wine industry and owns and operates the Opinion Media Group.
217 East Tce apartment sales will be managed by Connekt. For more information visit www.217easttce.com.au or contact Tony Mathews at Connekt on 0411 751 828.

ISSUED BY HUGHES PUBLIC RELATIONS: Please contact
Kieran Hall on 0422 147 151 or kieran@hughespr.com.au