Small charity awarded biggest ever BankSA Foundation grant of $170,000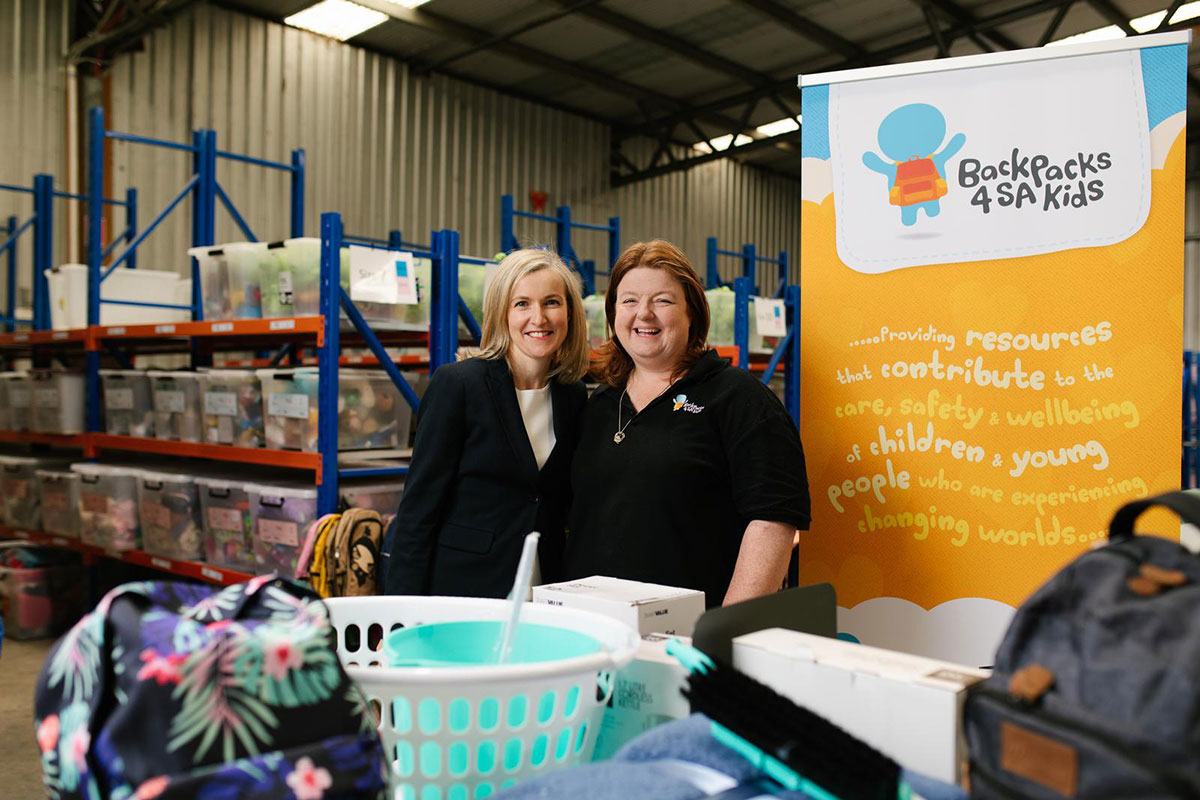 (L-R) BankSA Foundation Advisory Committee Member Megan Grey and Backpacks 4 SA Kids General Manager Rachael Zaltron.
A small South Australian charity has been awarded a $170,000 BankSA Foundation grant – the biggest grant in the Foundation's history – to provide special care packs to families displaced by domestic violence or escaping homelessness.
Backpacks 4 SA Kids, which was established five years ago to provide care packs to children settling into new foster homes, has been granted the money to extend its goodwill enterprise to families who have fled their homes due to domestic violence or who are starting over after being homeless.
Over the next three years, the grant will fund more than 1,200 home starter packs, each including essential items such as bed sheets, crockery and toiletries to help parents and children find their feet again.
BankSA Foundation Chair Nick Reade said the Foundation is driven by employee donations and this $170,000 grant, which also marks BankSA's 170th anniversary this year, will make a genuine difference to hundreds of families.
"Backpacks 4 SA Kids is a wonderful grassroots charity assisting thousands of South Australian children every year. Crucially, this grant will enable the organisation to expand its services to victims of domestic violence and homelessness to help to set themselves up for a brighter future," he said.
"We see this as a fantastic partnership between the BankSA Foundation and Backpacks 4 SA Kids, as well as BankSA staff who have expressed interest in volunteering their time to do what they can to support the charity and the families it helps."
Backpacks 4 SA Kids founder and General Manager Rachael Zaltron was thrilled to receive the grant, which she said allows them to help many more families trying to start over with limited means.
"We don't receive any government funding and rely largely on the kindness of individuals and organisations, so this grant is an absolute game-changer for us," she said.
"Support services like ours may seem minor, but they make a major difference in the lives of so many people.
"We have seen firsthand how the simplest things can make such a big difference. Families that have already received one of our home starter packs have been able to make a real go of it, whereas before they may have struggled to provide the basics, and for many that is the difference between staying or fleeing a volatile situation."
BankSA Foundation has developed a proud history of charitable and community support since 1941 when bank staff first agreed to donate part of their wages to send comfort parcels to colleagues serving in the armed forces. Still driven by staff donations, the Foundation has now given away more than $9 million to hundreds of charities in South Australia and the Northern Territory. For more information visit www.banksa.com.au/foundation.

Media contact:
Megan Grey / 0466 320 662 / greym@banksa.com.au