Adelaide welcomes tallest residential building as Kodo tops out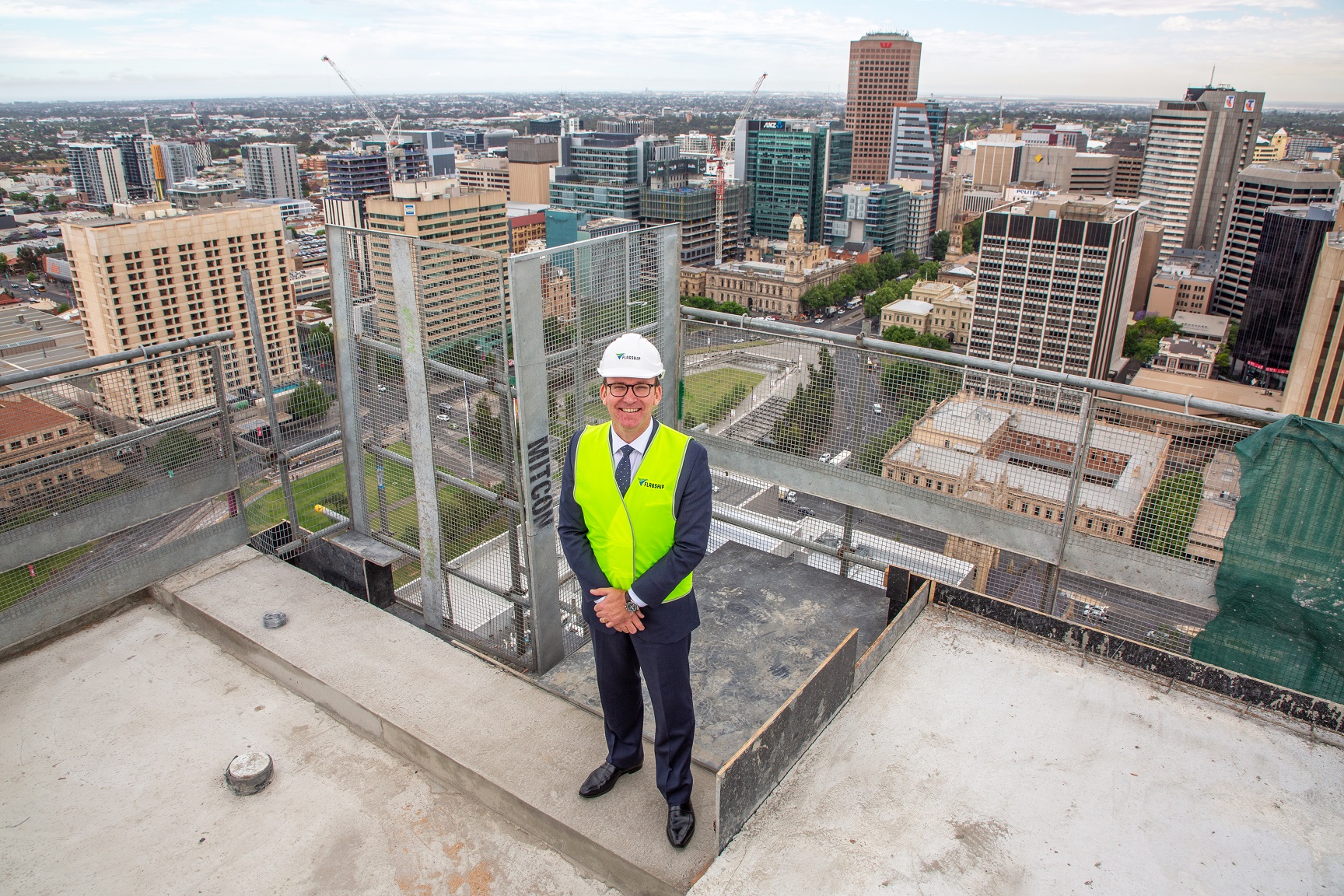 Construction on what will become Adelaide's tallest residential building has reached a major milestone, with the Kodo apartment development on Angas Street in the city reaching the topping out stage today.
South Australian Minister for Planning Stephan Knoll MP was among guests to gather on the top floor of the 30-storey building – which rises 103m – for a topping out ceremony to celebrate the installation of the highest point of the $100 million development.
The milestone follows the completion of the final concrete floor pour by builder Watpac and was marked by a large pine tree being raised from the ground to the top floor of the building by a 125m crane.
Construction of Kodo, which includes 202 apartments that are almost fully sold, commenced in April last year and is on track to be completed early next year.
Developed by Flagship Property Holdings, Kodo was designed by world-class architect Woods Bagot and to date has included:
259,642 labour hours;
41,460 square metres of formwork;
700 tonnes of structural steel;
785 tonnes of steel reinforcement;
8,500 cubic metres of concrete (approximately 1,480 truckloads);
566 precast panels and 182 columns; and
13,000 metres of stressing cable.
Mark Jarman, CEO of Flagship, says topping out at Kodo is an exciting milestone.
"Building a development of this size and scale is no mean feat, so to reach the topping out stage is a fantastic achievement," said Mr Jarman.
"It's not only a wonderful milestone for Flagship, but also for the many local contractors who have been working tirelessly on the project, as well as buyers who can see their future home taking shape.
"The Adelaide CBD is really coming of age as more people choose an urban lifestyle, which in turn is resulting in more shops, bars and restaurants, and an ever-growing vibrancy that continues to make Adelaide one of the most liveable cities in the world."
"We're delighted to be nearing completion of Kodo, which will become an iconic feature on the Adelaide skyline."
Located at 29 Angas Street near Victoria Square, Kodo includes a four-level podium from ground level, which will incorporate car parking, bicycle parks and residential apartments.
On the top floor of the podium, an exclusive resident 'sky garden' will be established, with landscaped entertaining and recreation areas, as well as surrounding apartments with mezzanine floors and generous private terraces.
Additional one, two and three-bedroom apartments will then rise up another 26 levels, offering sweeping views towards the Adelaide Hills and coastline. There will also be ground floor retail and commercial tenancies.
For more information visit www.kodoliving.com.au.

ISSUED BY HUGHES PUBLIC RELATIONS:
Please contact Kieran Hall on 0422 147 151 or kieran@hughespr.com.au.