LivingProof - An exhibition about joy, beauty and life-affirming experiences in ageing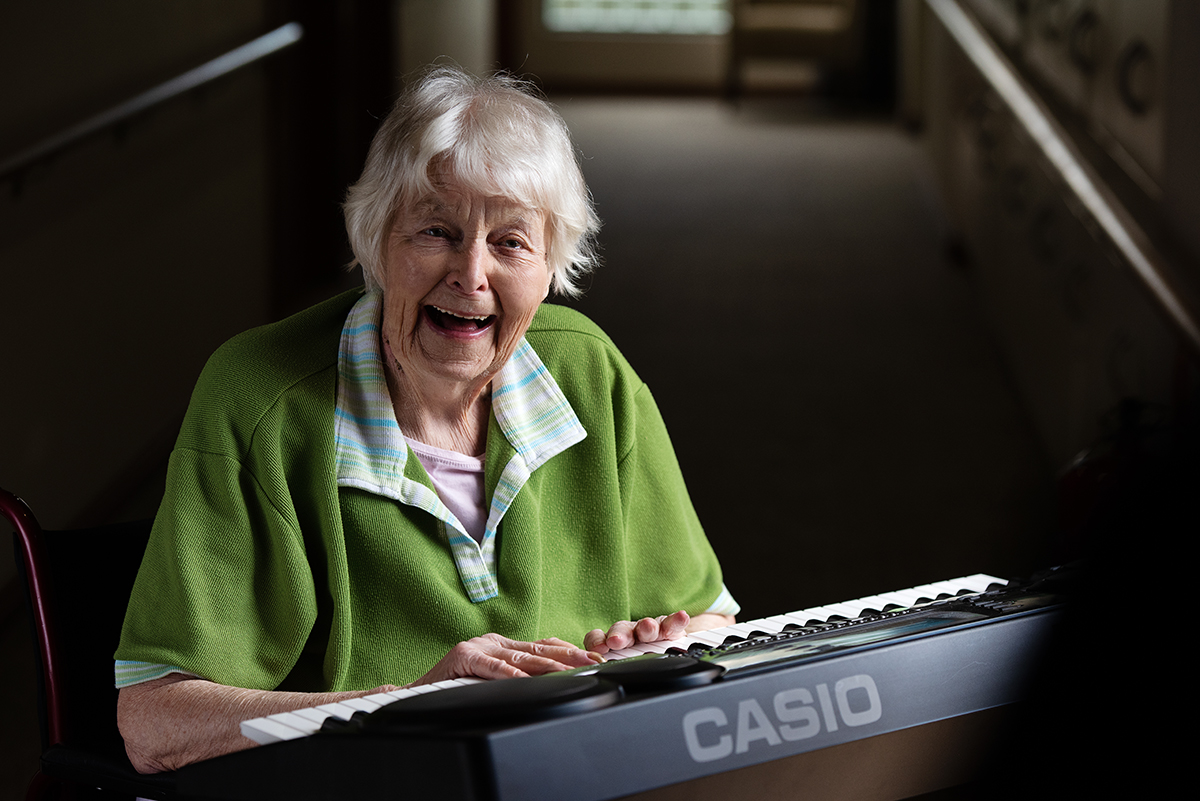 As we grow older, how we express our identities shifts as a result of mental and physical limitations, along with our response to the way society expects us to age. LivingProof, an exhibition opening this week at the Migration Museum, celebrates the often over-looked moments of joy, beauty and engagement in the elderly care community.
Through stories documented in a book by food icon and writer Rosa Matto, in recordings, and photos by photographer Italo Vardaro, Living Proof shares the stories of ten residents, consumers, family members, staff and volunteers at Bene Aged Care. Interviews were conducted and photos taken from late 2019 to January 2021.
"I like to go to the gym. The young people there know me and massage my legs and make me exercise on the machines. But I am very strong already, I walk every day," Maria, 83, Bene Padro Pio consumer.
"Sometimes, my wife is not present. I see her but she is not there. The pain is indescribable: it reduces me to tears. I have to remember the joyous times, the pride we have for our children and the life we made," Giuseppe, 90, daily visitor to Bene Campbelltown and husband to resident Tina for 70 years.
"Some days are so busy, I don't finish my crossword. I have the newspaper delivered every day and after breakfast I read the paper quickly before I get down to the business of the crossword. If I feel up for the challenge I do the cryptic," a very sprightly Winifred, 106, resident at Bene Italian Village.
"When I moved, I brought a few cuttings with me: the tomatoes you see in the courtyard, the seeds for the parsley. We grew everything we needed in Leslie Street. We hardly needed to go to the shop. Why go to a market? I grew everything. For Angela, I planted flowers – she liked a vase of flowers inside every week – beautiful roses, carnations, lilies, chrysanthemums, whatever was in season," Nello, aged 86, resident, husband and gardener at Bene St Clair.
"Sometimes I paint their nails. I love bright colours and glitter but they are a bit more reserved, going mostly for muted colours and ignoring my suggestions of bright purple with green glitter. I'm working on them. So far, June and Brian, yes Brian – are happy for a light coat of glitter over the top," Lynne, volunteer at Bene St Clair.
As South Australia's largest multicultural aged care provider, Bene Aged Care supports more than 2,500 people through permanent residential care, dementia care, palliative care, respite, home care and day services. Bene manages residential care homes at St Agnes, Campbelltown and Woodville, along with its Bene Casa Home Care services and its two Bene Vita Lifestyle & Wellness centres.
Bene Chief Executive Andrew McFarlane said the project came about after Ms Matto spent more time with residents, wanting to document their stories. Mr Vardaro had also begun taking photos to show how living in an ageing community could be life-affirming, contrary to stereotypes, as we are all on an evolving continuum of experiences.
With such positive energy and stories to tell – including what it meant for volunteers and staff to work in the close-knit community – the makings of the LivingProof exhibition began to take shape.
Marking the beginning of the World Health Organization's Decade of Healthy Ageing (2021 to 2030), Mr McFarlane said it was important to recognise that while there were limitations and compromises which must be made as we aged, we needed to continue to ensure the ageing community had a voice.
"Ageing affects all of us differently, from our 30-something chef Roberta el Sharkawi to Maria, who as a teenager fled Slovenia for an Italian refugee camp with her two younger sisters, and our vibrant, 106-year-old crossword-loving Winifred. Each has a lifetime to bestow," Mr McFarlane said.
"As is evident from the stories in the exhibition, the individual still maintains a strong sense of identity and spirit at Bene and it's our collective responsibility to ensure that people as they grow older continue to be treated with the dignity and the respect they deserve. Through LivingProof they're telling their own stories and they're being listened to. We're ensuring they will never be over-looked."
Ms Matto has a long association with Bene and has been visiting, sharing coffee and cooking with and for residents and their families for many years.
"Every time I went I encountered people who were happy and joyous but we never talk about that, we're always fixated on the past," Ms Matto said.
"I could see sometimes with some of them the look of dread because they couldn't remember their past and I thought, why are we just playing into the stereotype of living in God's waiting room? I wanted to flesh out their story in the context of what they are living now. It started with what brings them joy now."
The History Trust of South Australia's Migration Museum tells the stories of South Australians and celebrates cultural diversity. Since 1986, the museum has worked with hundreds of communities and thousands of individuals to engage with our shared past through exhibitions, education and public programs.
The Migration Museum's director, Mandy Paul, said: "The Migration Museum is delighted to present LivingProof. Through beautiful photographs and compelling stories this exhibition enables visitors to connect with the rich and joyous lives of members of the Bene community."
---
What: LivingProof exhibition official opening, sponsored by Jaymel Airconditioning
Where: Migration Museum, 82 Kintore Ave, Adelaide 5000
When: Sunday 14 March at 11am, the media is invited from 10.30am
The exhibition runs to 30 June 2021, 10am – 5pm daily, free entry.
Interviews with LivingProof participants, Ms Matto or Mr McFarlane can be arranged. Exhibition photos are also available for use. More information: migration.history.sa.gov.au