Victoria Park wetland construction starts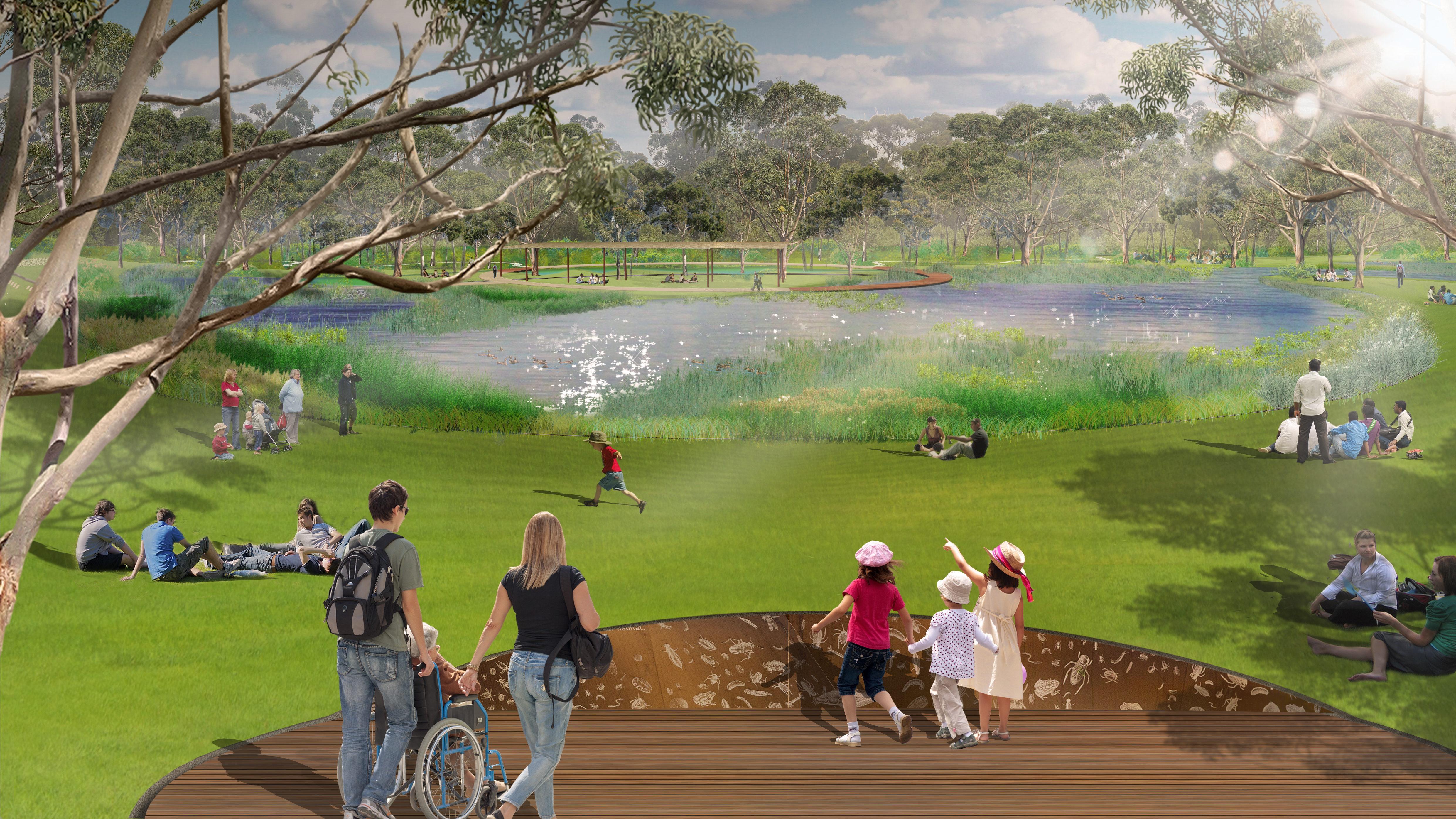 Construction of a new wetland at the southern end of Victoria Park / Pakapakanthi in the Adelaide Park Lands will commence next week.
The wetland is designed to help manage flooding in and around Park Lands Creek, and forms part of the Brown Hill Keswick Creek Stormwater Project.
The main construction works include clearing, earthworks and installation of drainage elements. A stockpile site has already been established to the north of project site adjacent Fullarton Road.
Perimeter fencing has been installed around the construction area and pathway detours established.
Leading SA-based civil engineering and construction firm, Bardavcol, are the lead contractor, with Ecodynamics appointed as landscape contractor. Work is expected to be completed by the end of 2021.
Project Director of the Brown Hill Keswick Creek Stormwater Project, Peta Mantzarapis, says the wetland will have a range of features to enhance biodiversity and facilitate recreational use of the area, in addition to drainage and flood management.
"Brown Hill, Keswick, Glen Osmond and Park Lands creeks are important drainage watercourses in metropolitan Adelaide," Ms Mantzarapis says.
"We've designed the wetland to deliver a range of benefits including improving water quality, enhancing the biodiversity of the area, and creating amenity for park users such as spaces to picnic, rest and to watch sport.
"New trees, shrubs and grassland areas will be planted, including aquatic species to create the wetland biodiversity and ecology.
"Large trees will be maintained as part of the layout, and mounding (berms) on the western, northern and south eastern sections will help contain water during a flood event.
"Other key features include board walks and a look-out with views over the entire wetland."
The Brown Hill Keswick Creek Stormwater Project is a collaborative undertaking between the catchment councils – including Adelaide, Burnside, Mitcham, Unley and West Torrens – to mitigate serious flood risks and help safeguard properties across the catchment.
Extending from the Adelaide Hills in the east to Adelaide Airport in the west, the project covers a catchment area of 69 square kilometres and more than 200,000 residents.
Flood mitigation works detailed in the Project's Stormwater Management Plan will reduce the number of properties affected by a one in 100-year flood event by nearly 98 per cent.