New generation of Port Lincoln tuna fishing families join forces to launch KIN Seafood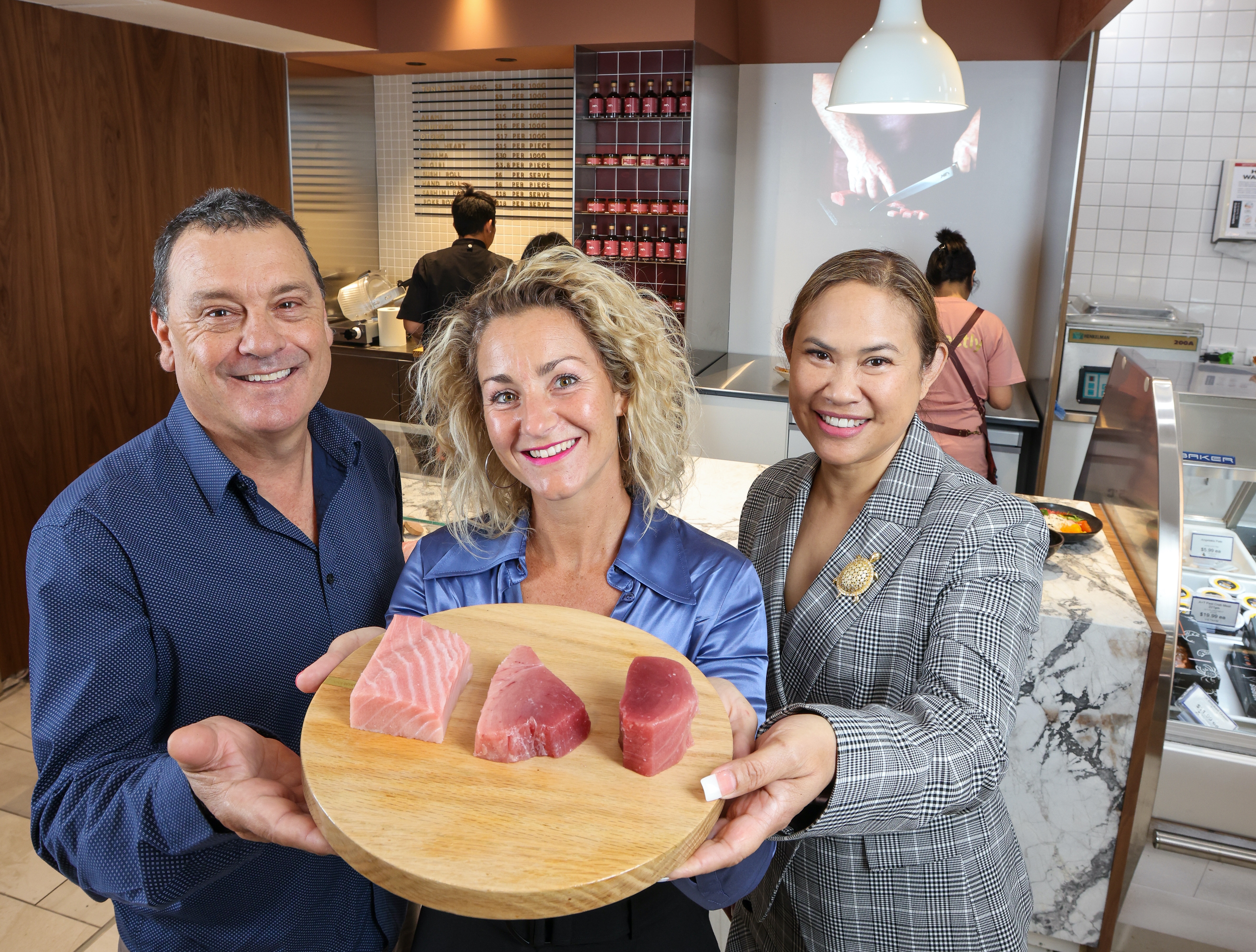 KIN Seafood directors Lukina Lukin, Marcus Stehr and Simoan Hayman at the Burnside store. Picture: Russell Millard
---
The next generation of three Port Lincoln-based tuna fishing families have joined forces for the first time to launch a new business aimed at testing and growing the market for premium Southern Bluefin Tuna among Australian consumers.
KIN Premium Australian Seafood was launched today (March 12) with the official opening of a flagship, concept store at the up-market Burnside Village shopping centre in South Australia, with plans to expand into other States and take the refined model to the food capitals of the world.
KIN is the brainchild of Blaslov Fishing's Simoan Hayman and Craig Hughes, Dinko Tuna's Lukina Lukin and Michael van Doorn, and the Stehr Group's Marcus Stehr and Kylie Petherick. This new generation of tuna farmers aim to re-energise the industry for the long-term through sophisticated consumer-based business modelling and marketing.
It follows the significant disruption to global premium seafood markets over the past year due to COVID-19, with a reduction in export commitments presenting Australian consumers with unique access to super-premium Southern Bluefin Tuna usually exclusively ear-marked for export.
This has led KIN to focus on going direct to the consumer with a range of super-premium cuts of Southern Bluefin Tuna. The three premium cuts carry their traditional Japanese names: Akami, Chutoro and Otoro.
These products, which have traditionally been the exclusive province of specialist chefs, will also include contemporary products such as cured tuna heart – a luxury treat used to shave over pasta or flavour sauces; and mojama - a tuna-derived prosciutto that's earned super-premium status among European foodies. These products are part of an approach to using the whole fish and minimising waste.
KIN Director Simoan Hayman said the establishment of KIN came from recognising the need for our families as the new generation of Port Lincoln fishers to evolve, diversify and work together to write the next chapter of the industry.
"KIN aims to break new ground with the way that Southern Bluefin Tuna, the most prestigious and luxurious fish money can buy, and other premium seafood is currently marketed, sold and eaten in Australia, said Ms Hayman.
"We're aiming to create a unique experience for our customers when they visit our store, through beautifully presented products, informed and educated staff, and premium seafood that simply cannot be purchased anywhere else in Australia.
"Australian-caught Southern Bluefin Tuna is a super-premium seafood experience recognised around the world for its pure taste and texture. Its natural purity is born from the environmental attributes of its source – the cold, clean, green and pristine waters of the Southern Ocean – the same waters that yield world class Southern Rock Lobster, Abalone, Prawns and Oysters.
"Southern Bluefin Tuna isn't only melt-in-your-mouth-delicious but has significant health benefits that have been well researched. It's a fantastic source of omega 3 fatty acids ('good fats'), B complex vitamins, potassium, iodine, and magnesium, zinc, vitamin C and selenium."
KIN is the next chapter in the success story of the Southern Bluefin Tuna industry in Australian which was pioneered by the Port Lincoln fishing industry. From humble beginnings, the Southern Bluefin Tuna industry is now the single most valuable sector of South Australia's aquaculture industry.
The KIN store is located within the new Angelakis store at Burnside Village Store 60/447 Portrush Rd, Glenside SA 5065.