Work set to start on Old Reynella development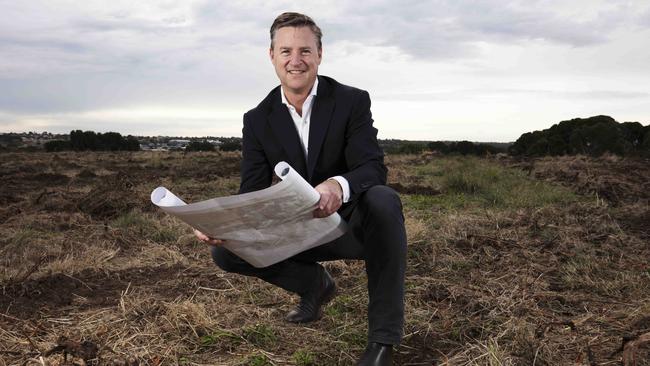 Picture: Emma Brasier
---
Work will commence within months on the $100-plus million residential development of part of the former Hardy's Reynella winery on the corner of Panalatinga and Reynell Roads, Old Reynella.
The new community – to be known as Hurtle Grove – will comprise approximately 245 residential allotments made up of 216 Torrens Title allotments and medium density housing options.
Already, 14 of the State's major residential building companies have committed to building 23 display homes to open in 2022 at Hurtle Grove. Builders include Burbank, Dechellis, Distinctive, Fairmont, Gallery Living, Hickinbotham, Liberty, Metro, Metricon, Oakford, SA Housing Centre, Statesman, Sterling, and Weeks.
A limited first stage of approximately 38 allotments has been released, with development of the lots to commence in the second half of this year. Informal enquiries from potential home owners have been very strong during the planning and consultation stages and registrations of interest from the wider community can be made at www.hurtlegrove.com.au.
The project was approved by Onkaparinga Council in mid-February following extensive consultation between the site's owner, Tarac Properties, the Council and community over more than four years.
Tarac Chief Executive Officer, Mr Jeremy Blanks said the residential component of the mixed-use development would be delivered in six stages over the next 3 to 4 years.
"There will be a strong emphasis on quality development outcomes and public infrastructure within a generous 'green urban' landscape," Mr Blanks said. "The project's architectural tone will be established by the quality of the display village – which is expected to attract interest not just from Hurtle Grove buyers but from across the southern region as homeowners take advantage of low interest rates and rising property values to replace their existing homes, old for new.
"Adelaide's southern suburbs are close to beaches, close to the Southern Vales wine region and at the front door of the highly diverse Fleurieu Peninsula – with the result that demand for new and existing homes is currently running strong.
"This is a rare opportunity for buyers to be able to choose their own allotment and home builder."
Mr Blanks said the quality of the revitalised precinct would be underpinned by Tarac's intended long-term custodianship of the site and its 90-year heritage of involvement in the wine industry.
The longstanding South Australian wine industry supplier purchased the Accolade Wines Reynella site in early 2016 and has since made a significant investment in revitalising commercial activity on the site, which has attracted a number of businesses, bringing with them more than 350 jobs.
Tarac is a leading global supplier of premium beverage grade grape alcohol products to the wine, brandy and spirits industries and a variety of others including Australian craft distilleries, food producers and nutraceuticals. The company, whose history with the wine industry dates from 1930, already has experience with rejuvenating similar sites. In 2007 it purchased the former Penfolds site in the Barossa Valley and successfully converted it into the Beckwith Park Barossa Industry and Business Centre.