Adelaide's tallest student accommodation building tops out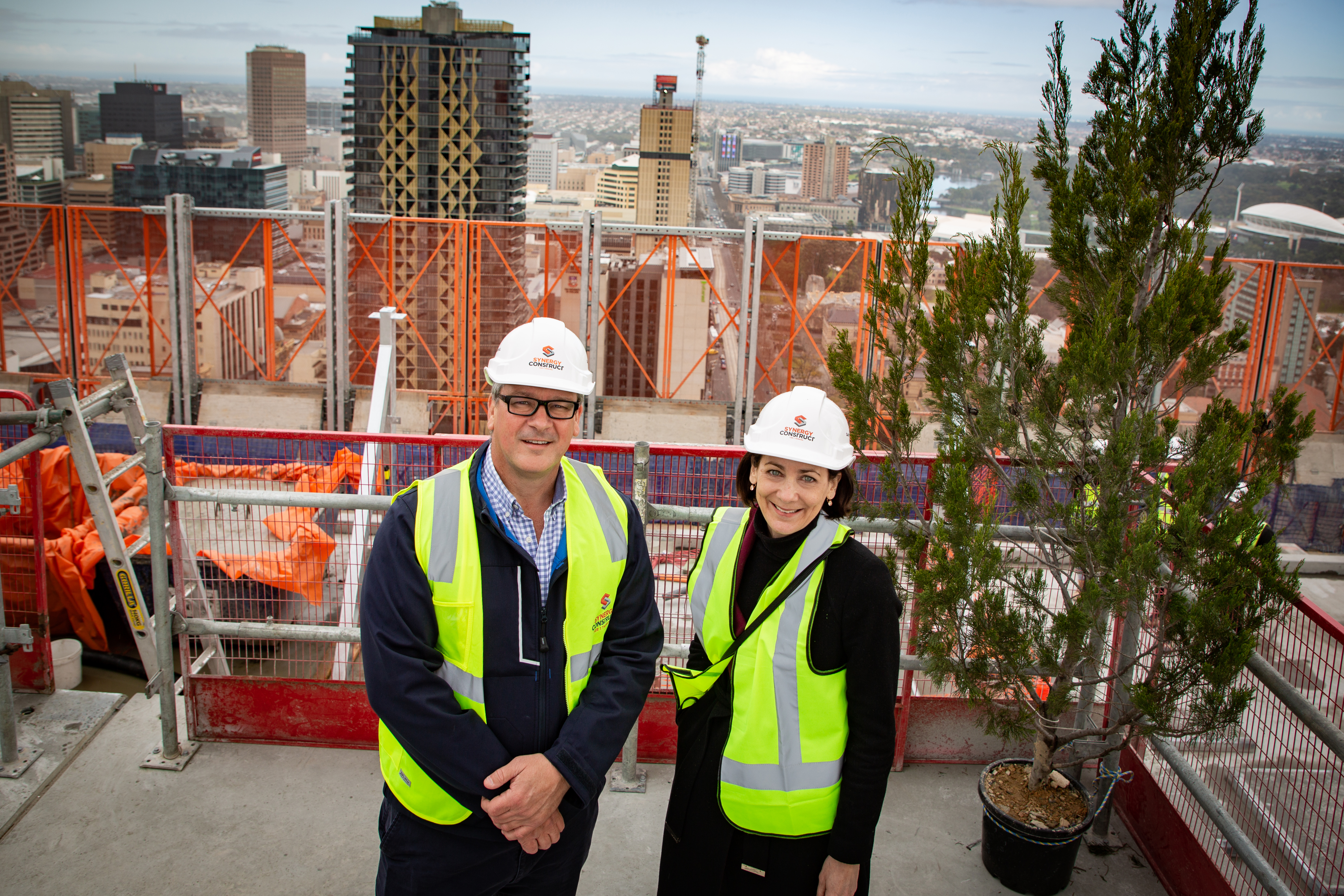 Yugo Managing Director - APAC, Tim Klitscher, with StudyAdelaide CEO, Karyn Kent.
---
World-leading student accommodation provider Global Student Accommodation (GSA) has held a topping out ceremony today, as works on its $110 million building with unrivalled views across North Terrace, Lot Fourteen and the Adelaide Hills reach a critical point.
At over 118m high, it will be one of Adelaide's tallest buildings and, with 725 bedrooms and extensive communal areas, GSA's largest Australian student accommodation facility. The complex will be operated by Yugo (previously The Student Housing Company Australia) and will be named Yugo Adelaide City.
This is GSA's fifth development asset in Australia, adding to its existing presence in Melbourne and Perth, and further growing its global footprint in 55 cities across nine countries.
The property is strategically located on the corner of North Terrace and Frome Street, and directly opposite the University of Adelaide, the City East Campus of the University of South Australia and the Lot Fourteen innovation hub.
GSA Managing Director of Real Estate, James Hunt said "the complex is on track for completion in early 2022 and demonstrates the company's continued confidence in both the South Australian economy and demand for high quality accommodation for students".
"South Australia is a world-class education destination with the University of Adelaide being in the top one per cent in the world with an increase in applications for 2021 despite the pandemic. GSA is a long-term investor and specialist in student accommodation globally. We committed to North Terrace at the beginning of COVID-19 based on the strength of the core fundamentals for the city and robustness of the higher education sector underpinned by the growth in student numbers," Mr Hunt said.
"The project created close to 320 jobs for the local community and with the challenges of the past year, I'm extremely proud of the team reaching this critical milestone working alongside our contractor Synergy Construct."
"We are also delighted to appoint Yugo as the operator for our GSA North Terrace location. Its connected, sustainable and innovative approach will benefit our living spaces and students on their educational journey."
The property will include study spaces, outdoor terraces, a gym, cinema, communal kitchens and lounges with dining and laundry facilities. It will serve as a hub of student activity to ensure students feel connected and safe, with a management and residence team on-site around the clock.
Yugo Adelaide City aims to provide a holistic approach to international education and accommodation. It will have a focus on sustainable lifestyles, provide opportunities for students to live in a balanced and inclusive community, and support personal development through training programs, workshops and internships to enable social and economic mobility.
Yugo Managing Director - APAC, Tim Klitscher said "as one of the world's top three liveable cities, Adelaide is welcoming and safe and is the ideal location to support students, through a truly connected education sector that works closely with all stakeholders, including accommodation and local business, to create the most attractive destination for students when selecting where to study".
"We are looking forward to bringing the Yugo experience to the city and creating opportunities for the students who live with us. The student housing landscape in South Australia is evolving, offering students more choices in where and how they want to live, including personal growth and development."
Yugo Area Manager – Australia, Karen Goodall, said "I'm excited to be leading the team which will deliver the first Yugo property in Adelaide, in a city which has student experience at its very heart."
"We're aiming to bring a new style of accommodation to Adelaide which has a social purpose, a focus on sustainability, inclusivity and personal development as our priority."
---
About Global Student Accommodation
Global Student Accommodation (GSA) is an international market leader in the provision of student housing, providing an unrivalled student experience in nine countries across four continents.
Global Student Accommodation's strategy has four key pillars:
To create an unrivalled portfolio of student housing in the world's leading university cities;
To be the trusted partner for our investors, universities, parents and students;
To go beyond a place to live by creating for our customers safe and welcoming communities; and
To champion the benefits of the global student housing sector.
GSA manages 2,000 beds in Australia. Other locations include The Boulevard in Perth, Infinity Place and University Square in Melbourne. For further information, click here.
About Yugo
Yugo is the first global student housing operator, created to enhance students' overall experiences throughout and beyond university and college life. Yugo offers a truly differentiated living experience that is environmentally and socially conscious, emotionally supportive and safe. Based in Denver, Colorado, the business was created through merging three successful international operational brands – The Student Housing Company, Nexo Residencias and Uninest Student Residents with the U.S. operations of UComm, which were previously all under Global Student Accommodation (GSA), the leading real estate and investment asset manager. Yugo's experienced leadership team builds on decades of experience to help more students across the globe learn, grow and thrive. Learn more.