King William St Special Olympics Torch Run to celebrate International Day of People with Disability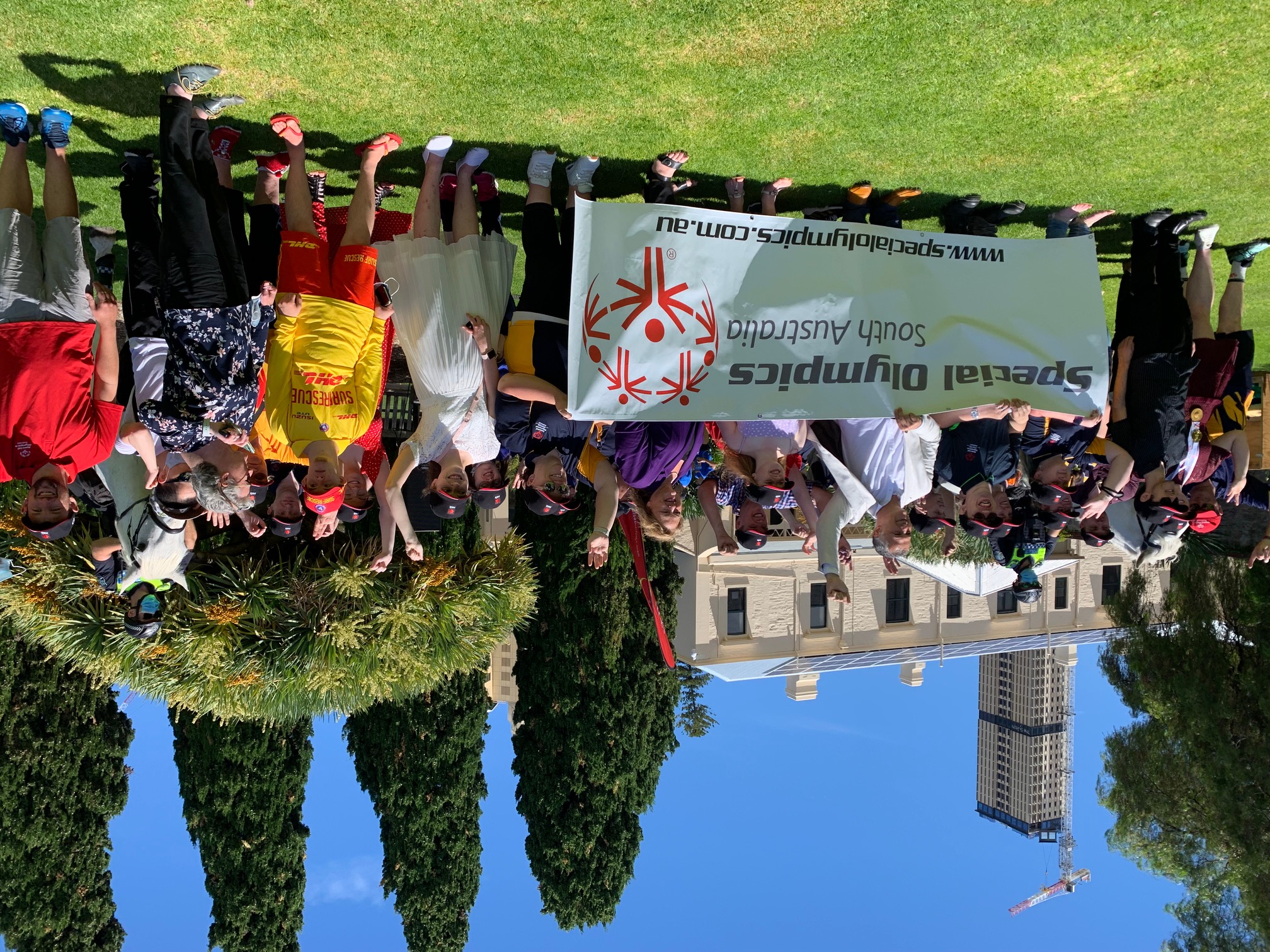 The South Australian team for the Special Olympics Australia National Games will be announced by the Governor, Frances Adamson, at Government House tomorrow (December 3), following a parade along King William St featuring the Law Enforcement Torch Run South Australia (LETR SA) "Flame of Hope" for Special Olympics.
Special Olympics athletes will welcome the Flame of Hope to Government House with a guard of honour after it has been carried by SA Police and emergency service workers and accompanied by emergency service vehicles, police greys and motorbikes.
Changing the lives of children and adults with intellectual disabilities, Special Olympics South Australia's 2021 State Team will be announced at Government House, with a team of 120 athletes and 30 volunteers heading to Tasmania late next year.
In October, more than 300 athletes participated in netball, swimming, athletics, basketball, bowling, football, and tennis, with more than 100 school-aged children also competing at youth carnivals.
Supported by Facilities First, Special Olympics South Australia State Coordinator Matt Pearson said athletes from all over South Australia had trained hard for their events, and many were looking forward to competing in Tasmania next year.
"Providing inclusive opportunities to develop physical fitness is a mission of Special Olympics, and every time we train or compete with our Special Olympics athletes, we see the love they have for physical activity and know they're having fun every minute they're out there," Mr Pearson said.
"The Special Olympics are about inclusion, celebrating our abilities, and trying a new sport or a new activity. Taking part in the nationals gives our athletes a chance to make new friends, travel and compete in a fun and supportive environment."
The South Australian team will take part in the Special Olympics Australia National Games in Launceston, Tasmania, in October 2022. The Special Olympics World Games will then be held in Berlin, Germany, in June 2023.
The Law Enforcement Torch Run (LETR) began in the United States 40 years ago, with its members being the Guardians of the Flame of Hope - symbolising the shining light of inclusion, acceptance, and support in moving forward.
LETR SA Chair, Detective Inspector Rob Badenoch said the LETR was established 40 years ago by a group of police in the US to raise money for the Special Olympics and to champion the acceptance and inclusion for people with intellectual disabilities.
The relay will continue to Tasmania, culminating in the flame arriving in Launceston to light the cauldron to declare the Games open next year.
"Through this partnership with Special Olympics, we provide opportunities for intellectually disabled athletes to empower and transform themselves, improve their inclusion in our communities and for them to be able to participate in sport, with pathways to local, regional, national and world games," Det. Insp. Badenoch said.
"On International Day of People with Disability, we also acknowledge all members of our community who live with a disability, we also acknowledge the challenges that they face, and we will focus on and celebrate their abilities."
Marking IDPWD, a carnival of sporting events and activities will also be held at the Port Pirie Sports Precinct today (December 2), including soccer, football, cricket and lawn bowls and a barbecue, at various locations.
---
About Special Olympics Australia
Special Olympics Australia is part of a global inclusion movement using sport, health, education and leadership programs every day around the world to end discrimination against and empower people with intellectual disabilities. Our volunteers create accessible sports training, coaching and competition opportunities which are offered week-in and week-out in local communities throughout Australia. www.specialolympics.com.au