Unique Adelaide podcasting innovation to launch at Gluttony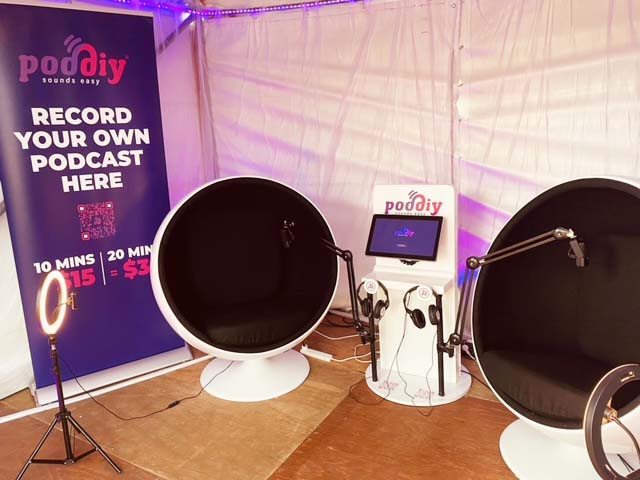 The latest innovation in podcasting, offering podcasters an efficient, cost-effective way to record and edit their work, will be launched at Gluttony at the Adelaide Fringe this week.
Designed and developed in South Australia over the past two years with the backing of local business owners, husband and wife team Richard and Siobhan Miller are launching poddiy; allowing users to record professional podcasts at a fraction 
of the cost of a studio.
The Millers, working together in the marketing industry, identified a gap in the market for mid-tier podcast production, inspiring the creation of the acoustically sound and mobile poddiy.
"Our vision is to make podcasting fun, affordable and easy for anyone with a story to record and share, anywhere in the world," Mr Miller said.
"You don't have to be a seasoned podcaster to use poddiy; it has been designed for those who want to give podcasting a go while ensuring the sound quality is of a high professional level."
Poddiy comprises two acoustically-padded retro moon chairs and a 'poddiyum' fitted with professional RODE recording equipment. Future podcasters simply find a pod, enter their details and hit record.
The team is also working on a software system which will allow poddiy to edit and host podcasts – aiming to be the first in the world to offer DIY recording, editing and hosting on one platform.
Ms Miller, poddiy's Events and Partnerships Manager, said podcasting was one of the most popular platforms to educate, entertain and communicate around the world, and by using poddiy, podcasting would be more accessible to a wider a range of people.
"We wanted to simplify the process without compromising sound quality, giving South Australians the opportunity to easily make podcasts of their own," Ms Miller said.
"We are so excited to launch poddiy at the biggest event in Adelaide's calendar and can't wait to hear the stories from thousands of Fringe-goers!"
As a launching pad and supporter not just of the arts but of also of innovation, the Fringe will showcase poddiy technology, particularly as the many in the entertainment industry have turned to podcasts during the COVID-19 pandemic to connect with their audiences.
At Gluttony, a poddiy marquee will be situated where visitors, artists, families, amateur and professional podcasters can take a seat and begin recording, at a small cost.
Coming soon, users will be able to edit the recording online in a unique, integrated system. In the past, podcasters have had to employ an editor in a studio or self-edit on a separate web-based application.
"As well as simplifying the recording process and making broadcast-quality equipment accessible at a low cost, in version two of our platform, users will be able to save time and effort through the 'poddiy portal', controlling their own editing suite and distribution channels," Mr Miller said.
Mr Miller said poddiy had plans to set up in pubs, hotels, universities, libraries, schools and shopping centres, employing a user-pays model.
"If you take a school for example, providing poddiy for students to use allows them to dip their toe in the water when it comes to sharing ideas and learning how to podcast, without having to set up an expensive studio," he said.
Poddiy plans to set up 150 pods nationally by the end of 2022.
To see how poddiy works, click here.
---
For further information, to arrange an interview or photos at Gluttony with colourful characters using poddiy, contact Richard Miller on 0450 926 350 or at richard@poddiy.com.au; or Siobhan Miller on 0401 904 038 or at siobhan@poddiy.com.au.