Introducing the hottest innovators in the mining, energy and resources industries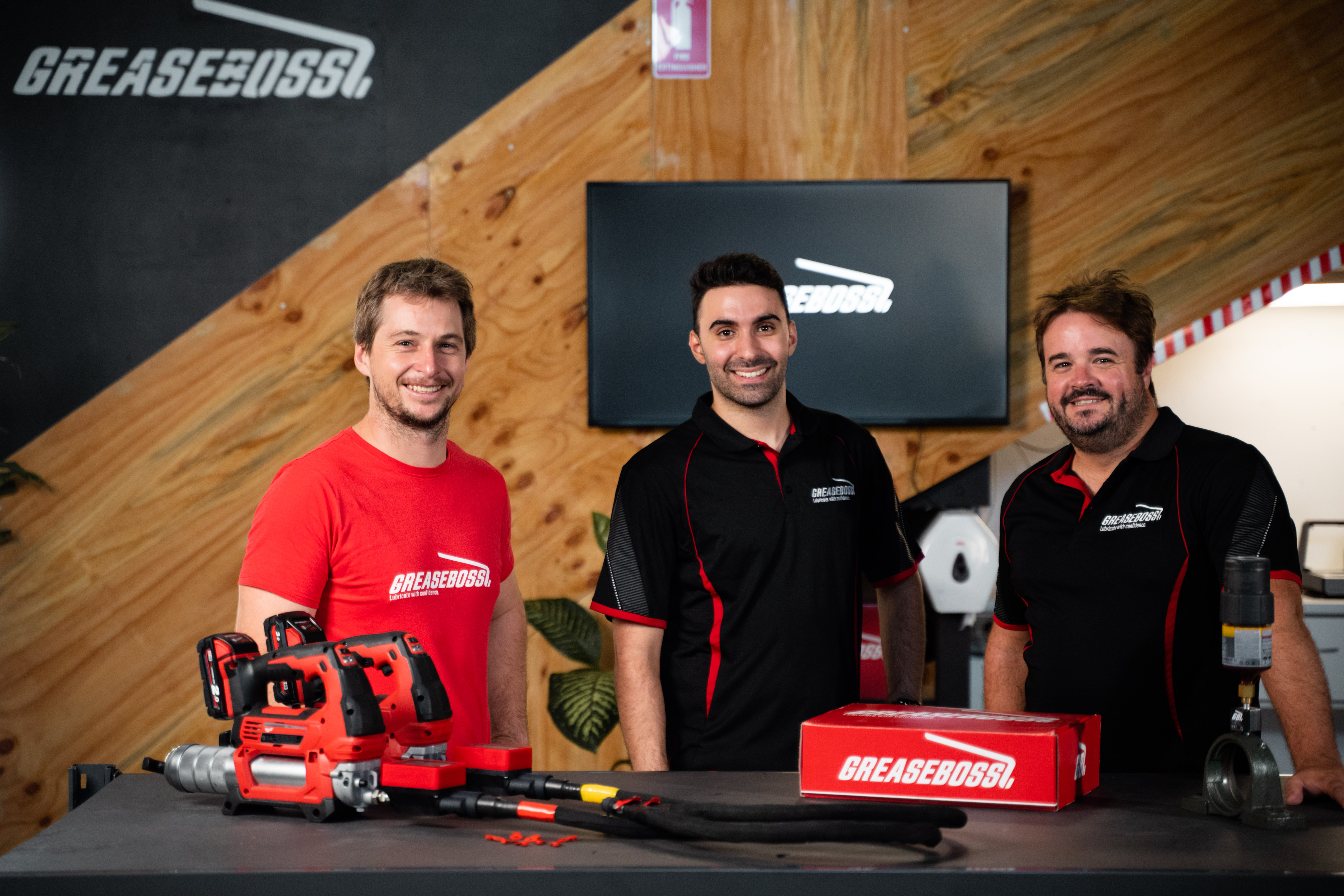 Picture: Innovator of the Year Award winner, GreaseBoss.
---
A business which tracks and traces the greasing status of individual grease points using a cloud-based application, ensuring machinery outages can be avoided, has won the prestigious Innovator of the Year Award in this year's CORE Hot 30.
Queensland-based Grease Boss was among six prize winners to top the 2022 awards, which recognise the hottest Australian innovators in the mining, energy and resources industries in Australia.
Hosted by Core Innovation Hub, the Hot 30 showcases the next generation of businesses which are successfully developing technology and shaping the future of their industries through innovation.
Announced in Adelaide, the HOT 30 has included six category winners for the first time, with the Emerging Industry award going to Greatcell Energy, which aims to reduce the cost of solar power by using small, thin, solar cells produced with roll-to-roll technology.
Also Queensland-based, Wildfire Energy took out the Sustainability award, recognising its revolutionary efforts to eliminate landfill by turning residual wastes into renewable electricity and hydrogen at scale.
The Women-led Innovation award has gone to Western Australia-based Cheeditha Energy, which decarbonises businesses by increasing equipment efficiency, reducing non-renewable energy consumption.
The two state-based awards for WA Innovation and SA Innovation recognised Diptek for its DipStick field device, which integrates modern sensors such as lidar, GPS, rotary encoding and imaging sensors to collect drilling hole data for future analysis; and 1414 Degrees, for its SiBox™ thermal energy storage technology.
This year's Hot 30 has seen Western Australian firms emerge as a driving force for innovation and change within the sector, taking 15 places, followed by seven from Queensland, six from South Australia and two from New South Wales.
CORE National Innovation Hub Manager Renee Hakendorf said the winners of the CORE Hot 30 were outstanding in their fields, and had used innovation to solve real-world problems, created new technologies, scaled up when needed, improved industry capabilities and reached global markets.
"Many of these businesses have started small and are still growing, however, they've been able to contribute to significant advancements in their field on a national and international scale," Ms Hakendorf said.
CORE Hot 30 winners will receive industry recognition, be offered brand-building opportunities, business growth training, mentoring, offered connections to industry and be invited to take part in various innovation events across the industry's ecosystem.
CORE Innovation Hub is Australia's first collaboration and innovation hub focussed on the resources, mining and energy industries, initially opening in Perth in 2016, followed by Adelaide last year and the recently announced hub in Newman in the Pilbara, opening this year in partnership with BHP.
CORE Innovation Hub provides meeting and workspaces, regular networking events, opportunities to collaborate on emerging technologies and professional development programs to future proof the resources workforce.
Sponsors of the Hot 30 Awards include METS Ignited, WRAYS, the Western Australian Department for Jobs, Tourism, Innovation and Science, the South Australian Department for Energy and Mining, Spacecubed and Unearthed.
To find out more about the Hot 30 winners click here.
Core Hot 30 Category winners 2022
Innovator of the Year Award: GreaseBoss, QLD
GreaseBoss solves the complexity of managing the greasing of machinery in energy resources operations. Typical operations have thousands of greasing points, requiring different grease volumes, types and schedules. GreaseBoss is the first tool to track and trace the greasing status of individual grease points using a cloud-based application, ensuring outages can be avoided.
Emerging Industry Award: Greatcell Energy, WA
Greatcell Energy aims to reduce the cost of solar power by at least 50 per cent, using Perovskite based solar cell technology. Greatcell Energy will use small, thin, solar cells produced with roll-to-roll technology for applications in small scale electronics and IoT devices, and is in discussions with customers to provide cells to power remote controls, eReaders, electronic screens, IoT devices and automotive and space applications.
Sustainability Award: Wildfire Energy, QLD
Wildfire Energy's mission is to eliminate landfill by turning residual wastes into renewable electricity and hydrogen at scale using MIHG technology. Using a revolutionary batch process for gasification of residual biomass and wastes, large volumes of feedstock are loaded into an engineered reactor and converted via gasification. This reduces waste to landfill, reduces on-site waste disposal costs and provides dispatchable renewable energy.
Women-led Innovation Award: Cheeditha Energy, WA
With carbon produced across all facets of mining and resources from general operations to housing and commuting, Cheeditha Energy decarbonises businesses by increasing equipment efficiency, reducing non-renewable energy consumption, and extending equipment life by harnessing multiple energy solutions.
The WA Innovation Award: Diptek, WA
Diptek's DipStick field device integrates modern sensors such as lidar, GPS, rotary encoding, and imaging sensors to collect drilling hole data for future analysis. Time and location stamping data is essential for post-blast analysis and continuous improvement, improving safety systems and incident management, including identifying cultural and heritage significance.
The SA Innovation Award: 1414 Degrees, SA
1414 Degrees SiBox™ thermal energy storage technology harnesses the extremely high latent heat capacity of silicon to enable intermittent renewables to provide flexible, ultra-high temperature heat. The flexible, scalable and sustainable technology provides a solution to a decarbonised future where large industrial systems that use high temperature heat and power will one day be able to run on clean, renewable energy.
CORE Hot 30 entrants for 2022
Alloy Steel, WA
Alloy Steel's Wear Asset Monitoring (WAM) is a wireless condition monitoring system. Smart Liners are embedded with industrial-grade sensors, optimizing the operations of bulk materials handling machines. Monitoring leads to less wear, more efficient use, fewer liners being manufactured and a lower CO2 footprint.
Auto-mate, WA
Auto-mate's autonomous technology increases productivity by enabling driverless mining equipment, fitted with sensors, to operate 24/7 with maximum uptime and planned maintenance stops. Automation reduces vehicle wear while improving safety as it takes the optimal operational path, reducing costs and decreasing accidents. Auto-mate's technology can be retro-fitted.
Core Plan, WA
CorePlan is a Software as a Service platform providing a digital workplace for mineral exploration and drilling companies to streamline and collaborate on operations, eliminating multiple systems, spreadsheets and emails. The platform uses web and mobile apps to unlock efficiencies and reduce costs offsite and in the office. CorePlan can digitize inspections, incident management and maintenance, reporting in realtime.
Cortex Technology, WA
Cortex is an analytics and automation provider, engineering solutions for digital-forward drilling and mining operations. Cortex's advanced analytics and automation systems automate data collection, analysis and reporting processes for all aspects of drilling systems, using machine learning and data analytics to improve drilling technologies and assist in real-time geological interpretation.
Decarbonology, WA
Decarbonology helps companies measure emissions, develop tailored roadmaps to reduce emissions and provide carbon offsets to make companies Net Zero Carbon. Decarbonology helps companies improve their Net Sustainable Development Goals through environmental, social and governance investments, including regenerating degraded farmland.
GeoMoby, WA
GeoMoby is a technology company pioneering the delivery of Location Intelligence Solutions. Its Platform as a Service enables smart phones and location-aware applications to process geospatial data in real time, providing high location accuracy across complex environments with a negligible battery consumption. GeoMoby promotes mine safety, generates alerts, guides miners to the closest safety chamber in the event of an accident, along with data analysis and geofencing.
Global Drone Solutions, WA
Global Drone Solutions is creating an Australian-first autonomous systems hub (ASH), which will allow it to deliver world-leading training in the development, implementation, and operation of autonomous robots in the mining and energy industries. ASH addresses the issue of having employees train in dirty and dangerous operations, reduces costs and risk and improves operational efficiency, by using aerial, terrestrial and subsea robots.
Onetide, WA
Onetide is a full-service engineering company which provides mobile, modular, scalable and relocatable hybrid renewable power systems and potable water filtration/purification and or atmospheric water generation. Onetide can provide renewable generated power and water to the remotest locations with minimal civil works required, but is equally at home providing power and water in rural, remote or island communities.
Raw Matter, WA
RawMatter focuses on IoT and Robotic Automation, practicing "no bullshit innovation". RawMatter builds custom solutions for small trade companies, including developing an IoT hydraulic telemetry system to enable safe monitoring of excavators used in hydraulic testing; a tele-operated jack hammer; predictive maintenance record keeping; and through a collaboration with Soundelve and Game City, an autonomous coffee delivery robot.
Renewable Bio, WA
Renewable Bio works with nature to produce bioenergy, sequester carbon and restore landscapes. Through sustainable fuels (creating biodiesel and sustainable aviation fuel by treating waste straw and wood into ethanol) and through large scale carbon sequestration, Renewable Bio works in a sustainable environmental cycle.
Safe AI, WA
SafeAI retrofits heavy equipment for autonomous applications in the mining and construction industries. Its autonomous technology enables equipment owners to transform existing machines into self-operating robotic assets. SafeAI's systems are open and interoperable, designed to work with any software system, while enabling autonomous workflows.
Sentient Computing, WA
Sentient Computing's technology aggregates data from various sources and provides the information to employees through a simple spatial interface. This enables informed decision making by offsite leaders, improves communication between sites and the field. By leveraging gaming technology and 3D virtual twins of a facility, Sentient can create complex and immersive content faster and more cost effectively.
Arteh, QLD
Arteh has developed a platform which helps businesses achieve emission reduction targets by facilitating data collection, calculating greenhouse gas emissions, sets up companies' science-based targets, and provides automated reports enabling companies to achieve global recognition including from the Science Based Targets initiative and Climate Active.
Intov8, QLD
Intov8 has created software that transforms the way mines manage their data, including through its flagship product Corvus Axiom, which is a centralised data management platform that integrates with key site source systems. Intov8's core products have more than 40 systems integrations in operation with various sites, ranging from fleet management, fuel management and dragline systems, to gate access systems and core plant and supervisory control and data acquisition systems.
Obzervr, QLD
With paperwork for energy sector frontline workers taking several hours a day, Obzervr has developed an app which will allow field teams to spend more time in the field. The app allows workers to undertake real-time mobile reporting; improve safety outcomes by making safety a mandatory part of each job; significantly reduce paperwork; link directly to machines; and collate data to create dashboards and analytics for the entire organisation.
Soft Rigging Solutions, QLD
Soft Rigging Solutions' synthetic lightweight shackles improve safety by reducing the risks associated with heavy lifting and manual handling, eliminating the need for multiple people struggling with traditional heavy steel D-Shackles. Combining his knowledge of mining and sailing, founder Josh Leppard's synthetic lightweight shackle has a minimum break strength of 510,000kg and weighs only 13.7kg, four times lighter than the equivalent steel d-shackle that weighs 58.68kg.
Vayeron, QLD
Smart-Idler is an industrial IoT based condition monitoring system that embeds wireless, intelligent sensor modules within the roller components of conveyor belts, where sensors harvest their energy from the rotation of the roller they are embedded within. Through temperature, rotation and vibration monitoring, roller failure can be quickly identified, avoiding costly production downtime.
Envirocopper, SA
Australia has 49.5Mt of copper that can't be mined conventionally. Envirocopper has developed an InSitu Recovery mining technique which enables recovery of some of these resources without using sulphuric acid, and without digging, blasting, rock movement, noise or tailings dams. This allows for previously stranded assets to now be mined profitably using conventional methods.
Howler (Wheel Alert), SA
Wheel Alert Technologies specialises in predictive maintenance using advanced vibration diagnostics and has been developing a world first heavy vehicle wheel safety sensor. Its aim is to provide entire plant automated reliability services for every rotating machine or machine component. Entire plant monitoring can eliminate all rotating machine breakdowns and improve reliability of rotating components, enabling maximum reliable production.
NGMX, SA
NGMX is commercializing the metal recovery technology developed by InnovEco Australia, which can be used for the effective extraction of mining by-products, recovering metals from old leaching pads, mine and process water. It can improve technical and economic parameters of the existing smelters, refineries and hydrometallurgical plants by increasing metal extraction rates by up to 20% per cent, extracting by-products and removing impurities.
Predict, SA
PREDICT Australia applies a unique methodology of Predictive Maintenance engineering to help customers optimise their installations maintenance, equipment's performance, and transition into industry 4.0 in a safe and efficient manner. Its KSAEM end-to-end predictive solution can be applied across various sectors, and provides information about installation, estimates the remaining useful life of equipment, anticipates failures and conducts root cause analysis.
Zero Automotive, SA
Decarbonizing environments through the electrification of heavy-duty light vehicles and trucks, Zero Automotive designs, integrates and installs modular zero emission mobility platforms that enable rapid conversion of vehicles and optimal use of renewable energy. Zero Automotive designs, fabricates and assembles custom heavy-duty light EV solutions; commissions and trains onsite users in EV technology use; offers EV and charging integration advice; and EV servicing and maintenance.
LAVO, NSW
LAVO's patented metal hydride storage solution provides cost-effective, long-duration green energy storage, decarbonising the mining and resources sector. LAVO's Metal Hydrides, when delivered at utility-scale, have the capacity to store up to 14MWhrs of energy in the form of H2. LAVO has invested in domestic manufacturing sites for electrolysers, hydride and fuel cells to improve Australia's sovereign capacity.
Pitcrew AI, NSW
Pitcrew AI keeps mobile assets operating safely and productively. Its OTR tyre inspection solution is a stand-alone, solar-powered system placed at the side of haul roads, which automatically inspects every vehicle over a 24-hour period without human intervention. Key technologies include longwave infrared thermal imaging and AI-based computer vision inspection. The system has prevented tyre fires from occurring and has helped to increase the average tyre life.
---
If you would like to arrange an interview with Renee Hakendorf or any of the 2022 CORE Hot 30 winners or entrants, please don't hesitate to call Verity Edwards at Hughes PR on 0412 678 942.