Pasadena 'Power Shoppers' to charge their EVs, while helping stabilise the State's power grid in an SA-first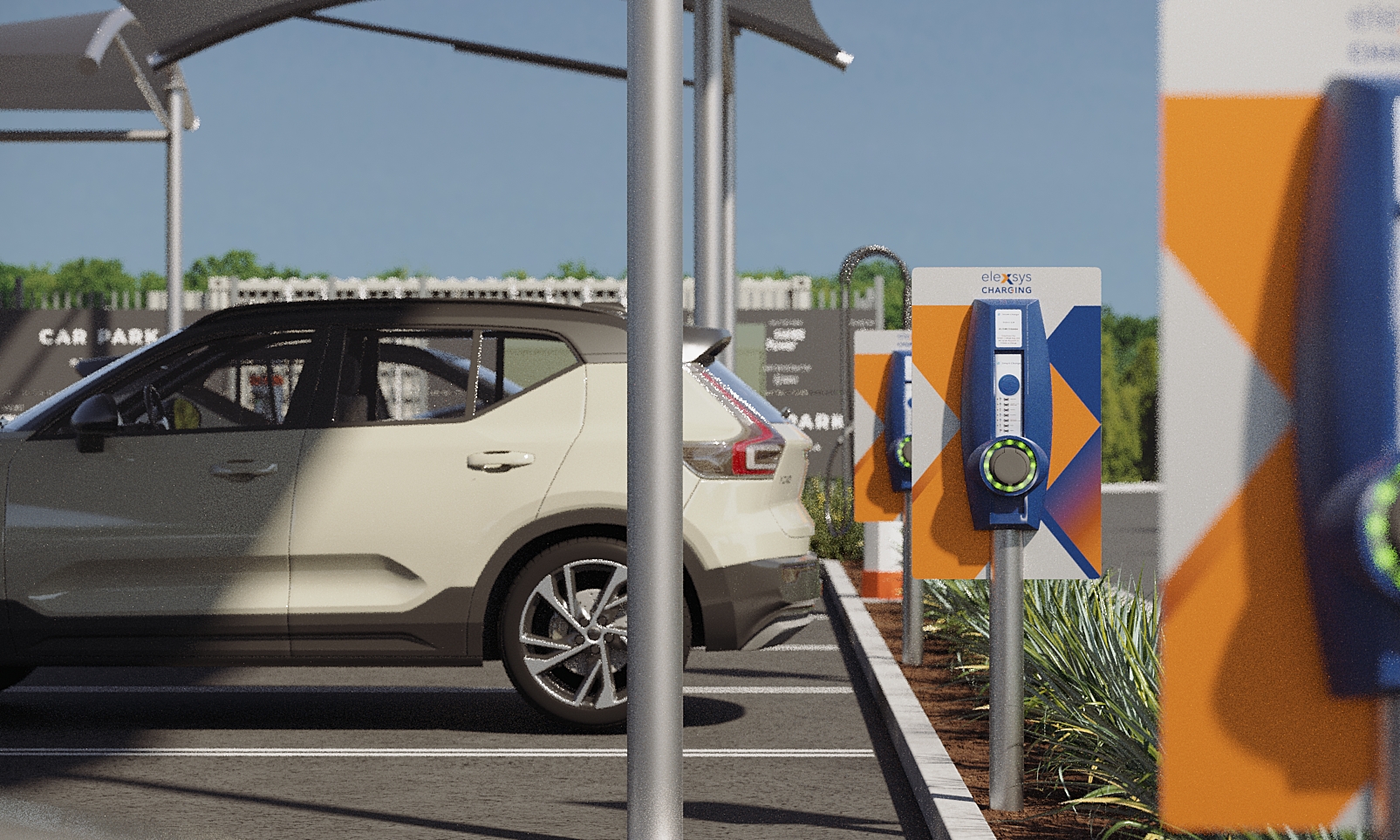 For the first time in South Australia, electric vehicle drivers will soon be able to recharge their vehicles at their local shopping centre, while also helping to stabilise the State's power grid.
Planet Ark Power (master licensee of eleXsys technology) will install fourteen electric vehicle chargers at Pasadena Shopping Centre including six Ultra-Fast and eight Fast dual point Charging Stations along with a 1MW/1.25MWh battery energy storage system (BESS) integrated with eleXsys Energy Units which are connected to the electricity grid. The EV charger integrated with battery energy storage system will be the first built at a South Australian shopping centre.
The Ultra-Fast points will provide an ultra-fast charge for EV vehicles and can fully charge a car in between 15 and 45 minutes, when the customer boost is activated by an EV customer entering Pasadena Shopping Centre.
The Fast points will provide a fast charge and can fully charge a car in 2 to 4 hours, depending on the vehicle type. Combined they will provide 476kW of vehicle charging.
The BESS will be charged from the grid at peak solar production times and stored for EV driving customers of the Pasadena Shopping Centre including Foodland Pasadena and the wider community, 24 hours a day, 7 days a week.
This 'community battery' will function as a solar sponge by absorbing abundant excess power generated by solar renewables and storing the power to not only charge EVs, but also feedback into the electricity grid during periods of high demand, with the BESS storing enough electricity to power more than 160 homes for a year.
Construction will commence on the Pasadena Shopping Centre 'EV Hub' in a few months and will open in early 2023.
Jonathan Ruddick, CFO/CCO, Planet Ark Power said we are extremely excited to be working with the Pasadena Shopping Centre, Adelaide's Finest Supermarkets and the State Government to deliver this South Australian-first two-way charging grid.
"This multi-million investment in grid connected electric vehicle and energy storage infrastructure by Planet Ark Power demonstrates our commitment to promoting EV uptake, decarbonising the South Australian grid and will provide significant community benefits, said Mr Ruddick.
The Commercial Retail Group, owner of Pasadena Shopping Centre, Foodland Pasadena and sister store Foodland Frewville, under Adelaide's Finest Supermarkets, also plans to incorporate the initiative into a wider sustainability plan currently being developed. The plan will span green energy, waste reduction, recycling and reducing its use of natural resources.
Spero Chapley, Director, Commercial Retail Group said he was delighted to partner with Planet Ark Power with the support of the State Government to make electric vehicle charging points available to customers and the community.
"The initiative fits well within our sustainability plans being developed by our owned and operated supermarkets, and other initiatives that we've adopted in our centres, said Mr Chapley.
"The availability of stored electricity in the battery, which is able to be put directly into the grid when needed will also assist South Australia's energy security."
The South Australian Government is supporting the rollout with a grant of $803,000 as part of its Electric Vehicle Smart Charging Trial.
South Australia's Minister for Energy and Mining, The Hon Tom Koutsantonis said the project would promote the uptake in Electric Vehicles.
"It is exciting to see a well-known local business such as this investing in renewable projects," said Minister Koutsantonis.
"The state government's Hydrogen Jobs Plan, an investment of $593 million, together with projects such as this, show the world that South Australia is a global leader in renewable energy."
After the EV Smart Trial program is complete, Planet Ark Power will be applying the lessons learnt to optimise the solution set-up at Pasadena Shopping Centre for the next 20 years.
Demonstrating that significant charging at shopping centres can be undertaken in a smart way and with no capital cost to the centre owner, we believe that this will accelerate the investment into smart battery and charging solutions, benefiting the community and the planet, said Mr Ruddick.
---
About Planet Ark Power's eleXsys
Invented in Australia, eleXsys is an internationally award-winning, proprietary solution to the challenge of voltage volatility created by increasing distributed energy resources competing to dispatch energy into energy grids.
The ever-increasing popularity of solar PV, wind and other clean energy distributed resources will continue to create challenges for network operators both around Australia and internationally to provide ongoing safe and stable energy to consumers.
Planet Ark Power's eleXsys represents an important contribution to the stability solutions sought by network operators and their consumers, without the need for expensive network infrastructure upgrades.
Applied across commercial and industrial environments, eleXsys enables building owners to maximise their returns on investment from optimized rooftop solar installations.