Hallett Group - leading the charge into green cement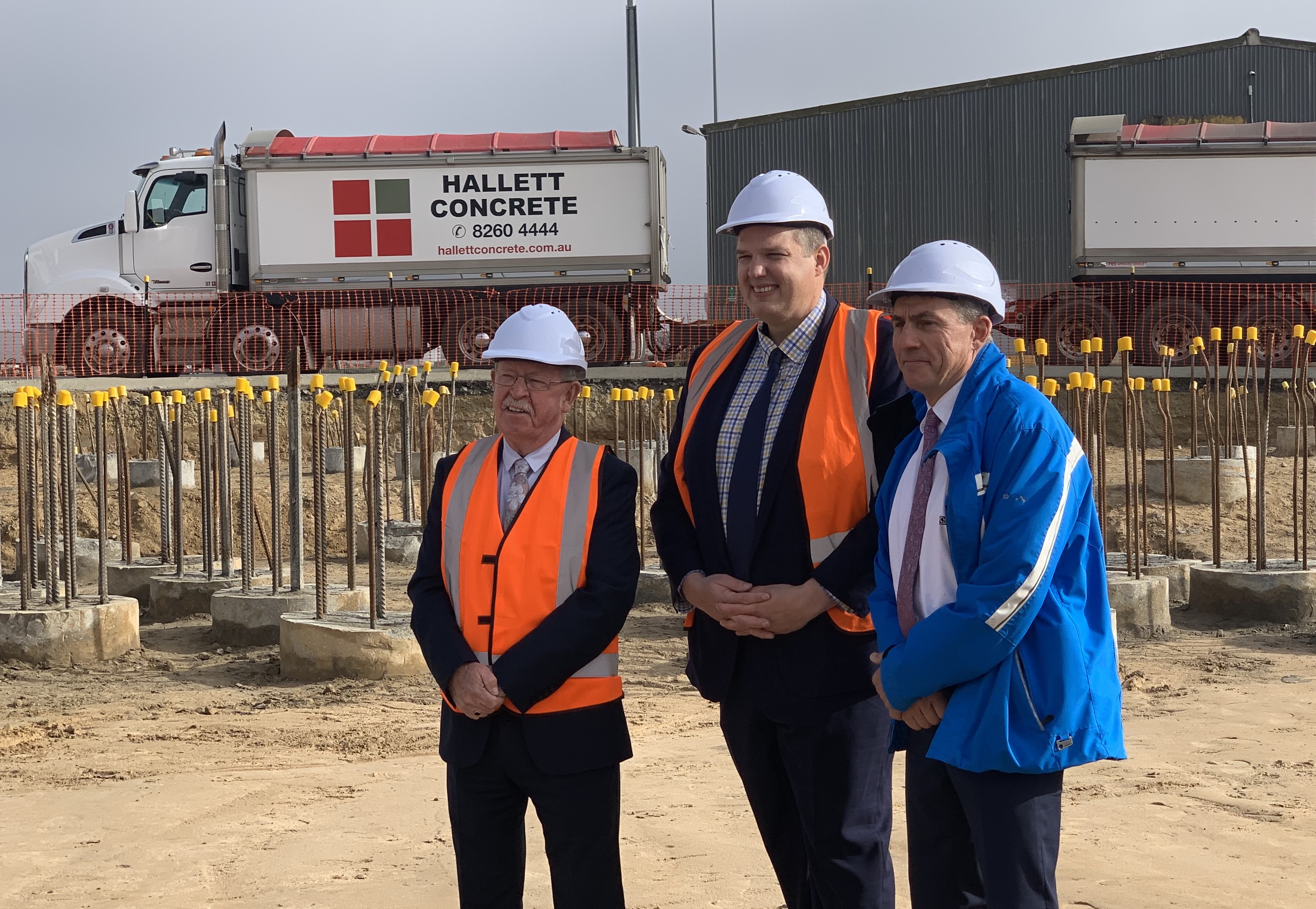 A green cement project worth $125 million that will reduce Australian carbon dioxide (CO2) emissions by 300,000 tonnes per annum immediately, growing to approximately one million tonnes per annum in the future, is taking shape across Port Adelaide, Port Augusta, Port Pirie and Whyalla.
Backed by a $20 million Federal Government grant and with a total job creating investment of $125 million split across regional South Australia and the Port, the Hallett Group green cement project aims to reduce 1 per cent of the entire Australian 2030 CO2 reduction target.
Hallett is an Australian-owned and operated business which has been a market leader and large employer in South Australia for the past 40 years, supplying products and services for the mining, building and construction sectors.
Hallett Group Chief Executive Kane Salisbury said cement manufacturing was responsible for 8 per cent of global carbon emissions or three billion tonnes of CO2 per annum, with Australia consuming about 12 million tonnes of cement. Around half of this was imported as finished (powdered) cement or cement clinker.
Mr Salisbury said Hallett would use existing and proven technology to manufacture supplementary cementitious materials (SCMs) that can replace more than 50 per cent of traditional high CO2 emitting clinker-based cement.
The primary manufacturing operation will be based at Port Augusta, employing approximately 50 people in the region and will operate using renewable energy sources. The operation will extract and process historic waste flyash from the previous Port Augusta power station operations and will process and value add materials from Nyrstar Port Pirie multimetals smelter and subject to a successful evalutaion the Liberty Whyalla Steelworks assisting both operations to reduce their onsite environmental footprint. The manufacturing operation will be undertaken in a highly controlled process that is sensitive to community expectations and in compliance with regulatory requirements.
A separate import, export and distribution facility is being built at Port Adelaide on the Flinders Ports leasehold of berth 25 to enable Hallett Group to provide a complete cementitious material offering servicing the full geographic region of South Australia and beyond, while positioning the group for potential export growth.
"The project will replace imports of SCMs and will future-proof Australia's access to SCMs and green cement, which becomes increasingly important as Australia's current locally produced sources of SCM-quality flyash diminishes in the coming years in line with the reduction of coal fired power generation" Mr Salisbury said.
"By building this sovereign manufacturing capability, Australia can become an international leader in the beneficiation and usage of SCMs in green cement. This will deliver significant and quantifiable sustainability, employment, and financial benefits to a broad range of local and national stakeholders and businesses."
With existing material reserves and ongoing production offtake, Hallett plans to provide the market with at least 30 million tons of SCMs over the next 20 years and beyond.
Mr Salisbury said the surety of sovereign supply would promote greater uptake of SCM cement replacement and green cement, with significant scope to drive down the 12 million tonnes of high CO2 emitting clinker-based cement being consumed in the Australian market each year.
Minister for Infrastructure Transport, Energy and Mining, Tom Koutsantonis, said the Green Cement Transformation Project demonstrated South Australia's attractiveness to investors wanting to pursue low emissions technologies.
"Building homes and cities using low emissions materials and leveraging renewable energy is the kind of innovative investment the Malinauskas Labor government plans to attract by maintaining South Australia's reputation for global leadership in renewables," Mr Koutsantonis said.
Member for Stuart and Port Pirie resident Geoff Brock congratulated the Hallett Group for its innovative idea of using existing waste product from Nyrstar, Port Pirie, the old Power Station at Port Augusta and Liberty Steel, Whyalla.
"I look forward to working collaboratively with the group to endeavour to get this project to fruition, along with the financial closure and construction of the operation, that will add a great economic benefit to the people of the Upper Spencer Gulf," Mr Brock said.
Hallett Group owner Mark Pickard said the company's bold entry into green cement challenged the long-established cement market structure in Australia, which would unlock further innovation and development opportunities for the group and cement consumers.
"In my 40 years in business I have never been more excited about our future and our ability to benefit the community," Mr Pickard said.