New bus to give Port Pirie residents a helping hand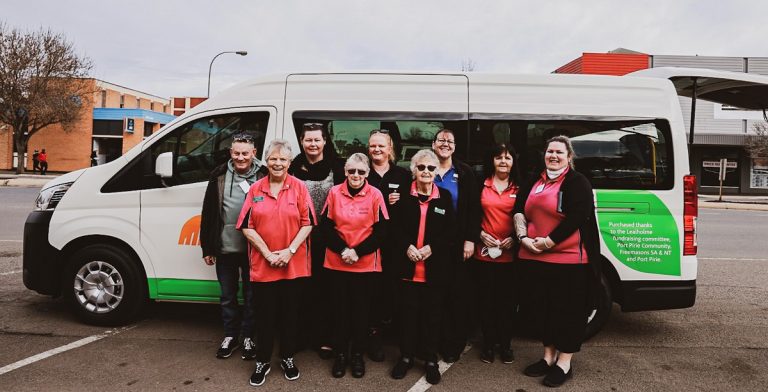 Whether it be used for transporting Lealholme residents to the Port Pirie Christmas Pageant, taking Memory Support Unit residents out for weekly drives around town or shopping trips, aged care provider Helping Hand is set to benefit from a new 12-seater bus.
The $90,000 bus, which features a wheelchair lift, has been purchased with funds raised by the Lealholme Auxiliary Committee, the local community and through a $33,000 donation from Freemasonry.
Masonic Charities, the benevolent arm of Freemasons SA & NT, contributed $23,000 and the Freemasons Lodge Port Pirie donated an additional $10,000.
The opportunity to get out and about more often and to take part in more excursions in the community will be relished at Port Pirie, where residents have lived through more than two years of COVID-related restrictions.
Helping Hand Chief Executive Chris Stewart thanked the community for taking part in fundraising activities to help buy the bus.
"Whether it be through the cake stalls, raffles, market stalls or garage sales we've held, the Port Pirie aged care community will benefit from having a new bus around town. It has been a team effort to meet our fundraising milestone," Mr Stewart said.
"This will enhance the lives of Lealholme residents, and their families have been telling us how much they're looking forward to being out more often and having more social opportunities. Having a new bus will encourage independence, stimulate memories and interaction, and bring more light to many people's lives."
Mr Stewart said there would also be a lesser reliance on wheelchair accessible taxis, which might not be available when needed, or having to rely on the generosity of others to help residents travel around town.
Established in 1949 by the Port Pirie Central Methodist Mission, Lealholme became part of Helping Hand in 1995, undergoing extensive renovations in late 2016.
David Booker, the Grand Master of Freemasons SA & NT, said the donation toward a new vehicle would provide greater capacity for residents to participate in community activities and maintain their sense of independence.
"It is hoped that by stepping forward as a major contributor, we have encouraged other organisations to participate, and helped enable the purchase of a bus to meet the specific needs of residents for recreational and therapeutic excursions and social engagement," Mr Booker said.
A morning tea for residents and their families to celebrate the official launch of the bus will be held at Flinders View Park on Ellen St in Port Pirie on Friday, 29 July at 10.30am. The media is welcome to attend.