Mount Gambier based Mondelēz International named International Student Employer of the Year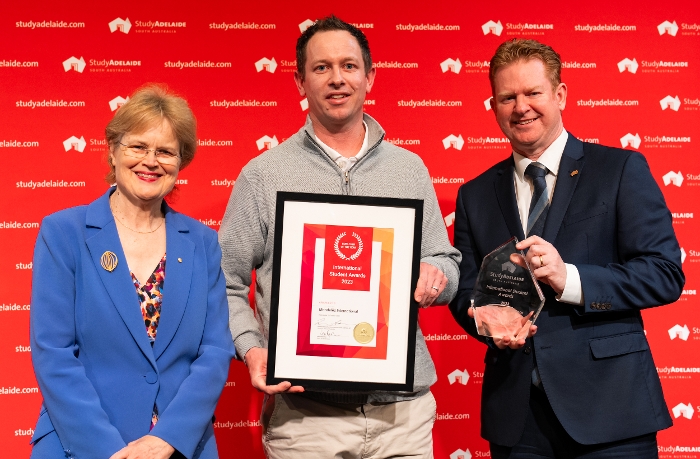 Mount Gambier based Mondelēz International has been named as South Australia's International Student Employer of the Year by StudyAdelaide.
Civil construction contractor Beltrame Civil and environmental consulting firm EMM Consulting received Honourable Mentions at StudyAdelaide's annual International Student Awards ceremony.
Mondelēz International, one of the largest food manufacturers in Australia, was recognised for its welcoming and inclusive working environment, and the support provided for international students while completing their studies.
The company was nominated by Brazilian international student Taynah Gatto Noya who was introduced to Mondelēz International during a regional careers tour organised by StudyAdelaide in 2022.
During the tour, Taynah and other international students visited the Mondelēz manufacturing facility to learn about its operations and the employment opportunities offered by the company, and Taynah later applied for a job.
A few months later, Taynah relocated to Mount Gambier to take up the role of Continuous Improvement Engineer, part of a team charged with optimising the company's manufacturing and production processes.
Taynah cites the diverse workforce, positive workplace culture, flexibility to complete her master's degree, support relocating to Mount Gambier and the company's care after she experienced a family tragedy as the key reasons for her nomination of Mondelēz International for the award.
StudyAdelaide Chief Executive Jane Johnston said Mondelēz International had demonstrated how to successfully cultivate a diverse workforce including international students.
"Taynah's experience at Mondelēz is testament to the company's culture and its willingness to open its doors to international students who have the skills the company needs," said Ms Johnston.
"International students, both during their studies and after graduating, offer South Australian employers invaluable experience and skills, especially within a very tight labour market,"
"Congratulations to Mondelēz International and all the entrants and winners in this year's International Student Awards whose commitment to their studies, employment of international students and the South Australian community is remarkable."
This year, StudyAdelaide received 257 entries for the International Student Awards from 22 educational institutions, with 42 different nationalities represented among the entrants.
The winners were presented with their awards by the Governor of South Australia, Her Excellency, the Honourable Frances Adamson AC at a ceremony at the National Wine Centre yesterday afternoon (October 25).