BANGLADESHI DENTAL STUDENT HAS WINNING SMILE AFTER BEING AWARDED INTERNATIONAL STUDENT OF THE YEAR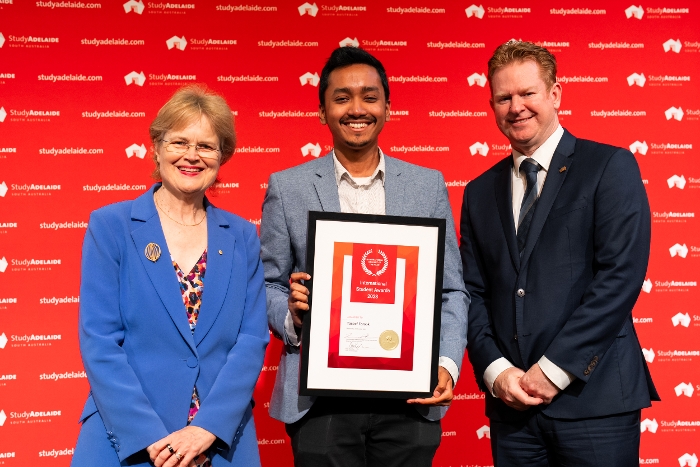 A Bangladeshi dental student bullied as a teenager for his crooked teeth is all smiles today after being awarded 2023 International Student of the Year by StudyAdelaide.
Taseef Farook was inspired to study dentistry after a family friend and orthodontist fixed his crooked teeth in exchange for whatever his parents could offer as payment. The orthodontic work inspired Taseef to help others after discovering firsthand dentistry's power to change lives.
After completing his master's degree in dentistry in Malaysia, Taseef came to Adelaide to undertake his PhD in Dentistry at the University of Adelaide.
His PhD is inspired by his time working with a specialist team in Malaysia dedicated to facial reconstructions, where he met and successfully helped treat a nine-year-old boy himself bullied for his facial deformities.
A six-month struggle to find a suitable treatment for the boy led Taseef to focus on jaw diseases and abnormalities for his PhD, driven by the pursuit of scientific advancement in treatments and the potential of Artificial Intelligence (AI) to enhance dental practice.
Taseef's interest in AI has been the catalyst for his development of The Dental Loop, an AI-powered digital platform facilitating connectivity between dental professionals and their patients with the potential to revolutionise the public dental system. It has also seen his research published multiple times, a rare achievement for a student at this stage of a PhD.
In addition to his studies, Taseef volunteers with Children's University to inspire more children into higher education and is an International Peer Mentor for the University of Adelaide's international student community.
StudyAdelaide Chief Executive Jane Johnston said she was inspired by Taseef's story and passion to improve people's lives through advancing dental practice and treatment.
"His work is an example of the world-class research with potentially global impact that's being undertaken by international students right here in Adelaide," said Ms Johnston.
"We're delighted that Taseef aims to stay in Adelaide to pursue further development of his AI-powered digital platform after completing his PhD, adding to our city's growing network of innovators and entrepreneurs.
"Congratulations to Taseef and all the entrants and winners in this year's International Student Awards whose commitment to their studies and the South Australian community is remarkable."
Other winning international students in the academic achievement categories included Maldivian Muawiyath Mohamed Didi for Postgraduate Research, Mexican Daniel Ramirez Perez for Vocational Education and Training, and Immanuel College student Tianxing Ma from China for the Schools Award.
The Community Engagement Award was won by University of Adelaide student Pornthip Srisantisuk from Thailand for her volunteering contributions across her university and local community including the creation of online platforms to teach English and Thail languages which now have 500,000 followers.
Meanwhile, the International Student Employer of the Year award went to Mount Gambier based Mondelēz International.
This year, StudyAdelaide received 257 entries for the International Student Awards from 22 educational institutions, with 42 different nationalities represented among the entrants.
The winning students were presented with their awards by the Governor of South Australia, Her Excellency, the Honourable Frances Adamson AC at a ceremony at the National Wine Centre on Wednesday afternoon.