Northern Territory Volunteer of the Year Awards Announced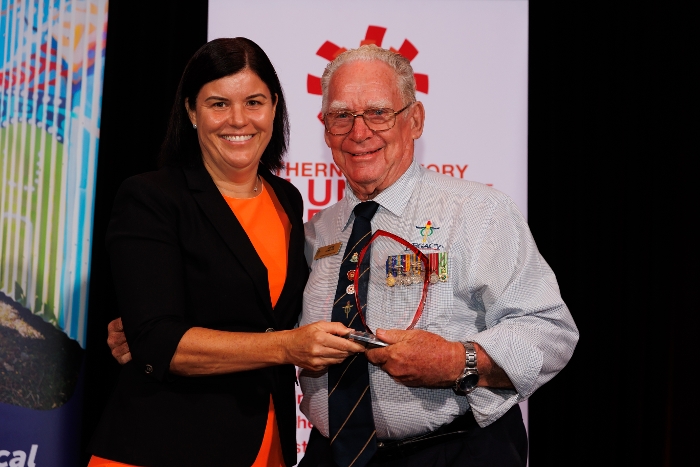 The event showcases volunteers who dedicate their time, energy and passion to making a positive difference in the lives of others. The annual awards highlight the essential role volunteers play in building strong and vibrant communities and recognise and honour those outstanding individuals and groups whose selfless efforts are leaving a lasting impact on their communities.
Volunteering NT Executive Manager Megan Saltmarsh said the 2023 prestigious awards play an essential role in recognising the significant contribution and impact volunteering has across the NT.
"This year's NT award winners have demonstrated an unwavering commitment to various causes, from supporting community events to growing diversity and inclusivity and serving and protecting local communities," Megan said.
"These remarkable individuals and groups have shown us the power of community, the impact of kindness, and the difference community members can make when driven by a passion to help. We extend our heartfelt congratulations to the winners and express our deep gratitude for their dedication to improving the lives of others."
The annual awards comprise seven categories for Central Australia and Top End, totalling 14 awards. The Top End Awards event was held last night, while the Central Australia Awards event was held earlier this week in Alice Springs.
The recipients of the 2023 Norther Territory Volunteer of the Year Awards for Top End are:
Volunteer of the Year Award and Chief Minister's Youth Volunteer of the Year Award – Nilesh Dilushan
➢ Nilesh shines a light on how one individual can positively impact countless lives while nurturing future volunteers and community leaders. Nilesh's impressive volunteering credentials include founding the Sri Lankan Students Association at the University of Charles Darwin to foster cultural awareness and promote cross-cultural exchange among students. Nil was also instrumental in establishing the Kindness Shake, which provides emergency relief assistance, serving more than 6,000 meals and assisting more than 800 individualsduring the COVID pandemic by leading the charity's partnership, community engagement,and fundraising. Nil has also; served as the Chair and President of the CDU's Business Students' Association; acted as the Steering President of the CDU Students' Council; was the NT student ambassador for Study NT, CPA Australia and CDU; Chairperson and President of Rotaract Young Professionals; and managed several youth wellbeing projects.
Chief Minister's Volunteer of the Year Award – Jack Hamilton
➢ Jack is the face of Northern Territory Legacy, having provided 38 years in various volunteer roles from President, Secretary to Legatee, ensuring beneficiaries are supported in the absence of their spouse or parent, supplying families and their children with tutoring, laptops, payment of school fees, access to garden and home maintenance and valuable social connections. A veteran, Jack joined the Australian Army in 1959 and spent 36 years in the military, serving posts in Malaysia and South Vietnam. The youthful 82-year-old can be seen marching under the Legacy banner each year for the ANZAC Parade and has inspired and mentored many to become volunteers.
Emergency Services Volunteer of the Year Award – Kyle Fox
➢ Kyle is an important member of the Humpty Doo Volunteer Fire Brigade crew, attending countless emergencies at all hours of the day and night, both locally and interstate. He has been deployed to; Queensland in Boonah to assist with bushfires; New South Wales in Nowra to assist with catastrophic fire conditions; New South Wales in Wentworth to assist flood relief; and most recently in Alice Springs to provide support for the catastrophic fires in May 2023.
NTSESVA Emergency Services Youth Volunteer of the Year Award – Kel McLachlan
➢ Volunteering is in Kel's blood as his parents are long-time volunteers for the Lambells Lagoon Volunteer Bushfire Brigade. Kel was trained to become a qualified volunteer at the local brigade at just 16-years of age and exemplifies inspiring youth who volunteer passionately. Kel works to protect and serve his community by undertaking mitigation work at the start of every fire season.
HIGHER EDUCATION/TAFE Student Volunteer of the Year Award – Stella Jasmine
➢ Stella possesses a powerful force for good, donating endless hours to a tapestry of volunteer roles across various organisations and causes, including education, student advocacy, international student support, food relief and local events. Stella's achievements including; assisting new arrivals settle into CDU life with the Senior Buddy Program; contributing to the CDU response to sexual harm on CDU campus report as a member of the Student Council; participating in National Student Volunteer Week, Harmony Soiree, Kindness Shake; and assisting local community members at FoodBank NT.
INPEX Community Volunteer Organisation/Team of the Year Award – Connected Women NT, Australian Red Cross
➢ Connecting Women program shines as a guiding light of transformation in the Northern Territory, epitomising the profound influence of volunteerism on community advancement. Rooted in the enduring dedication of Red Cross to humanitarian aid, this initiative leverages the potency of volunteers to propel positive change. The program has attracted a formidable number of volunteers with close to 550 people helping to deliver 300 annual activities that cultivate community and cultural inclusivity and unity. Connected Women helps marginalised migrant women find solace, support, and growth. Over 500 women have flourished in Darwin and Katherine bolstering their well-being and economic engagement.
The recipients of the 2023 Norther Territory Volunteer of the Year Awards for Central Australia are:
NT Volunteer of the Year Award and Chief Minister's Volunteer of the Year Award – Andrew Barrett
➢ Andrew won the two awards for his tireless work as President of the iconic Alice Springs Central Australian Show Society, which features entertainment arenas, competitions, displays, a farmyard, fun rides, delicious delicacies and a fireworks display. Andrew also provides countless hours volunteering for Harts Range Races, Finke Desert Race and the Connellan Airways Trust Masquerade Ball.
Chief Minister's Youth (14 – 27 years) Volunteer of the Year Award – Isla Petrick
➢ Isla Petrick won the award for her formidable support for Riding for the Disabled, where she has been volunteering since she was 12. The young and inspiring role model has lived experience with disability and demonstrates compassion and empathy beyond her young years by helping young riders build their skills and confidence by quietly and efficiently guiding them to be the best they can be.
Emergency Services Volunteer of the Year Award – Rhys Perry
➢ Rhys' commitment to emergency services is admirable as he spends countless hours researching and organising training exercises for the Vertical Rescue Team. Rhys has also exhibited bravery in responding to local emergencies, such as the Microburst storm that impacted Alice Springs, flood events, including a rescue in the Todd River and numerous searches for people.
NTSESVA Emergency Services Youth Volunteer of the Year Award – Tomas Baptista
➢ Tomas' dedication to the NT Fire and Rescue Service is commendable, giving up his time to serve and protect communities. Tomas has responded to some of the worst bushfires the Darwin Region has experienced, serving his local community for seven years, previously with the Queensland Rural Fire Service. This award adds to his list of accolades, including the National Emergency Medal for assisting the Black Summer 2019/20 bushfires after deployment from NT to Queensland.
Excellence in Volunteer Management Award – Roman Khitiaev
➢ Roman's achievements as the Alice Springs Town Council's Volunteer Coordinator resulted in the completion of the Council's Volunteer Framework, Policy and Handbook that ensured the rights and responsibilities of volunteers are defined. Roman has also successfully recruited some 30 new Council volunteers. A volunteer himself as Volunteer Manager for Alice Springs Rotary Henly on Todd Regatta 2023. Originally from Nepal, Roman is passionate about supporting migrants and helping them overcome the barriers they face.
INPEX Community Volunteer Organisation/Team of the Year Award – Central Australian Aviation Museum
➢ The Central Australian Aviation Museum is entirely run by volunteers who donate more than 4,000 hours a year worth more than $180,000 worth of work. As the 'keeper of the flame' of Central Australia's aviation history since 1979, its volunteers admirably prevented the demolition of the iconic Connellan Airways hangar, Alice Springs' first aerodrome, restoring it to honour local aviation pioneers' spirit, effort and courage. Its volunteers work closely with NT Department of Museums and Art Galleries and is a well-known tourist attraction providing a unique experience for visitors.
The annual Volunteer of the Year awards recognise the important contribution of volunteering to the social, cultural, economic and environmental well-being of the Northern Territory. Established a decade ago, these awards are possible due to the partnership with the Northern Territory Government, critical sponsorship from INPEX and NTSES Volunteer Association, and a passionate and supportive judging panel who volunteer their valuable time for the event.