First homes commence construction at $450 million heights development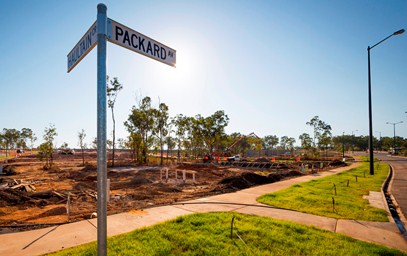 Construction has officially started on the first homes in one of Darwin's newest residential developments – The Heights, Durack.
Several leading Territory builders have commenced work on-site at the $450 million project by CIC Australia, which will ultimately see 882 new homes built this decade. Parks, bike paths, walking tracks and a lakeside community centre to hold local events and exhibitions will also be established.
Geoff Smith, Project Director of The Heights, Durack, says it is fantastic to see the foundations being laid on the first homes after months of extensive civil works.
"We are absolutely delighted to welcome the first builders onto the site and to see the first new homes at The Heights, Durack, begin to take shape," said Mr Smith.
"We have been working tirelessly on civil construction activities for almost 12 months, so to now proceed to housing construction is a great thrill for us, and most importantly for buyers whose plans are now in the process of being brought to fruition."
Mr Smith says a combination of display and buyer homes are under construction by Northern Star Homes, Vanguard Homes, Banyan Homes, Alfa Developments and Abode New Homes – the first of which could be finished by Christmas.
"Several home builds are now underway and up to 30 more are scheduled to commence by the end of the year, so we're not too far away from welcoming our very first residents," he said.
"Roads, reserves and community landscaping also continue to shape the project, which is now open to the public to drive through to get a first-hand look as housing construction ramps up."
More than 150 blocks have already been sold at The Heights, Durack since it was launched to the market 12 months ago, with only a handful of allotments still available following the release of the first four stages of the project. Due to the early sales success of the project, allotments in Stages 5 and 6 are now scheduled to be released this year.
Facilitating a diverse choice of housing options aimed at young professionals through to growing families, empty nesters and retirees, The Heights, Durack, features a broad range of lot sizes ranging from 303 sq m to 900 sq m.
For more information, visit www.theheightsdurack.com.au.
Issued by Hughes Public Relations:
Kieran Hall on (08) 8412 4100 or kieran@hughespr.com.au