Hughes blog post: When did swearing become the new normal?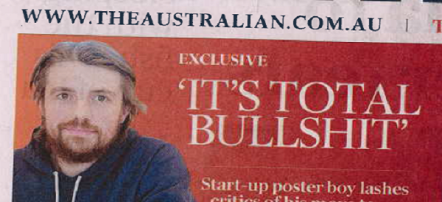 When did it become okay for professional journalists to use profanity on the front page of a newspaper?
Probably about the same time it became possible to send new information into the world at the single press of a button. The fear is gone, and the de-sensitisation has breached even our traditional form of media.
For example, the front page of The Australian last Wednesday featured a headline which read, 'It's total bullshit'. The article was a well-researched piece about Atlassian founder Mike Cannon-Brookes in defence of his decision to move his Australian based company to Wall Street.
The broadsheet newspaper, which largely focuses on business and political affairs, probably would not have dared feature such a term even just a few years ago. But times have changed.
We can credit this change in literary style to the explosion of social media. With young people now more involved in the discussion of news and current affairs than ever before, traditional media is looking at every option available to stay relevant and contemporary.
As a result, news organisations seem to be becoming more relaxed in their approach, and are somewhat forfeiting their once strict style standards – at least when it comes to publishing profanity. The new standard seems to be as long as we don't use the F word, everything is okay.
- Adam Trombetta (intern)