Cedar Woods unveils plans for new multi-million dollar Glenside community park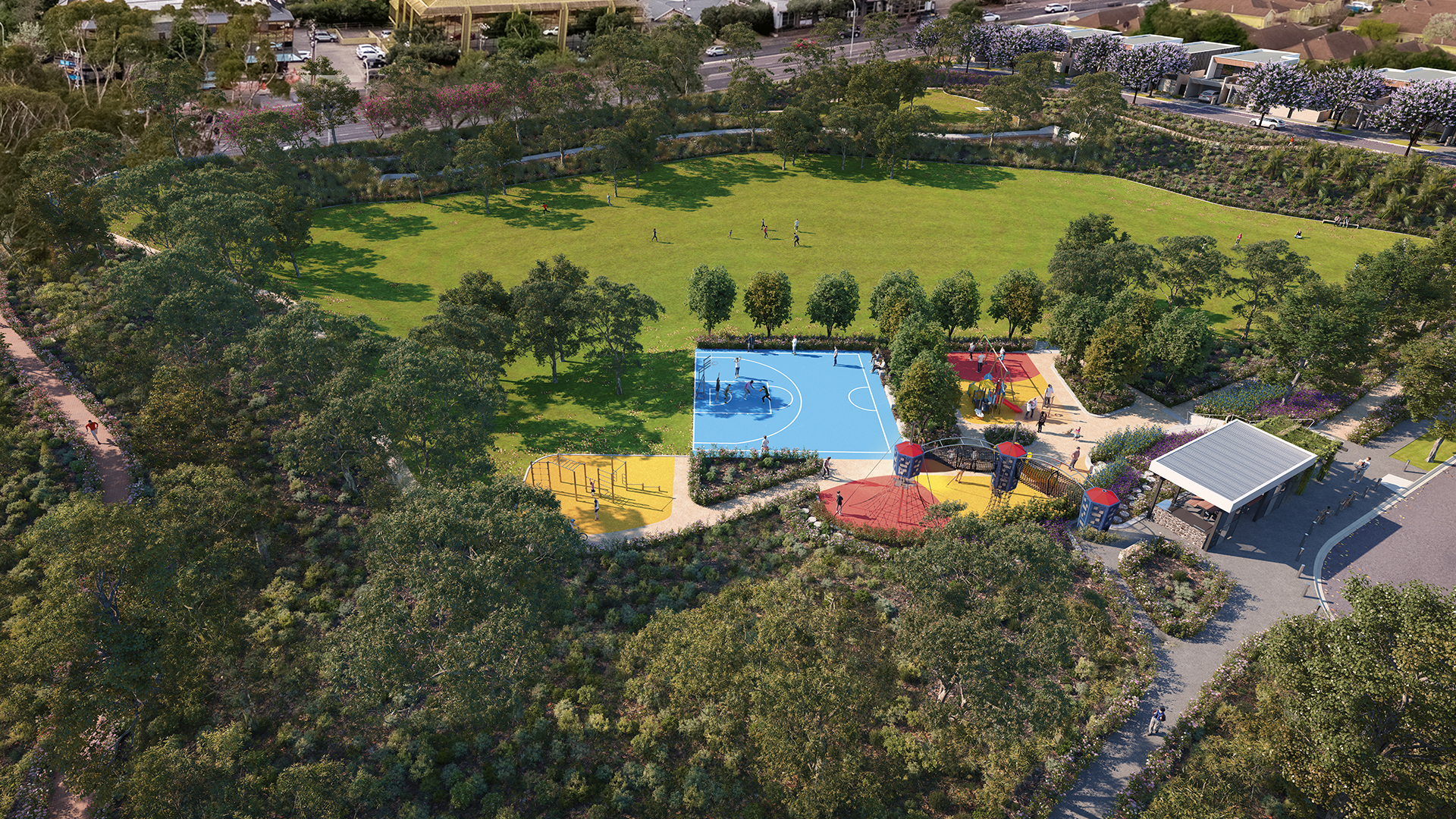 Cedar Woods has unveiled plans for the main community park at Glenside which will feature a large multi-use grassed area for relaxation and recreation, playground and half-court basketball.
There will also be a family picnic area with shelters and BBQ facilities.
Designed by leading landscape architects, the more than 15,000 sqm park will also include an exercise track around its' perimeter, and a walking path creating a link across Greenhill Road into the adjacent Victoria Park and into the city.
There will be thoughtfully designed play spaces for younger and older children around the treelined perimeter of the park, while new trees also to be planted will provide additional shade and complement the mature trees around the park's edge.
Work will start on the new park next month with completion due in Autumn 2021.
Mr Mark Pivovaroff, Cedar Woods (SA) Development Director said the new park would become a drawcard for the residents within the development and the surrounding suburbs.
"It forms part of a network of parks, landscaped open spaces and walking paths at Glenside that connect the community," said Mr Pivovaroff.
"The park will provide greater amenity and an accessible, active public space for everyone to enjoy.
"The park's location near the corner of Greenhill and Fullarton Roads will make the park a highly visible gateway into Glenside."
The development of Glenside will see the transformation of the 16-hectare site into a master-planned community with new homes and high quality landscaped public spaces as well as walking and cycling trails.
The residential community at Glenside continues with more than 300 people now living within the development.
Cedar Woods recently released a limited number of exclusive architecturally-designed town homes directly overlooking Glenside's main reserve to database registrants with half selling within two days.
The new town homes are the first to be released to the market since the project was first launched in 2018.
Designed by Adelaide architects Studio Nine, the newly-designed three and four-bedroom town homes are the first to be located on the northern side of Mulberry Road, with seven homes directly overlooking Glenside's main reserve.
"We're expecting high-demand for the town homes because of their prime location with Glenside," said Mr Pivovaroff.
"These homes are unique and the opportunity to purchase homes directly overlooking Glenside's main reserve won't come again in Glenside."
Key features of the town homes include spacious floor plans, large open plan light-filled living spaces, ground-floor master bedrooms, premium quality European appliances high-ceilings, built-in lift options, double garages and fully landscaped gardens.
The release of the town homes, priced from the high $700,000s - $1.4 million, marks a strong sign of confidence in the premium end of the Adelaide housing market which continues to perform strongly.
Construction of Glenside's second apartment building, Grace, is also well underway and ahead of schedule, with topping out due this month and completion due in mid-2021.
For more information visit www.glenside.com.au