Blackfriars Priory School unveils new $10 million learning complex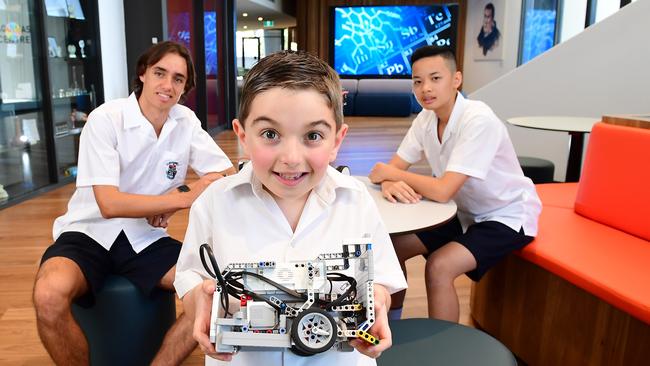 Blackfriars Priory School will start the 2021 academic year with the opening of its new $10 million STEM and Year 12 learning complex, signalling the beginning of an ambitious plan to make the school one of the most advanced and dynamic teaching environments in the state.
The newly-named Aquinas Centre, fully-financed by the school, is the centrepiece of Blackfriars' current Master Plan and will be officially opened on 29 January by Archbishop Patrick O`Regan.
The Centre includes a state-of-the-art building and new green spaces near the main entrance to the 4.5ha Prospect Road campus. The day before the official opening there will be an opportunity for school families, old scholars and nearby residents to walk view the new building during a Community Open Night.
The Aquinas Centre was designed by Adelaide-based Swanbury Penglase and built by Partek Construction & Interiors.
The building features science laboratories, tutorial-style 'Think Tank' rooms, an open-plan 'Learning Commons', traditional classrooms and teacher workspaces for individual and collaborative planning. It is the first major building development on the school's Prospect site for 40 years and sets a new standard for STEM learning while also providing the school's Year 12 students with a new purpose-built communal space.
All classrooms and teaching spaces are also equipped for remote learning, future proofing against any potential lockdowns or changes to the way lessons are delivered.
Blackfriars Principal, Simon Cobiac, said the provision of varied and adaptable learning spaces supported the latest research into effective education.
"While research suggests the most important factor in effective education is the work of educators themselves, appropriate environments play a significant role in supporting their efforts, especially when it comes to promoting self-directed investigatory learning," Mr Cobiac reflected.
Kate Beerworth, Associate at Swanbury Penglase, said the building was "a space that has more of a tertiary feel" and was elevated from a traditional school environment "to something a little more corporate and sophisticated."
Lawrence Labrosciano, Project Manager from Partek, said the contrasting materials used across the project had given it a bold identity, as imposing aluminium panels on the exterior were juxtaposed with fine timber detailing and curved finishes inside.
The Aquinas Centre has been named after St Thomas Aquinas, the 13th century Dominican friar and scholar. St Thomas Aquinas shaped much of Western theology and philosophy, and he promoted the coming together of faith and reason. This duality is present in Blackfriars' school values as well as in the STEM disciplines that are housed inside St Thomas Aquinas' namesake building.
The construction of the Aquinas Centre heralds the beginning of a new era of innovative teaching and learning at the Catholic school, which caters for boys and girls in its award-winning Early Learning Centre, and for boys from Reception to Year 12.
---
Image: Mark Brake / The Advertiser