Connecting people living with dementia to memories through sight, sound, colour and cognitive activity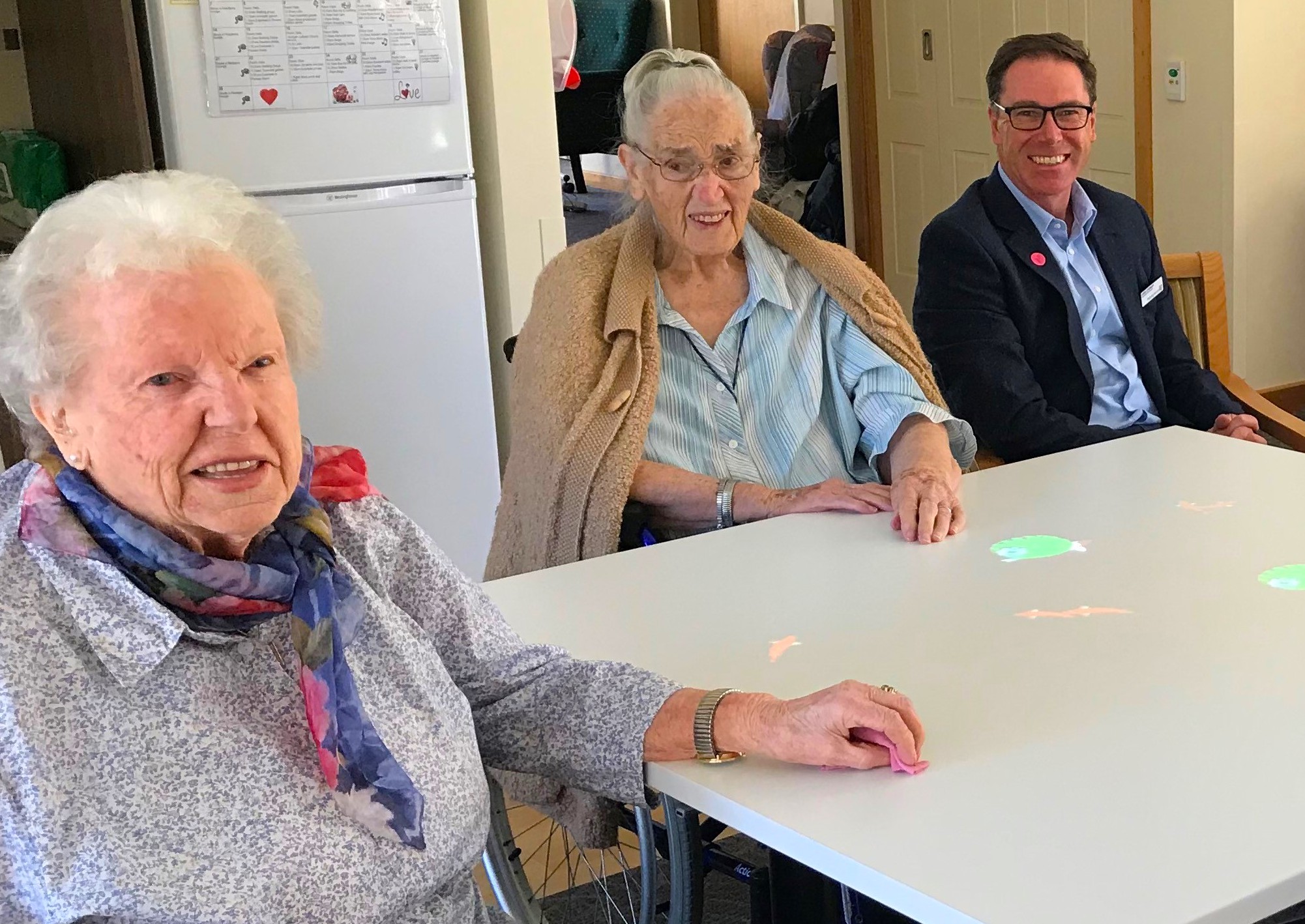 Helping Hand residents living with dementia are being given an opportunity to reconnect with memories through an interactive projector, which uses light, colour and music to stimulate physical, social, and cognitive activity.
By using a Tovertafel machine, which originated in the Netherlands, dementia patients have been able to respond to active cues through play, stimulating movement and connecting them to others and their environment. Interactive games allow people to virtually feed birds, turn spots into fireworks and pop bubbles among other things, and more importantly, spark conversations.
Residents at Helping Hand have been using a Tovertafel machine at its Ingle Farm care home since last year, and Jamestown has just secured funding for a unit with support from the Jamestown Auxiliary. The Auxiliary consists of family and community members who fundraise to support the care home.
Thanks to the positive impacts the machines are having, Helping Hand is now planning to buy one for each of its memory support units at its North Adelaide, Mawson Lakes, Parafield Gardens, Clare, Port Pirie, Golden Grove and Lightsview homes.
According to Dementia Australia, there were an estimated 459,000 Australians living with dementia in 2020. Unless there is a medical breakthrough, 590,000 are expected to develop dementia by 2028, rising to 1.08 million in 2056.
After a tough year of restricted visitation, Executive Manager of Residential Care, Jenny Hall, said the Tovertafel machine is one example of innovation bringing joy to residents in memory support services.
"To see the residents' faces light up and to see them actively interact with the intuitive light projections and with others around them, is a really positive change," Ms Hall said.
"Our families are noticing a difference with their parents when they use the Tovertafel, and they become more social, it makes them happier and they love being involved in an activity which stimulates cognitive ability.
"Helping Hand is committed to delivering exceptional service and actively embraces quality innovation that improves experiences for residents."
With an estimated 250 people nationally being diagnosed with dementia each day, and up to 30 per cent of those aged over 85 with the illness, Helping Hand is hoping to make the lives of its residents easier.
Each Tovertafel costs $15,000, and Helping Hand is hoping to raise $120,000 to fund seven units through its Christmas Appeal. Click here to find out more about how donations can help the Tovertafel campaign.
---
Image: Helping Hand residents with CEO, Chris Stewart