Welcoming work experience student Rosie from Scotch College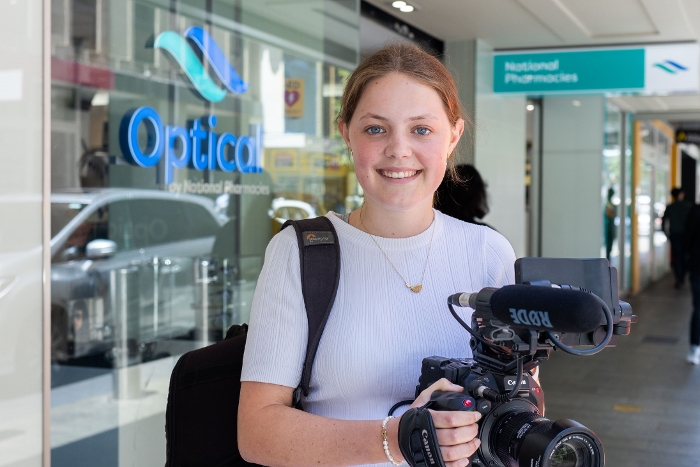 This week, we welcomed Year 10 Scotch College student Rosie to our office for work experience. Rosie spent time with each of our team members and participated in diverse activities in and out of the office. Read more about her week below, as written by Rosie.

My Work Experience at Hughes
This week, I have been coming into the Hughes office as part of work experience to gain an insight into what happens in this sort of workplace. I have thoroughly enjoyed it and learnt a lot, and this experience has been very beneficial for me.
Each day has been different, with a mix of working in the office and meetings, media launches and press conferences. This was great and showed me how everyday can be different and the range of things that can happen in public relations.
On Monday, I had the chance to sit in on a team meeting planning the week out and upload media releases to the Hughes website. I also had one-on-one chats with the social and digital media coordinator and graphic designers to learn about what they do.
On Tuesday, I attended a media press conference for the VAILO Adelaide 500. I got to meet some of Hughes' clients, as well as the Premier, which was a fantastic opportunity. I was able to see journalists and media in action and what they do. The next day I read the article released in The Advertiser, which was great as I was able to understand the process of how media articles are created, and I was shocked about the quick turnaround.
Wednesday was again a busy day as I started working in the office and then went out to a media launch. I was able to see a client's photoshoot being done, and once again see the media. This was very interesting for me because I saw the ABC, which interested me. I talked to Hughes consultant Bec and the ABC worker about how media has changed. I was even in the background of the shot, so I might be on telly! I then sat with the videographer Serena and we edited the footage together. I found it interesting and satisfying creating a finished product.
Every day was different and I did something new, which is what was so good about this work experience.
Thank you to the kind team at Hughes for making me feel comfortable and teaching me about your jobs. Everyone is so welcoming and warm, making the office a happy and motivating place! Overall, this was a fantastic week and I loved learning about all the different aspects of public relations.